Caravan Aristocratic Nomadic Holidays in Wilderness
Caravan Campervan Holidays for your Family and Soulmate 
5 days/ 4 nights   |  6-8 persons   |
Stay   |    Food     |  Transport     | Recreation 
Jaisalmer  |   Khaba  |  Khuri  |  Munabo  |  Kiradu Temples  |  Gadra Road  | Barmer
Holidays to Enhance Your Life 
Wake up to captivating sunrises over a vast undulating landscape in wilderness. End your day on the untouched, unspoilt sand dunes painted golden by the setting sun. After a scrumptious dinner from the kitchen of Taurus – India's best recreational vehicle (with features of caravan, campervan, motorhome, overland truck), retire for the night under the blanket of a billion stars with huge rooftop of the open sky. Nothing else, just you and the serene tranquility around you.  In between, visit the ancient temples and ruins, ghost towns and the real villages of Rajasthan, away from the tourist glare. This is the Rajasthan hinterland where tourists do not dare to venture, you stay away from the touristy crowds. Drive along Mars like landscapes and pay a visit to India's remote border post.
Its one of a kind desert exploration expedition to the far corners of Rajasthan, offering a magical experience possible one can do only while being onboard the Taurus – India's First Luxury Overland Truck.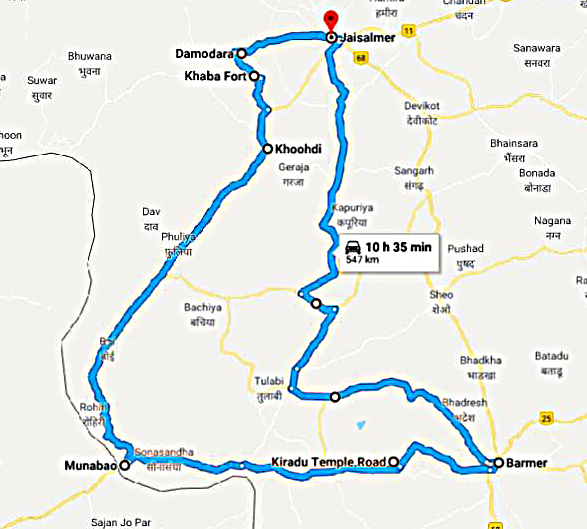 EXPEDITION HIGHLIGHTS
Code: RJ-04
5 days/ 4 nights
Group size: max 8 participants
Curated by experts and passionate travellers, Veteran Officer of the Indian Army
Best vanlife experience with India's most well equipped 'overland truck' which is a hybrid RV (recreational vehicle) with features of caravan,  motorhome, campervan to taste 'nomadic overlanding'
Khaba Fort and Khaba village half in ruins
Exciting drive on Border Road around 130 kms, scantily inhabited.
Meet and greet the soldiers at a forward area Border Post
Kiradu Temples – Khajuraho of Rajasthan
Private sunrise and sunset while enjoying hot tea and snacks, an experience with no parallel in India as of now.
War Memorial of the Indian Railways – unknown to the most
Experience Thar Desert like never before
Best of Silence & Tranquility
Pristine Sand Dunes
Rich colourful culture of Havelis and Forts
Unprecedented vast open landscape ample tranquility
Camel Safari
Camel Rides
Experience the real rejuvenation
Best photography opportunities
Billion Star Night… an unforgettable experience
Moonlit night while being in wilderness, with comforts, is an experience beyond any price tag
Photography tips by Capt Suresh Sharma and his company are priceless.
GRADING: Easy for average fitness.
NATIONALITY: Available for Indian Nationals only, as border areas are restricted for foreign nationals.
ITINERARY AT A GLANCE
Day 1: Damodra, 30 minutes from Jaisalmer. Night stay onboard Taurus in total wilderness.
Day 2: After breakfast, cross country camel safari (optional/as extra) to Khaba Fort, field lunch onboard Taurus at Khaba. Others on-board Taurus will drive to Khaba, after lunch all guests drive to Khuri, witness sunset over the famous sand dunes.
Night stay onboard Taurus outside Khuri village.
Day 3:  Border road drive of almost 130 kms to Munabao. Pristine sand dunes. Visit Indian Railway War Memorial, one of its kind. Night at Gadra Road onboard Taurus.
Day 4: Border Post to meet soldiers. Drive on Barmer road, take a pit-stop at Gadra Road. Stay onboard Taurus near Kiradu Temple complex.
Day 5: You may choose to either travel with Taurus to Jaisalmer or under own arrangements to Jodhpur. Also you could explore Barmer and with loads of memories and say Goodbye to Taurus!
ITINERARY IN DETAIL
Day 1
Day 2
Day 3
Day 4
Day 5
NOTE
We would like to suggest that Jodhpur should be explored on your own, if you need our help in coordinating services on ground i.e. taxi and stay, we will do our best on actual bills you pay directly. Though, it will be much cheaper to do direct bookings to explore via travel portals.
Pick up and drop is available only for the group (8 guests) arrivals and departures. Less than that will be paid by the guests directly.
HOW TO REACH JAISALMER
By Air: Jaisalmer is connected by air, under special scheme UDAN by the Prime Minister. There are daily flights to Jaisalmer now.
By Train: Jaisalmer is well connected with major cities.
By Road: Jaisalmer is well connected by good road as well.
TARIFF GRADING: Platinum and Gold : We have two tariff plans – basic plan (with offer to pay as you use and consume), all inclusive. Call  (+91-9888 380386, +91-6280 595008) for tariff. Please check the general details about tariff.
WHAT IS INCLUDED
Only the following are included in the package for RJ-4, rest everything is NOT included.
Stay on twin sharing basis as described. During Corona Pandemic, we may pitch up single occupancy dome tents on ground.
Indian homely veg  

meals

as buffet (self-service), from

the kitchen

of Taurus only, without beverages.
One visit to the Border Post to meet and greet the soldiers, if circumstances allow.
The services of Taurus will be available from Damodra to Barmer.
Pick up and drop is available 'on-demand' as extra.
Taurus as transport to

travel

all onboard for the itinerary.
Stay onboard Taurus as per the

accommodation

available on rotational basis and sleeping bags are provided by us.
We provide 

Filtered Water

 to drink, please bring your own bottles to refill.
WHAT IS NOT INCLUDED
Anything not mentioned above and in the list of

WHAT IS INCLUDED

.
Journey from home to Taurus and Taurus to homewards
Transport for medical emergencies, shopping, personal trips or any activity which is not included in the package
Guides, escorts and porters. Entry ticket for any place
Non-veg meals, beverages other than mentioned above
Food/ meals/ snacks/ tea while travelling and on excursions and consumed outside Taurus.
Camel ride and Camel Safari
Dinner/ snacks with bonfire and local cultural program at Khuri
Medical insurance, accident rescue, medical expenses, insurance of all kinds.
Loss of anything.
More details in general about What is Included and What is NOT included …
OPTIONAL 
The following have been planned as optional activities/ events/ items to save your time, energy and money; also you will be able to exercise your own options/ choice. Basically you pay for what you use and consume. 
We suggest for the first time visitors to Jaisalmer to arrive earlier than the day 1 of this program an explore the Golden City on your own (it's easy and cheaper) or at the completion of your program. In case you need our help to coordinate logistics then we will extend best possible.
On Day 2, in the evening, we may organise a local cultural program with non veg dinner and bonfire at Khuri, its optional and arranged on request with extra payment.
On Day 2, camel safari is optional activity (pay extra),  some may not like.
On the Day 5, of your holiday at Barmer, you may travel onboard Taurus from Barmer to Jaisalmer to explore its beauty before homeward journey, under own arrangements. Jaisalmer is connected by air now, it will be easy for you to travel by air for home.
On the Day 5, from Barmer you may travel to Jodhpur by train, state transport buses or by taxi. Exercise own choice to explore Jodhpur and its beauty under own arrangements.
Explore Barmer and around, under own arrangements.
On your firm demand, we can organise "Laal Maans" dinner at Damodra, on extra payment, without any adjustment in tariff.
We can organise camel safari for a day or overnight, as extra activity.
What is included / NOT Included   |   Terms & Conditions   |  Tariff |
Transport & Accommodation   |  Food Plan   |   Pre-Booking Info |