Tariff
Holidays to genuinely rejuvenate in the lap of nature, with comfort,  away from humdrums of life of concrete jungle and to produce beautiful photographs, come at a price. There always seems to be a compromise too; hotel comfort at the cost of location opportunity and/or location opportunity at the cost of hotel comfort. Why not both at the same time and place?
Special Offers | Promotional Tariff | Early Bird Discount | Group Booking Discount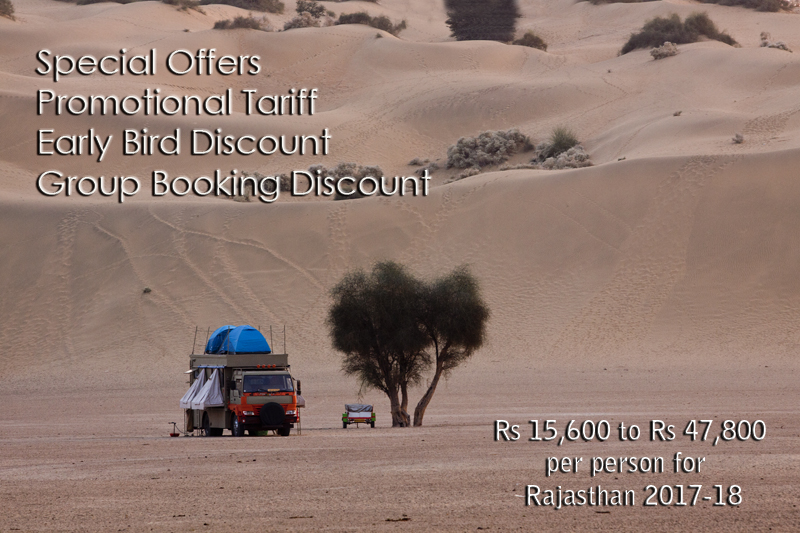 Rs 15,600 to Rs 47,800 per person for  Rajasthan 2017-18  Package includes Taurus (for transport from point 'A' to 'B'), stay onboard, food from the kitchen of Taurus. 
Our tariff structure is totally different than hotels and static camps on per day basis.
Each itinerary has its own tariff, based on area and route, mentioned with each itinerary or the quote is sent by mail.
Tariff quoted is the fee you pay only for the coordination of basic logistics (food, transport, accommodation onboard Taurus only) for your program.
The tariff is to pay for the convenience and quality and above all UNIQUE EXPERIENCE of lifetime. We are NOT selling tour packages; we are selling a CONCEPT
Our programs are not to be compared with conventional tours or picnics conducted around hotels and taxis but cutting invisible corners.
We do not cut corners to make the tariff attractive while quoting.
Quality comes at a price!
Your comfort is our concern!