Ladakh – Astrophotography
Romance the Billion Stars …
In the Lap of Cold Desert of Ladakh
Cold Desert of Ladakh offers landscapes of brutal simplicity. They provide so little and they demand so much. But with courage, with endurance and intelligence, with devotion and ingenuity, the denizens of Spiti have found ways to conjure life from so little of every resource. Against all odds, they have turned a life of thirst into a thirst for life. Let us visit this land and people who have special living skills evolved over centuries.
Welcome to India's only luxury Overland Truck Photo Expeditions. An innovative way to travel the magnificent parts of Ladakh and capture its beauty with your camera. Green Dot Expeditions promises you a trip of a lifetime across one of the most inspiring and photographically rich locations on our planet – LADAKH.
During the expeditions, don't forget to ask Captain to share his many secrets which have allowed him to make the most of his extraordinary life.
Anyone who has been indulging in astrophotography in the past would immediately exclaim and jump to appreciate the value of Taurus for astrophotography.
WHY?
Your home is next to your shooting location with comfortable sleeping (for cat nap) while your camera is in 'timelapse' mode or shooting trails.
An elaborate and well equipped kitchen to give you hot tea and eatables all the time.
Unlimited power supply right there in the location of action.
Your whole equipment is with you all the time, not like some in your hotel back in the city.
Program Code: LDH 04-A
ITINERARY IN DETAIL
Day 1: Arrive at Kushok Bakula Rimpochhe Airport at Leh, under own arrangements, our representative receives you at the Leh airport. And drive around 15 kms to reach Taurus, anchored on the banks of Indus River where there shall be no stray light or minimal to supplement your night shoot and a wonderful location. One of the most ideal locations to shoot the sky filled with stars beyond count and above all enjoy exhilarating holiday. It's that heaven on earth where one can fill heart and camera memory cards. Night shoot.
Spend your most memorable night onboard Taurus with cool breeze, soothing the skin of the denizens of cities from the plains. The musical notes of the gurgling water of the River Indus make you sleep like an infant sleeps in mother's lap, where even the best medical relaxant shall fail. Rest and acclimatize to prepare yourself physically to explore the sky for next one week, which you may have never seen before; absolute clear sky as there is no pollution here.
Day 2: We bet, your first-ever morning cup of tea onboard Taurus is going to offer you way beyond the swirling steam from your cup, it's like being on your first date!  Morning tea onboard Taurus is a ritual and enjoying hot cup of morning tea on the banks of the Indus is priceless, especially this kind of infrastructure. Enjoy your breakfast, sitting next to the open air unique kitchen and relax to fill your diaries and Blogs with your experience. If you wish we can offer you an option to take a trip around Leh town for photography.
We know you may crave for an unusual subject in foreground which has never been part of your astrophotography before, so we offer you the most handsome model. After lunch we start to set-up the lighting and get our most handsome automobile model Taurus ready for your much dreamt night shoot.  Night shoot goes on, and the whistling kettle shall be pouring hot water over coffee powder in your cups, to keep you and your camera intervalometers going. Night onboard Taurus.
Day 3: Enjoy your morning cup of tea and coffee, dipping the most crispy rusks and cookies. After leisurely breakfast, we start winding up the camp, and Taurus shall be revving to drive to Rumtse village. We shall be driving past some of the touristy places, you may have to either turn a blind eye or just take a quick peek from the windows of Taurus, fitted with sliding glass pans to ensure you can take quick shots while being onboard Taurus. Let's stop at Upshi to enjoy a bowl of Thukpa (a Tibetan and Ladakhi dish). Here we start one of the most mesmerizing drives, river is flowing cutting the edges of the road, at most points at the same level, offering soul stirring views. We go past some of the best Ladakhi villages (Meeru, Lato, Sasoma, Lato)   on the Leh Manali highway. We take an easy walk in the village Rumtse (14,000 plus feet), where we are doing a project to ensure tourism benefits to these locals, through photo expeditions. We want to develop this wonderful string of villages as photographers' favorite destinations.
Let us select a location or subject to shoot the sky. The spout of our kettle starts whistling. We may enjoy a meal with a Ladakhi family and get a feel of life in rural Ladakh. Night shoot. Night stay onboard Taurus.
Day 4: Taurus also offers Ladakhi tea and Kahawaa! Of course, the regular tea/ coffee shall also be there in your cup. After breakfast we may move to a location short of Tangla Pass. Taurus shall be anchored few inches, yes you heard it right, from the crystal clear water stream, an experience most desire and dream but never get to fulfill. Relax and enjoy the views, offering you photo opportunity in abundance. Get your camera gear ready and let stars dance on the camera sensors and create art with their rhythmic movement. Night stay onboard Taurus.
Day 5: After leisurely breakfast, we drive over Tangla Pass, while taking a short break on the top of the Pass for a brief photo session to record our journey for storytelling at home and to embellish your Blogs. We reach Debring (a small cluster of few tents which offer Dhabas and night stay) for the night for travellers and truckers. We stay away from their location to avoid their lights to shoot the stars. Night shoot. Night onboard Taurus.
Day 6: We continue to camp here at Debring and photograph the landscape. Charge batteries, download photos and get ready for action at night. In the meantime, let us all hear everyone's experience with photos they have shot so far on the trip. Night shoot. Night stay onboard Taurus.
Day 7: After leisurely breakfast, Taurus shall rev up the RPMs to climb Tangla Pass, we fear revolt in the camp and most may love to just wander around in the same area. The vastness of the barren land and huge mountains keeps you in its lap, its one of the best places to embrace and enjoy the warmth of Mother Nature.  One can only feel it and hard to capture it by any means.   We don't mind offering you an extra day as a gesture from Green Dot Expeditions, at Debring, provided all agree.  Otherwise, we drive 122 kms to Leh. End of the tour.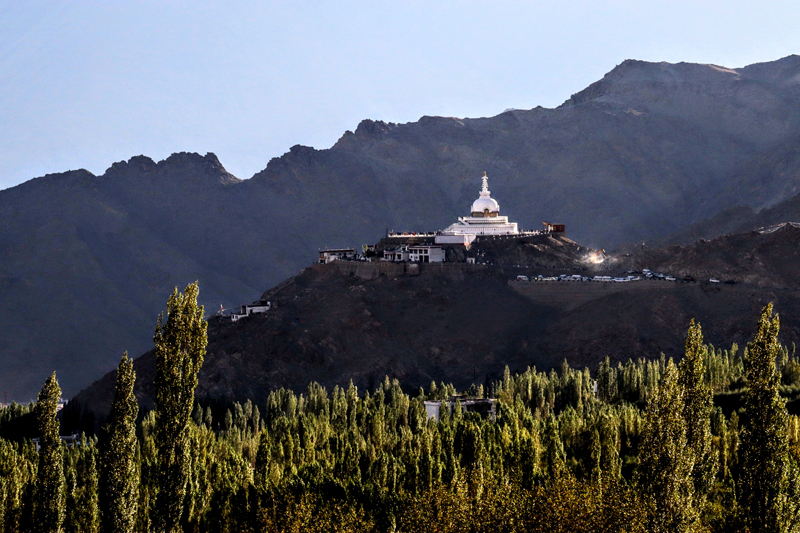 Program Code: LDH 05-A
Leh to Hanle 
Explore The Hidden Jewel 
Hanle, is about 255 kilometers from Leh; is the hidden jewel and a treasure trove for photographers i.e. landscape, people, geographical location, best sky to count billion stars; the road Leh to Hanle is a journey which can't be described in words. Its a very remote village – so eerily calm — one gets a feeling of being in an alien land.
The first question that comes to mind is what do you see in Hanle? While the primary attraction of course remains to be the natural beauty of the place, there are a couple of other interesting spots which makes it worth a visit.
While travelling to Hanle, one comes across wildlife  mostly wild asses called Kyang, golden ducks, rabbits, jackals. And of course makeshift tents  of local nomads with their livestock of goats and sheep and dogs. The landscape is breathtakingly lovely, and the soil has a red hue near Nyoma,  before entering Hanle.
Hanle possesses a tranquil filled characteristic for solace seekers. With its exquisiteness and a tranquil luster, Hanle is a must visit for every traveler craving wanderlust.
WHY HANLE
In nutshell, it's quite a different "world within Ladakh".
It's one of the most spectacular enchanting, soul stirring and quiet places  in Ladakh
A treasure trove with extraordinary landscape, people for portrait, wildlife, best sky in India, river, wide open space, unique culture, etc.
Highest astronomical observatory
Offers best scenic experience
17th century Hanle Monastery offering great views
Best place in India to do astrophotography
Best place to do astrophotography in India.
Hanle doesn't appear to be part of routine itineraries, Being a tough destination, long distance in the mountains and very remote.
GROUP SIZE: 10 to 15
DURATION: 8 days
Day 1: Arrive at Leh, drive to Upshi and camp on the banks of river to relax and acclimatize. And set up a trial shoot with stars.
Day 2: After breakfast, move towards Hanle. Camp onboard Taurus on the way. We may stop for some photo opportunities.
Day 3: Reach Hanle. Night onboard Taurus.
Day 4: Explore Hanle.
Day 5: Explore Hanle.
Day 6: Drive towards Leh, with night halt on the way.
Day 7: Resume journey towards Leh and reach Hemis or Matho.
Day 8: Drop at the airport.
WHAT IS INCLUDED
Taurus from Leh to Hanle and back for stay and travel.
Local transport, locally hired at Hanle, whenever needed be to explore areas.
Food onboard Taurus.
Program Code: LDH 06-A
The following is a special program focused on astrophotography only. You may have to spend an extra day at Leh to get acclimatised, as per the medical advice. We are offering this as a connecting program, assuming some may prefer to do Nubra and Pangong before this program.
Day1:  Check-in onboard Taurus, away from Leh. After settling your baggage, check your equipment for night shoot.
Day 2:  Taurus will drive you to Rumtse, camp at a suitable place few kilometers away from Rumtse from any kind of lights and disturbance. Night shoot.
Day 3: Morning tea, breakfast at Rumtse. Landscape photography. This location offers beautiful landscape with shepherds and horses. Night on board Taurus.
Day 4: Drive back to Leh. On the way, we may visit Hemis and Matho.
Check out on arrival at Leh.
PRE JOINING ARRANGEMENTS
If you wish to arrive straight for this program then you need to be in Leh a day before the program commences. And we can help you with the arrangements for the stay if you wish.