Caravan Design & Fabrication Consultants
Caravan/ RV/ Motorhome/ Trailers
We are not vanity van builders. We are hard core Caravanning Team, who have designed, built and travelled in own caravans for over 1,75,000 kms – unmatched fete by any Indian – we challenge anyone in India for that.
What we couldn't do in 20 years to catapult caravans in India, Corona did it in 20 days. We started our personal caravan holidays in August 2000 and commercially we started offering in 2014.
Our first caravan was built and fabricated in August 2000.
We are the best and most experienced design and fabrication team for RVs (caravans, campervan, motorhome, overland expedition vehicles) in India as of now.
Pioneers of Caravan/ RV Tourism in India. 

Added a new chapter to the Indian Tourism Industry.

Founded by Indian Army Veteran 

Capt Suresh Sharma

with  caravanning experience for 23 years and 1,75,000 kms, based at Chandigarh and Ambala Cantt. 
We have intangible brand value and strong

leadership.

We understand the best how caravan tourism business works in India.
Experienced Overlanding Consultants.
We understand the requirements of caravanning on Indian soil and its totally different than the West!
In all this gloom created by Corona Pandemic, caravan/ campervan (recreational vehicle) tourism world over has provided a safe and viable alternative (with default social distancing) for conventional holidays. So far only a few individuals own personal caravans/motorhomes in India therefore not much has been known about caravan tourism. This concept however is quite a rage in the West and now has multiplied at a lightening speed.
Overview
With the Corona Pandemic, caravan/ recreational vehicle (RV) emerged as the most sought after option in the tourism industry in India also and is going to boom hereafter at a very fast pace. Recreational adventure vehicles ( caravans, campervans, motorhomes, overland expedition vehicles) have bright future in Indian tourism industry now. There are hardly any caravan/ campervan/ overland vehicle operators to offer holidays in India as of now.
We are the pioneers in this field and uniquely placed to help you fulfill your dreams for caravans in India. And we have a hands on experience of "nomadic overlanding holidaying" and travelling with family and tourist groups of more than 22 years and 1,75,000 kms of travel. We have learnt from our experiences to incorporate the needs of RV travellers in our designing and fabrication and also from the feedback of customers (both Indian and foreign) into our caravan design, making it uniquely functional, comfortable and practical.
We have 23 years of valuable experience for designing, fabrication, travelling in caravan on months long trips and monetization (commercial caravan tourism). 
VISION:

 To lead and champion a robust, compliant & sustainable caravanning & camping industry in India.
We render professional consultancy for a professional fee. It can be in person or over phone or video calls.
PLEASE NOTE:  Our experts are available for telephonic consultation as well and we barter or precious time with a nominal fee. First conversation of 15 minutes is preliminary and not charged, beyond that we charge a fee for telephonic consultation and the fee charged is adjusted in the final bill.
We offer our expertise for the following:
Caravan Tourism Business 
Franchise is available 

Food Trailers

Design Solutions of RVs and Trailers
Fabrication of RVs and Trailers 
Design and development of Caravan Parks  

Modification of vehicles

Comprehensive Business Development for RV/ Caravan Tourism 
FRANCHISE for Caravan Tourism Business 
Offering RV/ Caravan Overland Vehicles Franchise Business Opportunity 
We are commissioning a 'pan India' franchise for caravan tourism. You may register yourself by sending
a simple one line mail to greendotexpeditions@gmail.com for future updates; else contact via WhatsApp +91-6280 595008.
We offer to our franchisees for the following services:
Selection of the base vehicle.
You buy your vehicles; we design and fabricate the caravans/ RV campervans motorhome suitable for tourism business in India.
Trailers for SUVs.
Camping unit for SUVs
Training and guidance (develop SOPs) to run your caravan tourism business.
Business platform/ portal for bookings and sharing of booking leads on agreed terms. (Franchisees may market their own product and take direct bookings as well).
Business sharing on agreed terms.
Time to time updates/ sharing of industry trends, best practices and experiences on our website, also guidance during the complete life cycle of the product.
Sharing travel blogs/ travel Vlogs of destinations for better marketing and creating new options
in business expansion.
We offer our professional services in Designing and Fabrication
DESIGNING SOLUTIONS
Our team is headed by seasoned and experienced passionate RV designers who have designed and fabricated and traveled in their own RVs, will definitely save your money and hassles like a good architect. There is no team in to match us.
The caravan market is well developed in the West. However caravan and RV business is relatively new in India. There are no caravan manufacturing companies in India the way Western world has.
Most Indian companies have been building 'vanity vans' in India for different purposes and not caravans/ RVs for holidays.
We offer our expertise acquired over 22 years of hard work to let you decide the type of caravan you need and various aspects of designing, manufacturing and monetizing it.
We offer discussion sessions and consultancy to give a broad outline to your caravans which can be built and how to overcome challenges faced by the caravan users in India.
Designing a new RV is NOT like buying a new car – the process is way more complicated than it might seem. 
FABRICATION
Caravan, campervan, RV (recreational vehicle) motorhome, overland expedition trucks.
Trailers for SUVs.
Conversion OF SUVs to camping unit.
Overlanding camping kits.
"Turn-Key" projects to design, develop and build caravan/ RVs/ trailers.
Design yourself and we equip and fabricate your RV.
You design, deliver your vehicle and equipment to be fitted – we convert your vehicle into an RV.
Modification of army vehicles.
BUSINESS DEVELOPMENT 
We also offer our expertise to design the caravan tourism business model on paper, commission and develop caravan/ RV tourism business either as a new entity or as part of ongoing tourism business.
We also  undertake turnkey projects from the understanding of the concept of caravan/ RV, designing of caravan, fabrication of RVs, streamline of operations, development of the market, promotional material, etc.
Complete project management services are also available: designing of caravan, fabrication, design the business model and execute operations and marketing from A to Z.
Broad discussion to understand the basics of the concept of caravan/ RV
Draw a detailed business plan to provide strategic direction and improve the profitability of your caravan business.
Technical inputs for the selection of equipment for various facilities and comforts on an RV.
Develop an RV design with hand drawn sketches.
Develop the design and make a detailed technical drawing.
Fabrication: buy your own vehicle and we convert it into an RV.
Complete business development for caravan tourism.
We plan your tours/ itneraries and coordinate services for you through our platform/ portal.
Promote the benefits of caravaning and camping to stimulate growth and consumer usage of products.
Strategic Business Plan for Caravan Tourism
OUR SERVICES WILL UNFOLD IN STAGES 
First, you must scout around and finalise whom you would like to engage as your consultant to 'design and fabricate' and to discuss related issues. It will be available at a professional fee.
STAGE 1
General discussion for two to three hours to understand the concept of caravan for Indian conditions, to
broadly understand the design of caravans and basics of caravan building in India.
Myth busting about caravan design and usage in India.
You have to take your caravan designing and building like your house; a good architect will save your money and make it more user friendly. Also, in the long run it's durability and maintenance cost.
STAGE 2
After the preliminary round of discussions about your needs we can work on the basics of your design for the selection of the vehicle to suit your needs, what all fittings/ features you need to have.
Discussion to understand the various technical components of caravan in India; with details of the design of various components/ equipment, material.
Details of the design with technical drawing with layout and the features needed.
STAGE 3
Option 1: Turnkey Fabrication: discussion of the design, various components, you bring in your
vehicle, we convert it into a caravan. We will procure the raw material, equipment and components.
Option 2: Turnkey Fabrication: We discuss the design, you procure the components and equipment; we charge you only for the fabrication and designing.
Option 3: Bring your own design, vehicle and material – we build your RV.
Option 4: You can buy a ready caravan as per our design specifications.
You must know: 
Difference between a

caravan or vanity van.

In India caravan concept is at a nascent stage, and that's why its the most misunderstood as of now by the most and think caravan is with leather upholstery, fancy lights, carpet, aircon, music system, fancy toilet seat, microwave, etc. It's not that … its a lot more than that!
Everyone knows that a caravan should have a place to sleep, toilet, bathroom, kitchen, etc. But what to fit and how, what should go where for comfort and ease of using it as a mobile home, it comes with experience which we have. And above all what should not go into it
Space management with suitable equipment and components is the most important aspect of caravan designing.
We have invested significant amount of money, physical effort and time to learn about Indian caravaning over 20 years. We are willing to share all the info and services as professional consultants

Remember:

 you are not building a house, it's a concept of a different kind. Not many designers and fabricators of caravans in India have travelled long duration/ distances in their caravans to understand the needs of a caravan traveller. We have done 167,000 kms over 20 years – designed, built, driven, monetized!
There are big names to build expensive and fancy vanity vans in India, but not caravans.
The caravans built without the experience as user, may have facilities and looks like a caravan because it has facilities, features and components but may not be effective, comfortable and user-friendly to say so.It comes with experience which component to go where and which equipment to select. There are 20 different designs and options for RV toilets.
Design for commercial purpose or personal will make a significant difference, this needs to be understood.
Role of An Experienced Designer to Make All The Difference
Makes you understand the intricacies ROI, which most understand – how fast to recover the money invested! Its way beyond that in this case.
Its a careful planning after understanding your needs.
How to make it in lesser cost more comfortable, lesser maintenance, more durable.
Water storage and delivery of water is a very critical and complicated issue, though many think – buy a prefabricated plastic water-tank and connect with a faucet and a washbasin and water supply is accomplished!
Which water pump to install and where to place it in the caravan?
Selection of water filter for drinking water?
Toilet: it's not a nice fancy and expensive WC and connected with a water pipe. Its one of the most complex issues for designing – type of seat depends on the size of the vehicle, space for water tank and black water collection tank, disposal system.
Aircon – most misunderstood issue for the caravans. DON'T EVER think  of a domestic split a/c.
Fire and safety to be considered and over a period of 20 years we have accrued secrets to manage this hazard.
Keep it simple like a Russian design, which should not fail on your holidays.
Certain things need backup.
We bet we will save your money quite a lot! Where others may suggest you a water pump of Rs 15,000 we may suggest you for Rs 1500, but all depends on the size of the vehicle and our requirements – which needs to be discussed at length. And we can spare our valuable time and experience only as a professional consultants after we have been paid professional fees. 

Call/ WhatsApp
+91-9888 380386    |     +91-6280 595008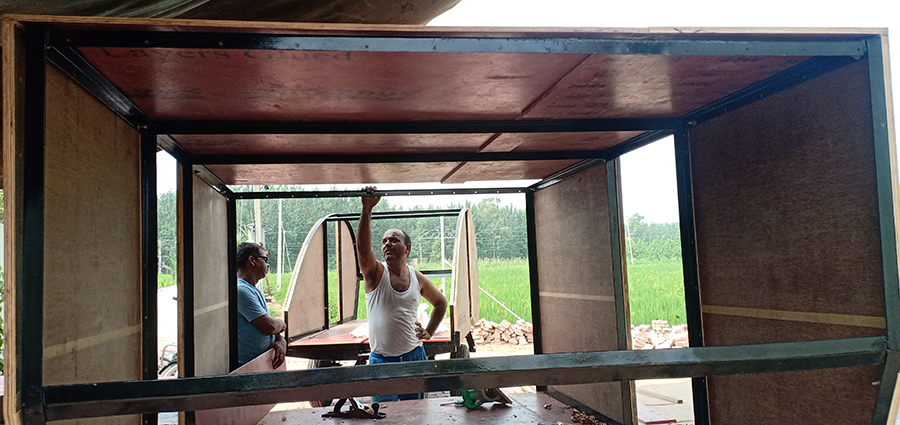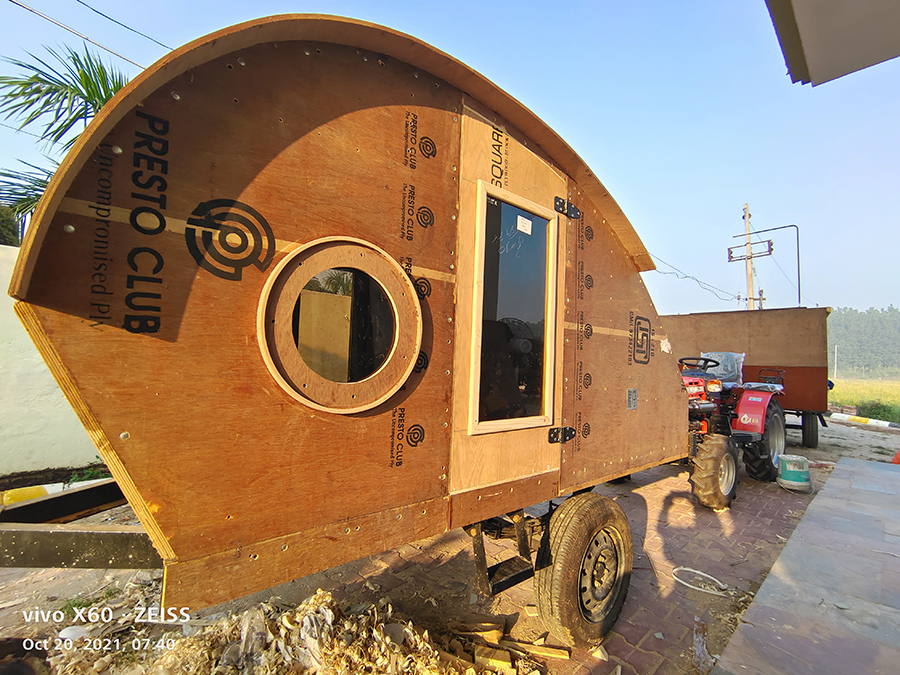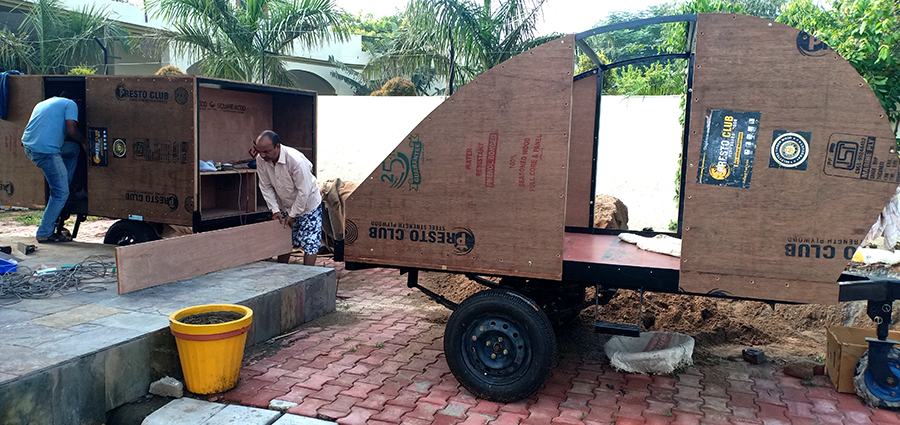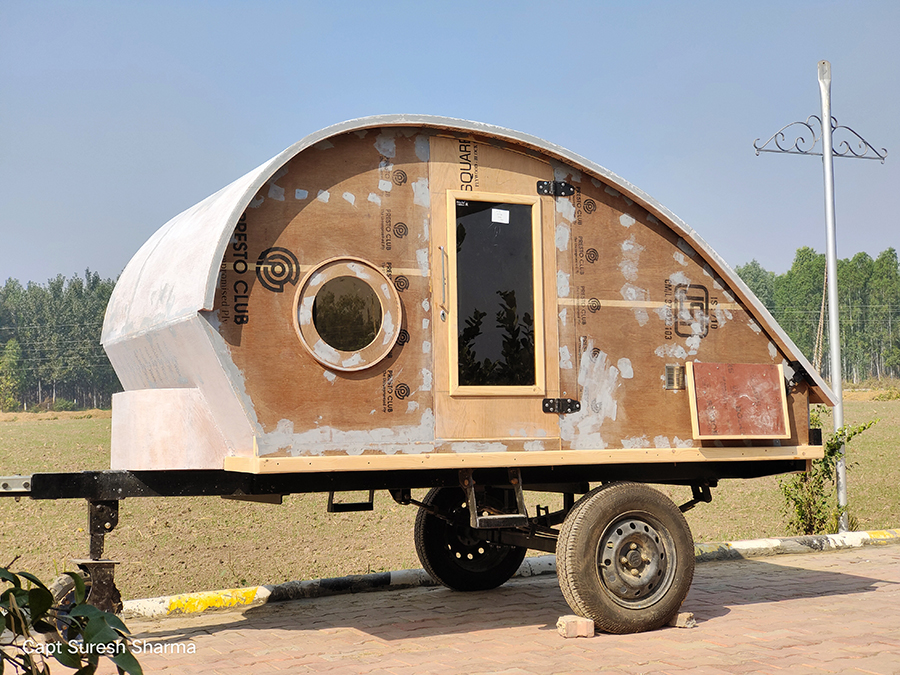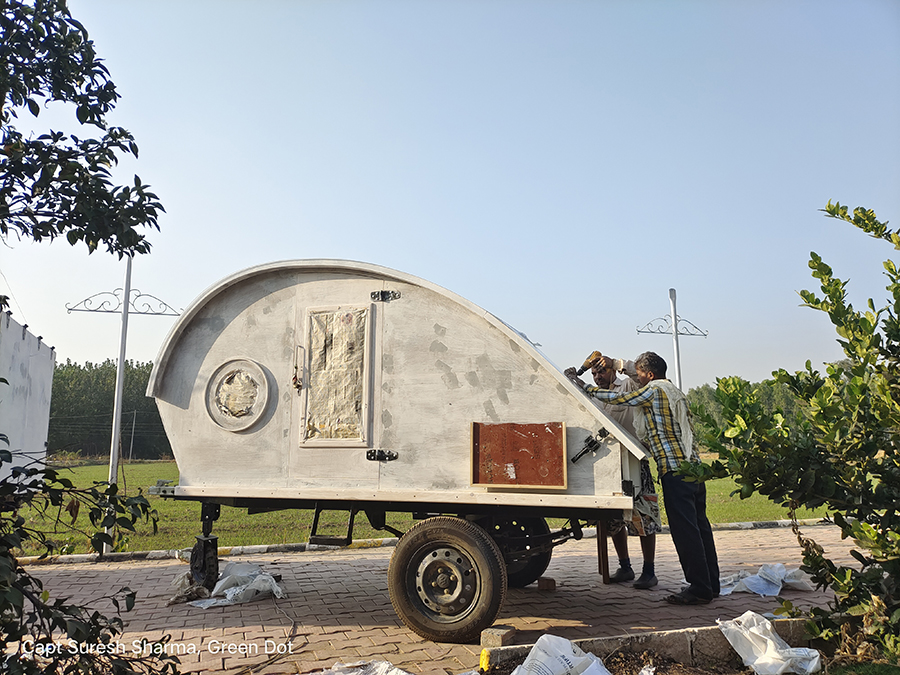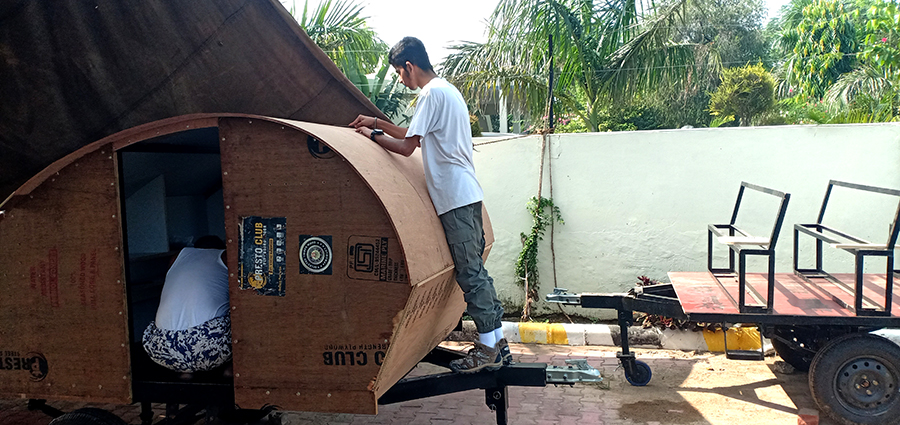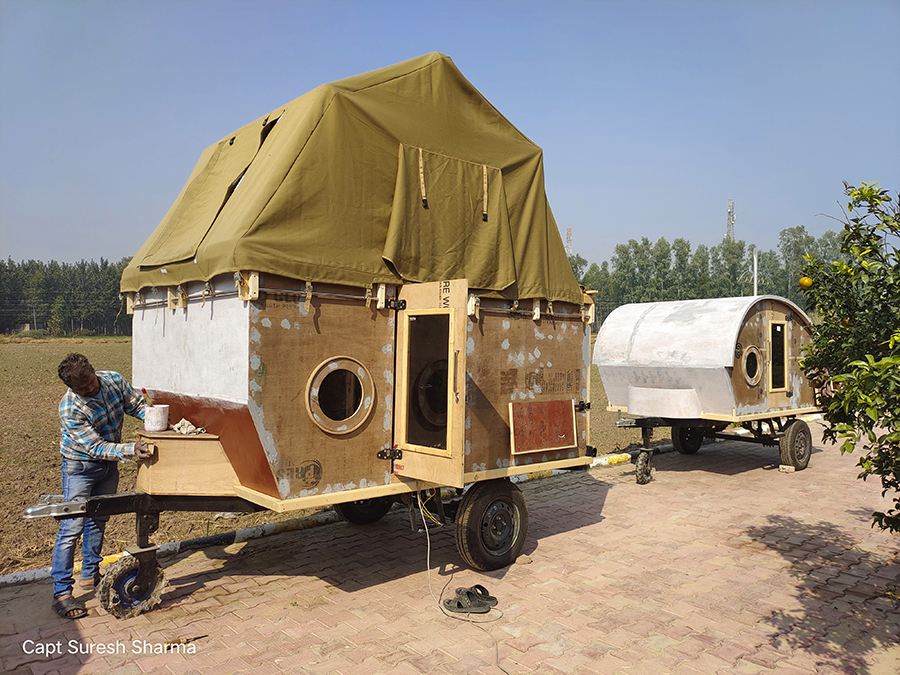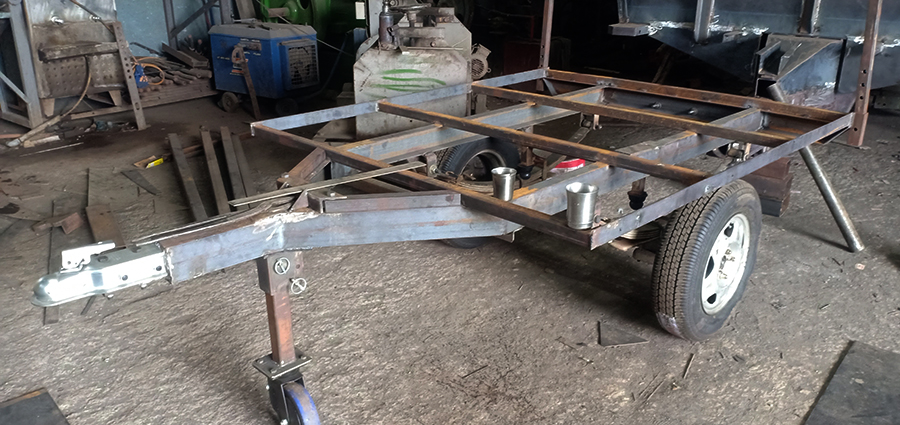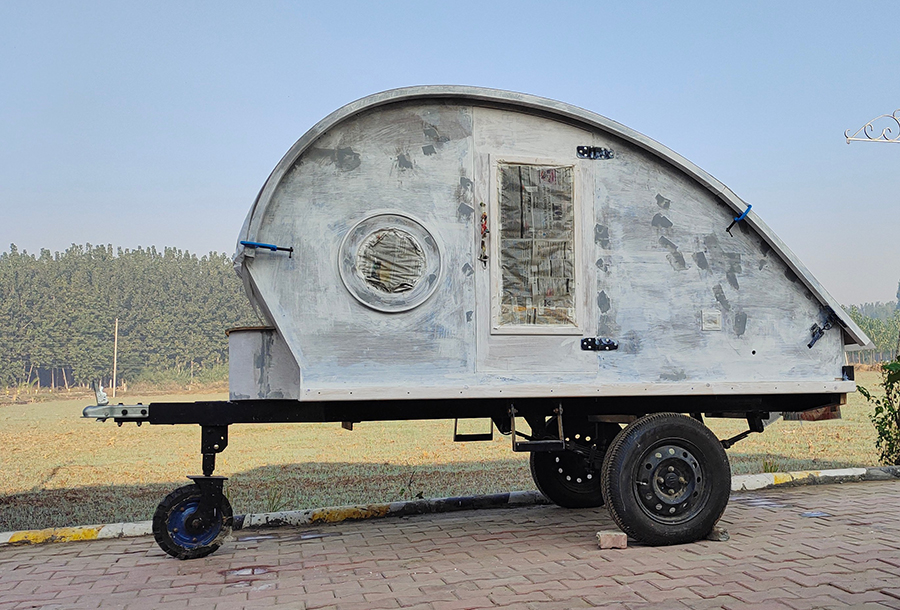 Call/ WhatsApp
+91-9888 380386     +91-6280 595008