Caravan Design & Fabrication Consultants
Pioneers of Caravan Tourism in India
CARAVAN/ RV/ MOTORHOME/ TRAILERS 
Adding new chapter to the Indian Tourism Industry
We are offering Franchise Business Opportunity 
The future is here  in the new industry from design development to fabrication to caravan tourism.
India is going to grow faster than anticipated and there will be a boom of the Indian economy soon in early 2021. Caravan tourism will be the gift of Corona, a blessing in disgiuse. 
We have expertise of 20 years of caravan designing, fabrication and travelling 1,67,000 kilometer in our own caravans, unmatched combination in India a s of now. 
With our extensive experience, we acknowledge that carrying out construction within a caravan, especially in India, can be challenging and further complicated by a lack of easily accessible information regarding the legal aspects and materials.
FRANCHISE 
Caravan tourism is the most sought after hot cake of the tourism industry in India as of now, after Corona scare and the concerns about hygiene and social distancing. Those who are bold to take the lead will be able to reap the best results and rewards.
We are going to start a 'pan India' franchises business for  caravan tourism. We have done our stage one survey and research for it's feasibility study. You may register yourself by sending a simple one line mail  to greendotexpeditions@gmail.com for future update.
We are going to design caravan for Indians and Indian conditions. 
We will design and fabricate the caravans/ campervans suitable for this business.
You buy the caravan from us.
We provide you our business platform/ portal for bookings.
You may also market your product directly and manage your bookings on your own.
We will share the know how to operate caravan business and give training.
The terms will defined before hand.
We also offer our caravan related services: Designing to Fabrication
 DESIGN SOLUTIONS 
We offer discussion sessions and give a broad outline to caravans which can be built in India and the challenges faced by the caravan users. 

Commercial aspects of caravans/ RVs

Discussions to broadly designing caravans and basics of caravan building.

After the preliminary round of discussions about your needs we can work on the basics of your design for which vehicle will suit, what all fittings you need to have. 

Second stage is to make basic drawing with layout and the features needed. 

In detail designing with drawings 
FABRICATION
We undertake "Turn-Key" project to design, develop and build caravan/ RVs/ trailers 

If you have your own design and you wish to get it fabricated then we will undertake the job of fabrication as well. 

Complete project management services are also available: design of caravan, fabrication, design the business model and execute operations and marketing from A to Z. 

We plan your tours and coordinate services for you.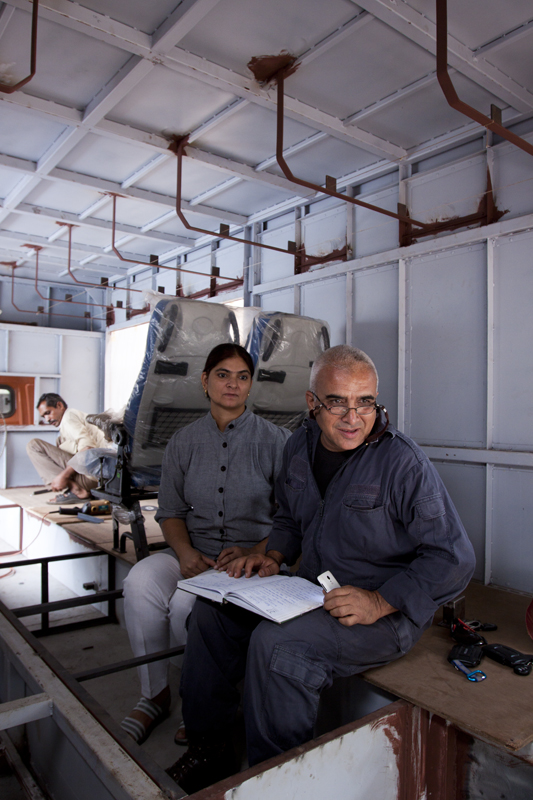 Capt Suresh Sharma & Dr Rajbir Kaur Sharma – Our Team Leaders – Designers & Founders