RJ-8 : Jaisalmer – Damodra – Khaba – Khuri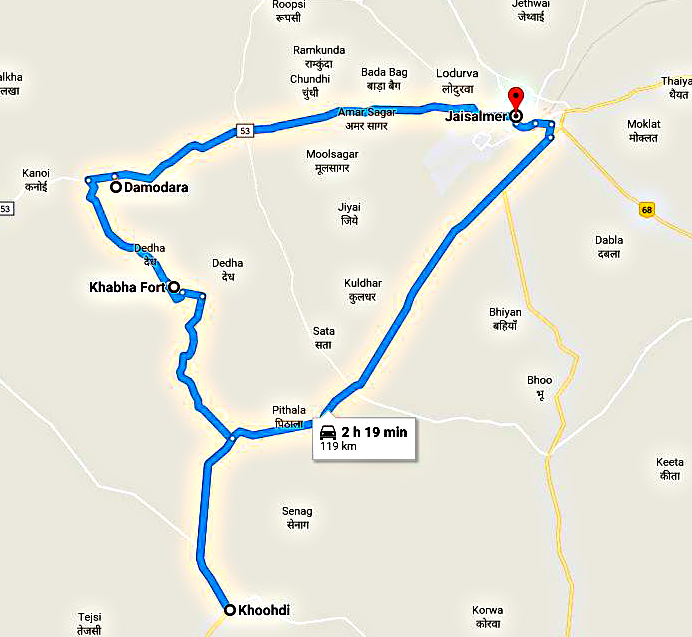 Route Map for RJ-8
Expedition Highlights
Experience the best outdoor caravan/ motorhome holidays onboard the best RV of India
3 day/2 nights
Group size 6 to 8 participants
Experience the most unique Nomadic Lifestyle in comfort
Forts and Havelis
Rustic Rural Rajasthan
Typical Rajasthani village
Camel Safari/ Desert Safari
Camel ride at sunset time
Private Sunset and Sunrise while sipping hot tea
Experience "mobile glamping" a new concept.  Most unique mobile camping infrastructure
GRADING: Easy for average fitness
ITINERARY AT A GLANCE
Day1: Damodra. Arrive at the Camp hosted by Taurus, private sunset like a king, quiet dinner (with optional Barbeque or Laal Maans dinner, if whole group is non veg). Night onboard Taurus.
Day 2: Khaba Fort and Khuri.Morning tea with private sunrise, cross country Camel Safari to Khaba.  Drive to Khuri for tea next to sand dunes. Camel ride for sunset over the sand dunes. Enjoy quiet dinner and stay onboard Taurus away from the village.
Day 3: Khuri. Morning tea with private sunrise and breakfast. End of the program, drive to Jaislamer.
ITINERARY IN DETAIL
Damodra
Arrive at the camp hosted by Taurus, welcome drink (non-alcoholic), tea/ coffee with hot snacks (if time and conditions permit); anchored in wilderness away from touristy crowds, just 30 minutes from Jaisalmer. Experience the prelude to nomadic-lifestyle in total comfort with freedom and flexibility, rejuvenates your soul and adds few years to your life-span. We organise seating with best camping chairs for private sunset viewing for you while you are sipping tea of your choice in a private set-up, a very special experience with no parallel, we bet. The vastness of the landscape and totally private atmosphere and the special kitchen of Taurus will evoke a poet in you.
If you wish, we could set up a croquet game and golf putting mat for you to have exhilarating time with your friends and family in such a setting of wilderness in Thar Desert. Else, you could photograph the landscape and the sheep/ goats coming home at sunset.
Only a few could enjoy this kind of private sunset, rich or royals. Taurus makes you feel about these two at the same time!  Enjoy private sunset in total comfort (not available in entire India), quiet dinner (with optional Barbeque or Laal Maans dinner, if whole group is non veg, advance booking for the non veg dinner).
Night onboard Taurus with Mother Nature's lullaby in it's lap– an experience beyond any price tag and words.
Khaba Fort and Khuri
Morning tea is a ritual aboard Taurus in the middle of the Thar Desert, completely offbeat in the lap of nature. Being at such locations will make you experience the 'trance' in the lap of Mother Nature, suitable for real time meditation. After a hearty breakfast, if you wish, its time to hop on the cross country Camel Safari to Khaba Fort where you will meet Taurus for lunch break. After a photo session here, Taurus drives you to Khuri, a typical Rajasthani village. Enroute to Khuri, savor field lunch from the kitchen of Taurus, an experience by itself, glamping on the move.
Once we are anchored in Khuri, you can join in for a Rajasthani folk cultural program at a resort/ camp with tea and hot snacks, as optional (extra activity). Before that a brief camel ride  to enjoy sunset over the dunes.
The warmth that exudes from the Taurus kitchen, will leave you much happier than a stay at even the bestest of hotels. The experience leaves you admiring the world you never experienced, rather denied to yourself. Nomadic lifestyle in comfort will leave your soul happy!
Live your dream night onboard Taurus.
YOUR LEGACY Your participation by stepping on-board Taurus will make a significant contribution to the cause of Nature Conservation. And you will be listed as 'ambassadors' of the green! As part of the proceeds are spent on our self-funded project 'nature conservation education'.
Departure home!
After a relaxed morning and a hearty breakfast onboard TAURUS, it's time to pack your bags. We are sure that you go with your heart filled with memories and your camera full of amazing pictures to enchant your folks as a new story teller and bragging rights on your social media. You want to reach 'civilisation' and share the stories of this life-changing outdoor holiday experience that leaves your soul rejuvenated for the fast city life back home!
Following is applicable to the program RJ-8. More details about WHAT IS INCLUDED/ NOT INCLUDED which are applicable commonly to all the programs. In case of any doubt or clarifications, please send all your questions in one mail. More details will follow later.
Tariff
Please call or send WhatsApp to +91-9888 380386,    +91-6280 595008
What is Included
Veg homely meals as buffet (including morning and evening tea with biscuits) onboard Taurus.
Filtered water to drink, please bring your own bottles to refill to avoid littering with plastic.
Taurus to travel for the itinerary.
Stay onboard Taurus as per the accommodation available,
Sleeping arrangements and seating are all on rotational basis as available onboard 

Taurus

. Sleeping double occupancy (2 tents double, 4 tents single) on rotational basis and sleeping bags provided by us.
Cross country day camel safari, twin sharing basis.
One camel ride for sunset
Pick-up and drop at Jaisalmer.
WHAT IS NOT INCLUDED
Porters and guides
Non veg food
Beverages of all kinds
Cultural evening with tea and snacks at a resort at Khuri.
Meals on the move, travelling, excursions.
Medical emergencies
Insurance of all kinds
Also please check this link to see what else What is Not Included