Taurus The Truck – A Complete Mobile Camping Concept!
Believe it or not … the idea was conceived  1991 and brewed for over 22 years …
Captain started working on it in the month of December 2012 and within a week, he was clear about what he wanted to do next – make it better than others. Now, the design which has evolved out of this day and night exercise, is  a vehicle with best features in the industry over the globe.
It harmonizes your outdoor experience with a great feel on wheels for 8 persons (excluding the crew). A unique blend of world class amenities with state of the art facilities (not to be compared with hotels) – Every small detail has been gone into to ensure you are pampered thoroughly – this is one in a lifetime experience. A 'Swiss Army Knife' on wheels – that is your Taurus!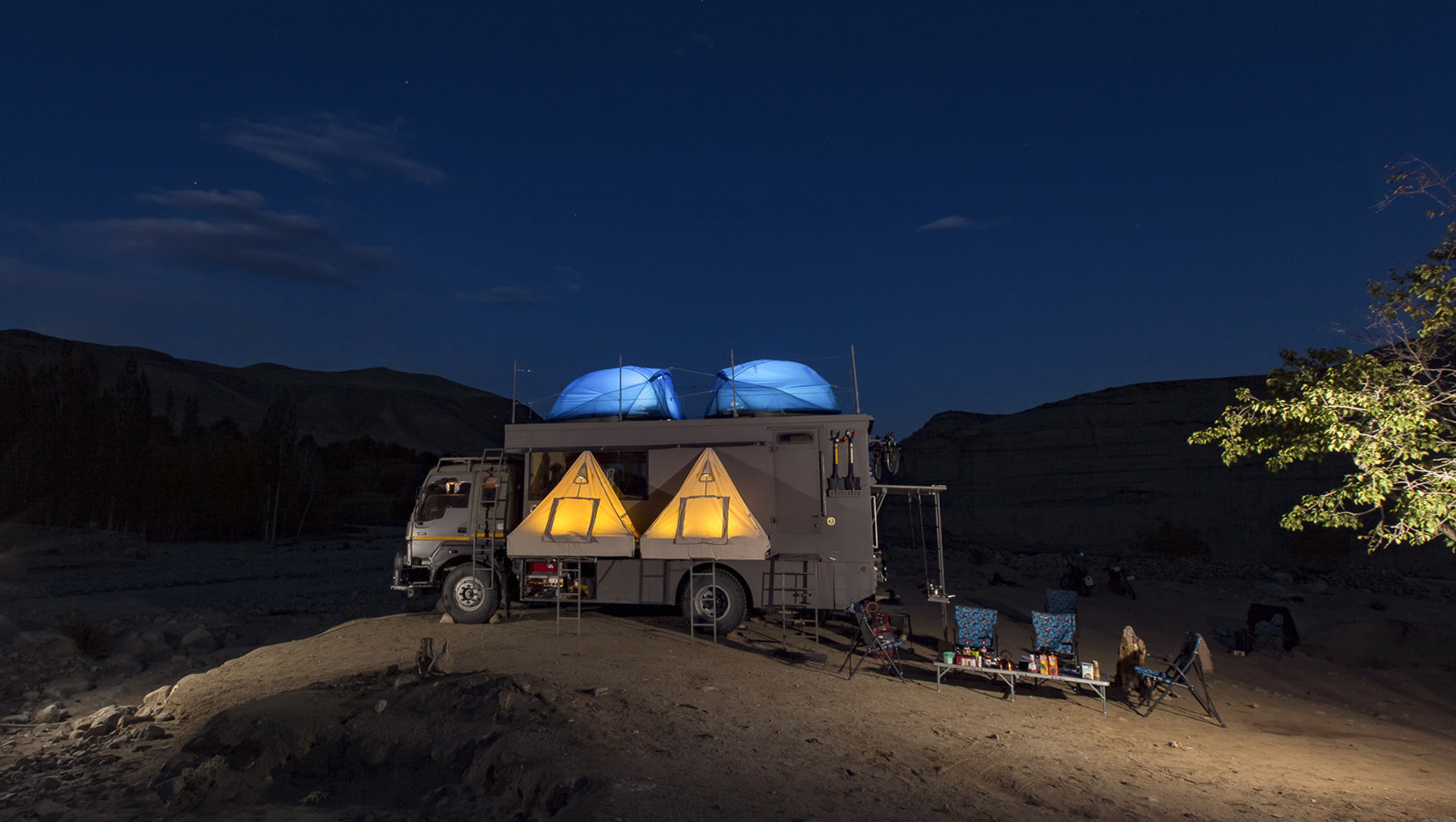 The power under the hood – Taurus is a full grown handsome 'Recreational Vehicle' (unique mobile camping unit) with its a muscled body with a well-crafted tough "no nonsense" look, carefully designed for outdoor activities in remote areas. Taurus has a six cylinder turbocharged engine that growls silently with 147 horses pulling you through your journey! Safety and comfort are our primary concerns.
The Best never Rest – Our team has spent a lifetime on wheels and in the outdoors! We have redefined the 'outdoor experience' by learning from our experience over the years – Every single piece of equipment and furniture is the best from the market for your comfort. We take your 'dreams and desires' seriously and leave no stone unturned to ensure your well-being.
Our Galley/ the Kitchen is a gastronomic delight! Your health is our concern and we maintain the best in class hygiene standards and this starts with our kitchen which is well equipped to churn out gourmet wonders for every palate (within the constraints of mobile camping)!
Beauty lies in the eyes of the beholder! Taurus is a photographers paradise on wheels – taking the shutterbugs from one setting to the next in an unending kaleidoscope of colour and light gives the aficionado multiple options. For those who prefer to capture the scenes in "the mind's eye" there will always be memories to fall back on which will become more vivid with each telling!
Leave a Legacy – Part of the proceeds go back to the environment and nature conservation – We believe that nature is not what we inherited from our forefathers but what we have borrowed from our children!
To get an 'illustrated overview' of the locations of Taurus, our specialisation and USP, please visit PHOTO GALLERY 
To get glimpses of our quality of logistics what we can offer, please take a peek at the video below. This was offered on our 'Platinum Tariff' programs and in our static camping where time and resource are plenty, not on the move camping.