RJ-4: Jaisalmer-Damodra- Khaba Fort- Khuri- Munabao- Gadra Road – Barmer- Jodhpur
Stretch Your Dreams … on a journey with no ends … 
EXPEDITION HIGHLIGHTS
5 days/ 4 nights
Group size: Max of 8 participants

Khaba Fort

and Khaba village half in ruins
Drive on Border Road around 130 kms, scantily inhabited.

Kiradu Temples

– Khajuraho of Rajasthan
War Memorial of Indian Railways
Best of Silence & Tranquillity
Pristine Sand Dunes
Camel Safari
Experience  Thar Desert like never before
Meet and greet the soldiers at a forward area Border Post
Rich colourful culture of Havelis and Forts
Unprecedented vast open landscape ample tranquility
Best photography opportunities
BILLION STAR NIGHT … an unforgettable experience
Private sunrise and sunset
Photography tips by Capt Suresh Sharma and his company are priceless
GRADING: Easy for average fitness
NATIONALITY: Its available for Indian Nationals only, as border areas are restricted for foreign nationals.
ITINERARY AT A GLANCE
Day 1: Check-in onboard Taurus at Damodra, 30 minutes' drive from Jaisalmer. Night stay onboard Taurus.
Day 2:  Cross country Camel Safari to Khaba Fort, field lunch onboard Taurus at Khaba. Taurus drives to Khuri, witness  sunset, local cultural program evening. Night stay onboard Taurus.
Day 3: Mesmerizing Border road drive of 130 kms to Munabao right on the Indo-Pak border.  Visit border post to meet and greet soldiers. Night at Gadra Road onboard Taurus.
Day 4: Drive to Barmer, take a stop at Gadra. Stay onboard Taurus near Kiradu Temple complex.
Day 5:  After leisurely breakfast, Goodbye to Taurus!
OPTIONS FOR YOU On the completion of the expedition, you have two options:
You may travel onboard Taurus from Barmer to Jaisalmer to explore its beauty before homeward journey. Jaisalmer has got flights now, it will be easy for you to travel by air for home.
You may travel to Jodhpur in a train, state transport buses or by taxi. Explore Jodhpur and its beauty.
SPECIAL GESTURE BY US
If you wish to spend a day or two extra with us at Barmer, you are most welcome at a discounted tariff (applicable for the extended stay only, if whole group plans together).
Taurus will be available from barmer to Jaisalmer, at nominal tariff Rs 500 per person for only transport between Barmer to Jaisalmer, does not include any other services.
HOW TO REACH JAISALMER
BY AIR: Jaisalmer has recently got connected by air under special scheme UDAN by the Prime Minister. There are daily flights to Jaisalmer now.
BY TRAIN: Jaisalmer is well connected with major cities.
BY ROAD: Jaisalmer is well connected by road as well.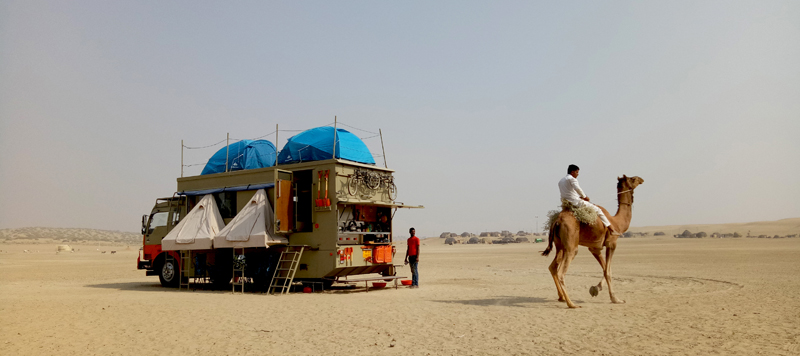 Taurus anchored near Tanot, surrounded by untouched sand dunes
---
---