RJ-4: Jaisalmer-Damodra- Khaba Fort- Khuri- Munabao- Gadra Road – Barmer- Jodhpur
Stretch Your Dreams … on a journey with no ends … 
EXPEDITION HIGHLIGHTS
GRADING: Easy for average fitness
NATIONALITY: Its available for Indian Nationals only, as border areas are restricted for foreign nationals.
ITINERARY AT A GLANCE
Day 1: Check-in onboard Taurus at Damodra, 30 minutes' drive from Jaisalmer. Night stay onboard Taurus.
Day 2:  Cross country Camel Safari to Khaba Fort, field lunch onboard Taurus at Khaba. Taurus drives to Khuri, witness  sunset, local cultural program evening. Night stay onboard Taurus.
Day 3: Mesmerizing Border road drive of 130 kms to Munabao right on the Indo-Pak border.  Visit border post to meet and greet soldiers. Night at Gadra Road onboard Taurus.
Day 4: Drive to Barmer, take a stop at Gadra. Stay onboard Taurus near Kiradu Temple complex.
Day 5:  After leisurely breakfast, Goodbye to Taurus!
OPTIONS FOR YOU On the completion of the expedition, you have two options:
You may travel onboard Taurus from Barmer to Jaisalmer to explore its beauty before homeward journey. Jaisalmer has got flights now, it will be easy for you to travel by air for home.
You may travel to Jodhpur in a train, state transport buses or by taxi. Explore Jodhpur and its beauty.
SPECIAL GESTURE BY US
If you wish to spend a day or two extra with us at Barmer, you are most welcome at a discounted tariff (applicable for the extended stay only, if whole group plans together).
Taurus will be available from barmer to Jaisalmer, at nominal tariff Rs 500 per person for only transport between Barmer to Jaisalmer, does not include any other services.
HOW TO REACH JAISALMER
BY AIR: Jaisalmer has recently got connected by air under special scheme UDAN by the Prime Minister. There are daily flights to Jaisalmer now.
BY TRAIN: Jaisalmer is well connected with major cities.
BY ROAD: Jaisalmer is well connected by road as well.

ITINERARY IN DETAIL
Highlights of the Journey today Munabao to Barmer:
Day 5: Departure for home
After having enjoyed your final breakfast from the kitchen of Taurus, it's time to check-out to say good bye for your own journey to Jodhpur.
NOTE
We would like to suggest that Jodhpur should be explored on your own, if you need our help in coordinating services on ground i.e. taxi and stay, we will do our best on actual bills you pay directly. Though, it will be much cheaper to do direct bookings to explore via travel portals (Trip Adviser, Air B&B, MakeMyTrip etc).
Pick up and drop is available only for the group (8 guests) arrivals and departures.
TERMS AND CONDITIONS
Following Terms & Conditions are applicable to the Program 4. More details about Terms & Conditions . In case of any doubt or clarifications, please send all your questions in one mail. Must read Pre-Booking Information
TARIFF: Rs 34,500 per person +GST. Please check the link for details on tariff.
WHAT IS INCLUDED
Only the following are included in the package for RJ-4, rest everything is NOT included.
WHAT IS NOT INCLUDED
More details about What is Included and What is NOT included …
---
---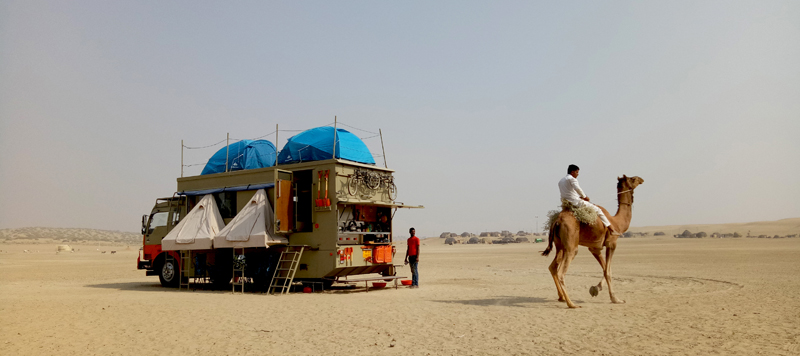 Taurus anchored near Tanot, surrounded by untouched sand dunes
---