The Desert Festival
An Alluring Cultural Bonanza 
Deserts are landscapes of brutal simplicity. They provide so little and they demand so much. But with courage, with endurance and intelligence, with devotion and ingenuity, The Thar Desert peoples around Jaisalmer have found ways to conjure life from so little water. Against all odds, they have turned a life of thirst into a thirst for life.
Route: Jaisalmer – Desert – Sam Sand Dunes – Khaba Fort – Jaisalmer
Group Size:  8 guests.
Duration: 6 days/ 5 nights.
Dates: Starts on 28th January, ends on 2nd Feb 2018
Climate: Days are usually moderate and warm and nights can be cold.
Tariff Includes: Overland transport during the itinerary, camping accommodation, food from the kitchen onboard Taurus.
Highlights:
World famous Jaisalmer Desert Festival
Forts and Havelis
The best of rural Rajasthan
Spontaneous roadside photography
Vast Landscape
Tranquility and solitude never experienced before
Colourful culture and characters.
Rural folks for portraits
Rajasthani Cuisine
Private Sunrise and Sunset
Sam Sand Dunes
Capt Suresh Sharma, with his army experience baked in battlefield action for 18 months, an outdoor expert who has done wildlife and travel photography which has been published in coffee table books and international publications. Contributed to wildlife films in various capacities, two of which were produced for the National Geographic Society, USA. Above all a very caring person who has also groomed a warm culture onboard Taurus and at home.
ITINERARY AT GLANCE
Day 1: Arrive at Jaisalmer. Night onboard Taurus.
Day 2:  Explore Gadisar Lake at dawn. Shoot the Fort from a vantage point and explore Desert Festival. Night onboard Taurus at Jaisalmer.
Day 3: Explore Jaisalmer and Desert Festival. Overnight onboard  Taurus outside Jaisalmer or Damodra village.
Day 4: Witness Desert Festival at famous Sam Sand Dunes. Night onboard Taurus.
Day 5: Khaba Fort. Night onboard Taurus at Khaba.
Day 6: Drive to Jaisalmer and its time to say goodbye with lots of bragging rights in your pocket!
Hosted by: Capt Suresh Sharma 
Meeting Point: If you arrive as a group of 8 then we shall provide you transport from Jaisalmer (airport or railway station) to Taurus and bid farewell at Jaisalmer. If arriving as an individual then we may coordinate your reception as per terms, you pay directly for the transport or you hire on your own and reach Taurus.
Jaisalmer Desert Festival
At the heart of the Thar Desert in Jaisalmer, humanity celebrates its teeming culture over 3 action-packed days during the Jaisalmer Desert Festival.  It's an opulent and very human celebration of Desert Life from the sublime to the ridiculous!  From snake charmers, ballad singers, puppeteers, acrobatics, gymnasts, muscleman to a dazzling array of competition for turban tying, longest moustache, tug-of-war and Mr. Desert. Naturally, it would not be a desert festival without competing dromedaries; camel racing, camel polo, camel dancing, camel decorating and camel acrobatics or course!
Free Workshops
There shall be two basic Lec-Demo workshops for those who wish to learn more to hone their skills. Being the promotional year, we are offering the following:
Optical care
Taming the Light God
ITINERARY IN DETAIL
The following tentative itinerary has been planned as per the inputs from tourism department's information and planning. It may change without prior intimation, for which we can't be held responsible.
Day 1: Saturday 28th January
Arrive at Jaisalmer – the golden-honey sandstone city of Rajasthan surrounded by the surprising Thar Desert. Check-in onboard Taurus. Enjoy welcome drink. After the basic formalities, Captain will brief the group about the expedition and how to make the best of this lifetime experience.
It's an early dinner and early to bed to recover from our journey and to get ready for action-packed day next morning.
Overnight onboard Taurus!
Day 2: Sunday 29th January
After the tea-ritual, we go to a vantage point to shoot The Fort, one of the most majestic monuments, under golden rays of the morning sun. Visit Gadisar Lake; it offers a gorgeous scene to photograph in the morning and evening hours.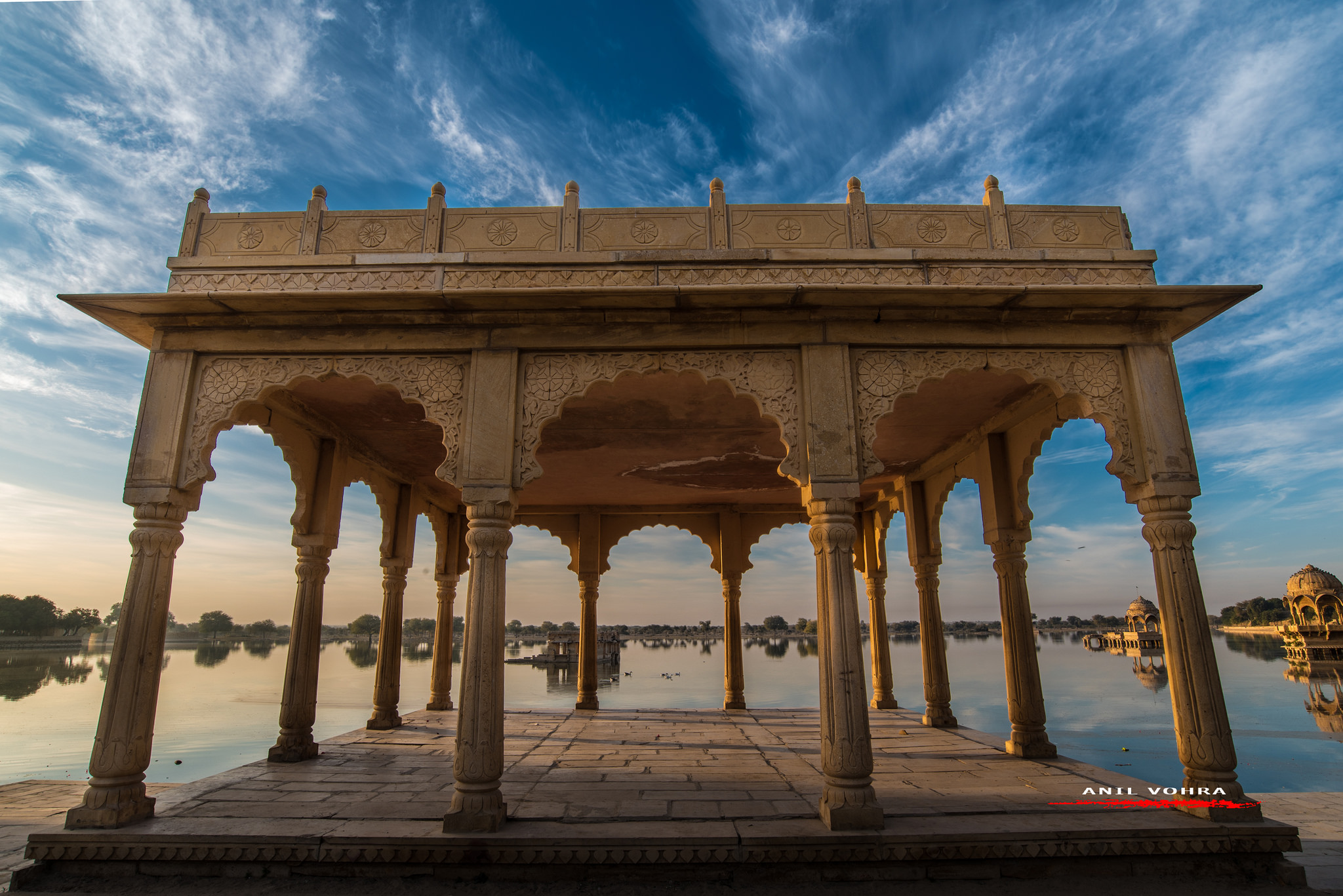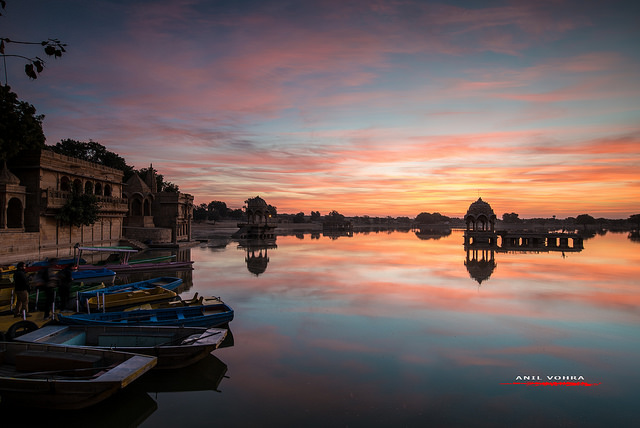 After breakfast, the camera toting passionate photographers will advance towards the Jaisalmer Festival ground; while gyrating around anything we find on the way worth capturing digitally! We shall be on time to witness the Desert Festival curtain raising with an explosion of cultural events to enjoy and capture.
Overnight onboard Taurus at Jaisalmer.
Day 3: Monday 30th January
After early morning cup of steaming tea or coffee, we set out to explore the various nooks and crannies of Jaisalmer in the optimum early morning light revealing its timeless heritage.
After leisurely breakfast, let us download our memory cards and recharge our batteries; get the gear ready once again as a soldier would for the battlefield. Let us grab what we missed out the previous day at Desert Festival ground; it may not be the same action, but we can always look for the same light in the same culture. There shall be a wide variety of activities; still you will yearn for more with hope against hope that sun should not set in the west.
On arrival back at Taurus , you are greeted with hot soup, and then it's back to downloading our memory cards which will have been filled to the brim; thanks to the today's technology they do not burst when they're full. Eat early, sleep early; we have very early morning next day and another action filled day once again.
Overnight onboard  Taurus at Jaisalmer or Damodra village.
Day 4: 31st January
After the morning cup of tea, we set our course to Sam Sand Dunes. On the way, we will stop to photograph rural folks with their strolling wealth of cows, sheep and goat leaving for grazing grounds; a privileged experience to humble your soul.
Rural Rajasthan offers such an abundance of opportunities for photographers that none of us will realize that it'll be time for breakfast. In any case, we shall mobilise our flexible resources to supply you with whatever you need wherever the action may be. We will always be able to offer the Taurus nearby, your pit stop in the field of action photography, to energize yourself as well as download, reload, and recharge your equipment.
Exhausted from the early morning shoot, the bugle sounds off the Beating Retreat to return to Taurus base for a hearty well-earned breakfast. You'll be offered hot water to freshen up (not bath) before you grab your glass of juice and fresh vegetarian breakfast with boiled eggs or a lovely hot spicy omelet. After our field breakfast, we head for Sam Sand Dunes; a visually mesmerizing landscape.
Today, unfortunately the  Desert Festival comes to end against our wishes. Never mind there is always next time! In any case, there is much more to come in our adventure.
Victory loves preparation, so Capt. Suresh Sharma gives a briefing on the layout, planning and opportunities of this kind of shoot. To optimize the prospects of success, Capt. Suresh Sharma will also provide assistance and further insight on a thorough equipment check. We reach the location for the shoot in advance; the early bird gets the worm!
We shall open the 'packet of events' on the 'D day' … so would like to leave you guessing … You will experience something you won't be able to capture on camera … moonrise and sunset almost at the same time and from same spot on the sand dunes.
Overnight onboard Taurus at Sam Sand Dunes.
Day 5: 1st February
Imagine yourself waking early morning in bed yet in awe of the full 'moon night' in desert; you are far away from the humdrum of life already on location on the edge of first light. As the shadow of the Earth falls into the west, the glow of the Sun steadily rises over the east. With a hot cup of tea and your photographic equipment at hand, you contemplate the coming day. What magic can I work today?
After early morning tea, we walk to the Sam Sand Dunes and take in the stunning sunrise and a very brief shoot at the sand dunes with camels and camel carts in foreground, offering an opportune panorama. Early morning, we can also see 'parked' camels for overnight, enjoying their breakfast. Some people, who love early mornings, come for a camel ride which offers an inimitable photo opportunity to those eagerly waiting photographers.
Later, we set the compass needle for Khaba Fort to arrive early to behold this fascinating hidden gem; a secret treasure trove for photographers. This is truly a see-it-to-believe-it location; a coffee-table-book yearning to be captured and crafted. After breakfast we go to explore countryside of Rajasthan at its genuine best!
After tea, we will walk to Khaba Fort for a photo shoot, where one can also see numerous peacocks. Being on the hillock, one can easily shoot the serene morning atmosphere of a village, chimney smoke drifting lazily across the golden light of sunrise.
Khaba is a village close to Jaisalmer, more than half of which is completely deserted. The grazing cattle and peacocks lead you up to Khaba fort which has recently been renovated. This primeval fort near the Khaba village takes you deep into a rich history of this mesmerizing region. The fort also houses a Geological Museum which exhibits intriguing fossils.
The ruins of the houses of a bygone era, deserted for over 250 years, are simply astonishing and offer a nostalgic if not extraordinary photographic experience. They echo memories when this area was abuzz with the activities of Paliwal Brahmins.
After leisurely breakfast, we may still have time to stroll around and explore this quaint village. Later, we begin to steer towards Jaisalmer to Jaisalmer. On the way, of course, we can continue to explore placid rural life stopping to appreciate the unbelievable open expanse and poignant tranquility.
Overnight onboard Taurus at Khaba.
Day 6: 2nd February
After breakfast, we fear mutiny … as Captain invites everyone to climb back onboard Taurus one last time! It's time for return to Jaisalmer where your homeward journey begins. If time permits, we may have time to explore more of this exotic city. The Fort and the market offer a lot more, everyone would say, "wish there was more time".
Today, the exhilarating expedition shall come to end, yearning for more.
You may have to squeeze some time to have a short trip for shopping too!
We shall bid goodbye at the railway station.
TARIFF :
Rs 26555 per person for the  group of 4 persons
Rs 24555 per person for the group of 8 persons
TERMS & CONDITIONS : Following terms and conditions are specifically applicable to the Desert Festival program and als general Terms & Conditions are applicable.
Booking: Your booking is confirmed against 100% payment. No refund as the time is too short to react for this expedition. This is a promotional expedition and tariff offered right now is almost 30% of our MRP.
We have some SPECIAL OFFERS as well.
WHAT IS INCLUDED
Tariff includes all the basic essentials – transport (our own vehicle Taurus as surface transport), accommodation and food (onboard Taurus); for the whole duration of the expedition.
Hired transport alongwith Taurus for local sight-seeing.
Vegetarian 3 meals (shall serve egg preparations in breakfast), morning/ evening tea with biscuits and cookies, Occasionally hot snacks with evening tea, all three meals, for the entire itinerary, unless it is specified.
We may manage occasional non-veg meal if the whole group is non-vegetarian. Otherwise we can organise as extra activity if it is viable and suitable to the guests.
We design our tours to be highly inclusive, while still making it possible for you to exercise some personal preferences. We leave some room for the non-veg to explore on their own or to enjoy a meal or two away from the group while being at Jaisalmer, to be paid by individuals directly.
Filter safe water for the trips. Branded bottled water to be bought as extra by individuals, if preferred. This has been done to prevent wastage of water and menace of plastic bottles.
Transfer as one group, on arrival from railways station/ airport to the Hide (place of camping for night stay onboard Taurus) at the start destination. Individual arrivals to be handled at personal level, although we shall be there to help always.
Camping equipment onboard Taurus.
WHAT IS NOT INCLUDED
Entry Fee at any Forts and Havelis for a visit or for photography.
Any food or beverage ordered at a roadside dhaba, city eatery or a hotel.
Any kind of transport other than Taurus, unless mentioned in WHAT IS INCLUDED.
Transport for personal trips or shopping.
Fee for any models for photo session.
Hotel, resort, guest rooms stay.
Any extra meals/ eatables consumed at private/ commercial places on your own.
Any kind of rides i.e. sand dune bashing, elephant, toy train, boat, camel, etc.
No personal servant or assistant is accommodated, unless you pay full tariff of the tour and book as an extra seat.
Anything which is not mentioned in the INCLUDED
WHAT IS EXPECTED FROM PARTICIPANTS 
OPTIONS TO REACH JAISALMER
Jodhpur to Jaisalmer:
Air: Jaisalmer has been connected by air with Delhi and Jaipur.
Road: Jaisalmer is well connected by road.
Railways: Jaisalmer is well connected by railways with Delhi and rest of India. There are 5 trains from Jodhpur to Jaisalmer. There is a train between Bikaner and Jaisalmer.
Wishing you a HAPPY JOURNEY!