TESTING PAGE TO MODERNISE Website
This is the most "hot favourite" program offered by us, it offers the best of Ladakh in shortest span of time to save your energy, time and budget.
OVERVIEW
Leh to Leh  5 days  |  Van-Life Camping  |   Stay  |   Food  |  Transport   |  Activities 
5 days
Max 10 persons
Min 4 persons
Stay and food (Taurus and guest house)
Most hygienic kitchen in a camp
Hired transport for excursions
Best of Buddhist Culture
Unique Landscape of Ladakh
Most unique outdoor experience
Experience "aristocratic nomadic lifestyle"
India's First Luxury Overland Truck
Suitable For: 1 year and above without any medical restrictions
Available for: Indians

Special Tariff available:

for early birds, group bookings of friends, families, couples.
List of What to Carry will be sent to you soon after booking.
Point of Arrival:  Airport at Leh

Point of Departure: 

 Airport at Leh

NOTE:

We also have the best rates for air ticket
ITINERARY AT A GLANCE
Day 1: Leh, afternoon visit Shanti Stupa and Hall of Fame.  Night with Taurus.
Day 2: Stok Palace, Hemis Monastery, Thiksey Monastery, Leh Palace. Night with Taurus.
Day 3: Nubra Valley: Khardungla Pass, Diskit and Hunder, night stay in guest house/ homestay.
Day 4: Pangong Lake via Shyok. Explore market. Night with Taurus at Leh.
Day 5: Drop at the Leh airport.
WHAT IS INCLUDED 
Pickup and drop (Leh airport), as a group.
Stay (as per the accommodation displayed on our website and some tents on ground) twin sharing, onboard Taurus.
Morning tea with biscuits and rusks from the kitchen of Taurus.
Indian veg breakfast (with eggs), as per the plan.
Evening tea with hot snacks from the kitchen of Taurus.
Indian veg dinner
Drinking water (filtered)
Stay at Nubra Valley, on twin sharing.
Local transport for excursions as per this program above.
WHAT IS NOT INCLUDED
Journey to Leh and back home, pick up and drop for singles and twos (will be as extra).
Inner-line permits, entry fee of all kinds, camel rides, guide, porter, escort.
Any extra food, non veg food, beverages of all kinds, any kind of food outside Taurus on excursions and travel.
Extra expenses caused by weather conditions  (for stay, food and transport).
Medical emergencies (medicines, doctor, oxygen), evacuations, transport, insurances, accident insurances.
Anything not mentioned in the WHAT IS INCLUDED
OPTIONAL We have some extra activities available on the basis "pay as you use"
Activities at the Camp: Weber Grill, Games.
Day visit to the Zorawar Fort.
Light and sound show at the Zorawar Fort.
Rafting in Indus River.
Pangong Lake overnight stay.
Tsomoriri Lake
Pick up and drop as a single person.
https://www.youtube.com/watch?v=jtDOLx37L5I
ITINERARY IN DETAIL
Day 1
Day 2
Day 3
Day 4
Day 5
Arrive at Leh, check-in at the camp offered by Taurus, on the banks of the river Indus outside Leh, to acclimatize as per the medical advice for high altitude sickness, while relaxing in hammocks . After lunch, transport will take guests to visit Shanti Stupa. Enjoy your evening tea with hot snacks here at this location is an experience beyond any price-tag and beyond any words and photos to capture; offers unlimited bragging rights. If you wish you may enjoy with Weber Barbecue Grill on the banks of the river and dinner from the kitchen of Taurus.
It's your much desired and awaited night, which Taurus offers outside Leh.
After you have been woken up with the sweet and gentle call by the whistling kettles for warm drinking water, enjoy your morning tea from the kitchen of Taurus, which only millionaires or royals could enjoy till Taurus offered to everyone. Breakfast is a treat for your soul at this place! After breakfast, drive in a hired transport to visit Stok Palace, Hemis Monastery, Thiksey Monastery and Leh Palace. Night with dinner in camp Taurus outside Leh.
After breakfast, your transport will drive you over the world's highest motorable road Khardungla, with a very brief stopover of around 10 minutes to reach Nubra Valley, while enjoying mesmerizing views of the landscape giving you a feel being on a different planet. Enjoy your visit to the white sand dunes and Diskit Monastery, one of its kind in India, and you may opt for a camel ride if you wish, as extra activity.
Stay in homestay/ GuestHouse/ Camp, enjoy your dinner.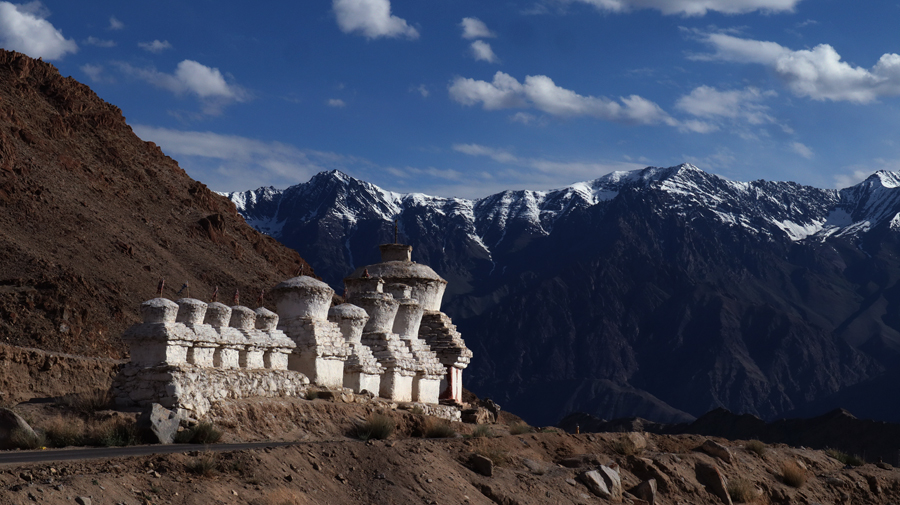 After breakfast at the stay, drive to Pangong Lake, via Shyok to enjoy and admire the most beautiful natural lake.
To avoid getting hit by "high altitude sickness" in such a remote place where medical facilities are scanty, we drive to Leh. On the way, if time permits, we stop at Chamrey Monastery. Explore Leh market for shopping. Night in camp Taurus outside Leh.
After your morning cup of tea and breakfast with Taurus, you may indulge in taking selfies with Taurus and your friends to fill the  memory cards of your cameras and cellphones to turn you into the best story teller in your office and at home, we will say goodbye at the airport!
NOTE: Try to book your late flights for the departure from Leh. We would love to host you for one more session of morning tea and breakfast at this location which everyone loves not to leave.
And of course you need an elaborate photo session with your group posing with Taurus!
OPTIONAL EXTENSIONS OF THE TOUR
You may prefer to stay back to explore the following options as extra, only if the group decides at the time of booking, else depends on the availability:
Rafting in Indus River: Many travellers love to add rafting to their great experience in Ladakh; if you wish we may organise rafting for you as extra activity. The cost of stay and rafting will be

extra than the tariff paid for the package.

Visit to Lamayuru and Alchi: Offers an exhilarating journey with views of the famous Indus which flows along the road while hugging the gigantic mountains. Visit mountain caves used by the Buddhist monks for meditation and an old monastery at Saspul, missed by the most travellers. Visit Alchi Monastery (one of the oldest and well known for it's unique architecture). Stay at Lamayuru in a homestay/ guest house Visit Lamayuru monastery.
Visit the Aryan Villages: One of the most beautiful regions to offer peek into the life of the people who are so unique and different than the rest of Indians, known as pure Aryan people. The culture is completely different and is a special attraction for anyone; be a photographer, traveller or explorer. This will be a 2 night sojourn with Taurus camping on the banks of a stream whose gush offers you musical recital never experienced before. Enjoy your tea and hot snacks from the kitchen of Taurus and in a setting which will leave you in awe for life. A wonderful drive all along the river and rocky mountains for over 150 kilometers. Visit the villages Dah and Hanu, meet and greet the Aryan while they are moving around for their daily chores. One experiences quite a green view in this region which is studded with apricot trees. Dinner and night stay onboard Taurus at a soul thrilling location.

Overnight Visit Pangong Lake:

Considering the serious risks of the high altitude at Pangong and scanty medical facilities, we have not included overnight stay at Pangong. However, if you think you are physically fit, we can organise your overnight visit to Pangong (transport, food and stay) as extra.
Tsomoriri Lake: Most of the first time visitors to Ladakh are confused about whether to visit both lakes or one and then which one, so we have kept this also as optional, at extra cost. We can help you organise transport, food and stay for your visit to Tsomoriri.
NOTES:
Please read all the details on the website related to the product and terms, before booking.
The execution of the plan and delivery of the itinerary as mentioned is subject to the weather gods. We hold no responsibility of any kind.
The program is subject to changes as per the effects of weather and other local conditions, more details may be sent later.
Please refer to the website for all other details related to our programs and you may write all your queries in one single mail to prevent confusion ensued by chain of mails. .
Must refer to "what is included/ what is not included" the details above are very basic.
Please go through

FAQs

.
In case of bad weather if you have to stay extra at any place, it has to be paid by you, before check out and there won't be any adjustments in the tariff.
What is included / NOT Included  | Terms & Conditions  | Tariff  |  
 Food Plan | Transport & Accommodation  |  Pre-Booking Information |