Spiti Valley – SPT 05
ASTROPHOTOGRAPHY
Romance the Billion Stars In the Lap of Cold Desert
Cold Desert of Spiti offers landscapes of brutal simplicity. They provide so little and they demand so much. But with courage, with endurance and intelligence, with devotion and ingenuity, the denizens of Spiti have found ways to conjure life from so little of every resource. Against all odds, they have turned a life of thirst into a thirst for life. Let us visit this land and people who have special living skills evolved over centuries.
Welcome to India's only luxury Overland Truck Photo Expeditions. An innovative way to travel the magnificent parts of Spiti and capture its beauty with your camera. Green Dot Expeditions promises you a trip of a lifetime across one of the most inspiring and photographically rich locations on our planet – SPITI VALLEY.
During the expeditions, don't forget to ask Captain to share his many secrets which have allowed him to make the most of his extraordinary life.
WHY ASTROPHOTOGRAPHY EXPEDITION with Taurus The Truck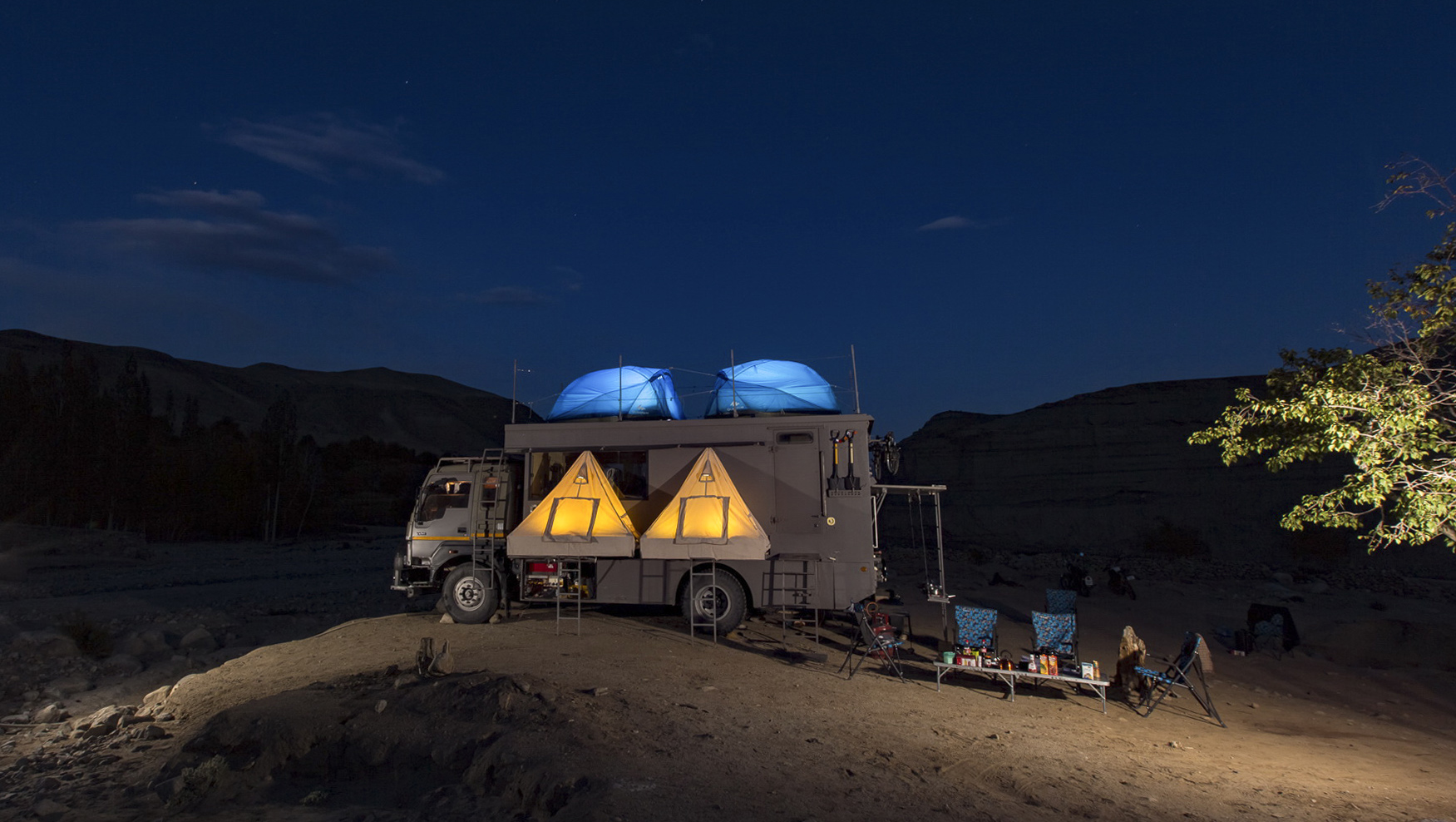 Taurus is the most suited innovative infrastructure for astrophotography. Any passionate astro-photographer worth one's salt would dream to be onboard Taurus and understand its role to accumulate the best rewards of such locations far away from any human habitation and touristy destinations. Taurus and its elements shall ensure you shoot to fill your soul and leave those nagging logistical hurdles to be handled by its enthusiastic crew under the watchful eyes of Capt Suresh Sharma himself as Team Leader onboard.
We shall create destinations for you which may not be visible while being on routine photography trip. You need to have blind faith to trust the Team onboard Taurus which consumed gallons of diesel and millions of calories to find the hidden spots which could be converted into open air studios for you. The team has immense experience in the outdoors and photography accrued over years, specific to these regions which are not easy to romance with.
With the advent of Taurus the romance of astrophotography has been spiced up and you can only feel it, as its beyond words and any price-tag.
ASTROPHOTOGRAPHY onboard TAURUS is a Grand Celebration … with 'Hot Cake' Arranged by Green Dot Expeditions onboard Taurus
7 days
8 to 12 persons (may book as individuals on fixed departures)
Manali – Spiti – Manali
Travel, Food, Stay
Transport for all Excursions in Spiti
Chandertal Lake – 1 night stay with food
Expedition Organisers are Expert professionals
Tariff: Standard Rs 69500. Special Rs 48800.
TAURUS as a model, with lighting set up, an experience beyond any price tag
HIGHLIGHTS
Main focus will be to create opportunities for Astrophotography, also popular destinations for photography.
Locations are selected with photography in focus.
Explore remote region of Indian and photograph the culture and unique landscape of Spiti Valley.
Experience Rohtang Pass and Kunzum Pass.
Drive on one of the treacherous roads, yet full of charm and excitement though.
On some expeditions Nimit Nigam, a seasoned astro photographer, who has explored Spiti Valley for 4 years for months at length will be part of the team.
Priceless company of Capt Suresh Sharma, as Team Leader an experienced outdoor trained by the Indian Army his own adventures, seasoned photographer who worked on National Geographic films twice, international publications, coffee table books. Well known conservationist.
4 Strobe Heads of Elinchrom Quadra Ranger (with some field light modifiers available for lease).
LED lights will be available with cables and connectors to set up for night photography.
The best field kitchen will provide hot and fresh food and beverages (hot tea/ coffee with hot snacks) at shooting locations.
Being on our expeditions for astrophotography, you save time, energy and money significantly; hard to estimate.
Taurus supports you to spin the best magic with 'billion stars'.
ITINERARY AT GLANCE
Day 1: On arrival at Manali, stay in a hotel.
Day 2: Road journey over Rohtang Pass and Kunzum to reach Spiti Valley. If your energy level permits you may shoot at night. Night onboard Taurus.
LOCATION: Away from Kaza and in the middle of nowhere. It could also be near to a attractive subject in foreground and the unique landscape.
Day 3: After leisurely breakfast, a local photo-excursion on hired transport. Evening tea and preparation for night shoot. Dinner onboard Taurus. Night shoot with the support of unlimited power supply to keep your equipment charged all the time. The well designed kitchen to support long night shoot session. Night stay in the same location.
LOCATION: Away from Kaza and in the middle of nowhere. It could also be near to a attractive subject in foreground and the unique landscape.
Day 4: After leisurely breakfast, Taurus will move to new location. Night shoot and night stay in the same location.
LOCATION: Away from Kaza and in the middle of nowhere. It could also be near to a attractive subject in foreground and the unique landscape.
Day 5: After leisurely breakfast, a hired transport will take you to visit Hikkim (highest post office in the world) and Langza (one of the largest Buddha statues) to photograph and enjoy the village landscape and culture. Night onboard Taurus.
Day 6: After early breakfast, the hired transport will take you to Ki Monastery and Kibber (one of the highest motorable villages in the world). Drive over Chicham bridge (one of the highest bridges in the world) and enjoy the drive through Losar and Kunzam to reach Chandertal Lake. You may enjoy evening shoot and stay for the night in a hired camp to enjoy your dinner.
Day 7: After breakfast drive to Manali for homeward journey.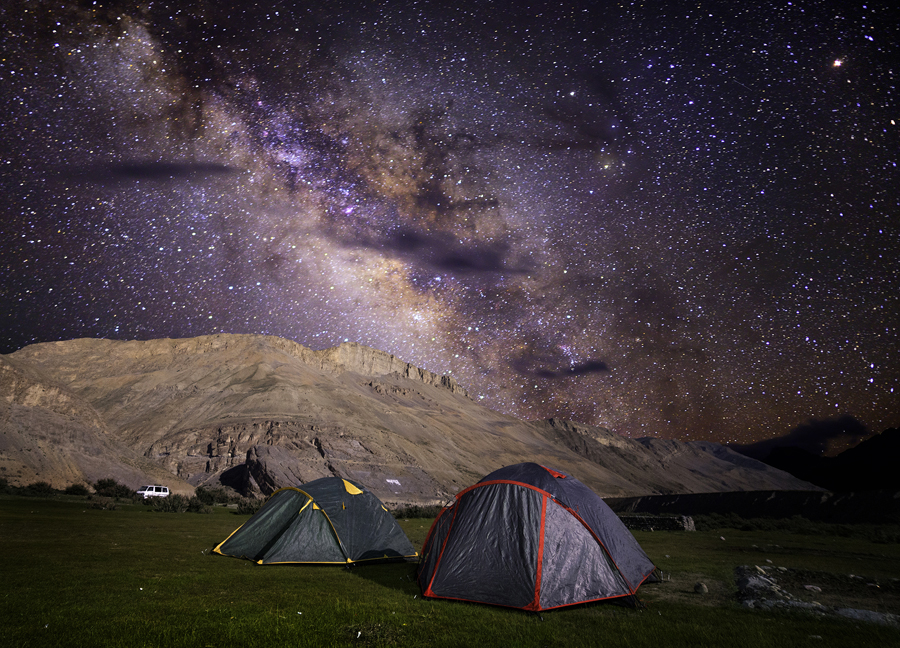 ITINERARY IN DETAIL
Day 1
Day 2
Day 3
Day 4
Day 5
Day 6
Day 7
WHAT IS INCLUDED
Basic transit accommodation for night stay at Manali, on twin sharing basis.
Hired transport from the hotel at Manali to Spiti Valley and excursions (night shoot and places mentioned in the program here) in Spiti. The seats are available only on rotational basis, to secure same seat throughout the trip 'single supplement' will be applicable.
Taurus as transport between locations
All 3 veg Indian meals and tea onboard Taurus, as per prescribed food plan.
Stay onboard Taurus as per the plan for night shoot, on twin sharing basis.
Filter water with meals.
Stay in a hired camp at Chandertal on triple sharing with one veg dinner and breakfast.
WHAT IS NOT INCLUDED
Journey from home to Manali and return homewards.
Food at Manali and on the way to Spiti, basically to exercise personal choice.
Extra food and beverages other than prescribed onboard Taurus.
Food outside Taurus on excursions
Transport for excursions at Manali.
Stay other than Taurus and Chandertal Lake, reasons could be any.
Hotel stay in Manali on return journey.
Extra stay onboard Taurus and homestays/ hotels other than prescribed; reasons could be any
Medical and accident rescues.
Insurances of all kinds. You are advised to buy health insurance with rescue plan
Guides and porters.
Anything not mentioned in the list WHAT IS INCLUDED
Transport for personal excursions in Spiti
Camera gear and any photography support equipment
NOTE:
The locations for camp and shoots will be decided by the crew. If you have any locations in mind before embarking on the expedition, as your friends and bloggers may have guided and advised you, will be considered only if whole group is ready and it fits into the plan. The crew (lead by Capt Suresh Sharma himself) will do evaluation of your proposal. If you wish to alter the itinerary then it may add to the tariff (though nominally) as Taurus is a fuel guzzler. Our endeavor is to ensure your happiness and pleasure of photographing in Spiti.
Suitable transport for the group is organized from locals; seats will be available on rotational basis as per the layout of the vehicle.
Accommodation is available on twin sharing basis, except four single tents onboard Taurus. If you wish to secure single accommodation onboard Taurus or as a separate dome tent throughout then 'single supplement' is applicable.
If you have any issues with health and diet, you need to mention before the booking is secured by making payment.
It's a self-service camp.
No personal servant or assistant is accommodated, unless you pay full tariff of the tour and book as an extra seat.
Anyone having rigid choice of any kinds i.e. special food, sleeping habits, transport seat choice, toilets, etc., may kindly overlook our expeditions.
We welcome only those participants who can live like a cohesive group for the duration of the program and appreciate our honest and sincere efforts.
Extra food, snacks and beverages other than prescribed in the plan are available as per the stock and at extra bill.
No show by individuals and group get no refund and adjustments in tariff and extra bills, reasons could be any i.e. political upheaval, road blocks, bad weather, technical breakdown of equipment, etc.
Being late at Manali for departure is not our responsibility.
Abandoning of the camp for any reasons will get no refund and adjustments.
Anything not consumed or availed invites no refund and adjustments.
We keep our infrastructure in top condition as much as possible but at the same time we won't be responsible for any technical breakdowns.
It's a tentative program and a lot depends on weather and road conditions. The weather conditions and other circumstances affect the delivery of the itinerary in this region which is full of challenges and no guarantees.
We can organise your journey from Delhi/ Chandigarh to Manali
On outdoor activities, you care for others and others will care for you!
HOW TO REACH MANALI
BY AIR: Chandigarh or Bhuntar (the airport is located 11 km from Kullu and 52 km from Manali).
BY RAIL: The nearest railway station is Chandigarh.
BY ROAD: One can do road journey by bus from Delhi or Chandigarh to Manali