Caravaning is Quite Enticing… exciting glamorous … but NOT for everyone …
Caravaning has been one of the main activities for the outdoor enthusiasts in the West, but with Corona Pandemic it has suddenly become favourite of everyone globally and the caravan fabrication/ building has never seen such a surge in demand. What we could not do to popularise in India for 20 years, Corona has done it in 20 days! Now, we feel very happy that even a common Indian has become aware of the existence of caravans! Though it has a long way to go to become a commercially viable activity in India to make a suitable place in the Indian tourism industry as yet.
No doubt it's the best way to be safe on holidays while Corona Pandemic is around as of now. It looks and sounds very glamorous but it has its own pros and cons, just like every rose has few thorns too, and thus it's not everyone's cup of tea. It's for those who want to be on a quiet holiday away from the city lights and shopping malls, and one can manage to freshen up with sponging or stay without bath for few days! It's a great fun for those who can use the bush in the morning if need be, not looking for a heated toilet seat fitted with a jet!
It is still a far cry for Indians to afford to own a caravan – lack of space, resources and knack to handle the technical issues, not yet cut for outdoors.
And the biggest challenge commercial caravans, which are just a few in India, are facing is how to monetize. The main misconception is about the tariff of caravan holidays, most Indians being naïve about the campervan holidays think that it should be much cheaper than a hotel room. Why? They compare a caravan built on a Temp0 Traveller with any other Tempo Traveller, not realising that to convert a basic vehicle it has taken few times more money than the basic cost of the vehicle. The bitter truth is that it's way more expensive, as it needs quiet a bit of investment to convert a basic vehicle into a caravan and then to mobilise the infrastructure and maintain in top condition.
Please don't mind my straight and blunt statemen that Indians as a majority are one of the most confused people about holidays and in general for everything. Caravan has almost all basic creature comforts but still its an outdoor life though with a soft touch of adventure. We Indians love others pampering us on holidays – we want someone to make our bed, cook and wash dishes. And most Indian holidays are a mix of everything – adventure, shopping, exploratory, historical, outdoor, comfort, adventure, spiritual, all in one, etc. And at the end of it it's not a well enjoyed holiday, rather all grumble about it as fatigue filled holidays and wish to be off from the office for few more days on arrival back home. And we love reading the blogs and follow them blindly as authority on travel and holidays; we unfold our holidays as per the advice of friends, try to please them by doing it as advised. Our holiday ends up not being what we envisage or plan, none knows you better than yourself.
Caravans are suitable for long holidays and good if it's self driven, sadly everyone can't drive vehicles bigger than normal cars in India, and caravans are tricky for most Indians too risky to handle. If a shorter holiday has to be enjoyed with caravan then make sure it's circuit is smaller, otherwise one will waste most of the time on roads reaching destinations in the evening and being lost for parking in the darkness of night and use it only to sleep, end up crashing like a stone in bed. Caravans are NOT just for sleeping or driving as a transport for sightseeing, these are to enjoy locations with HOME AWAY HOME concept.
Next biggest con is the shortage of space, everything smaller and cramped! Most Indians need hot shower everyday without any need of it, our sincere advice for such people is either stay home or hire a cab and stay in hotels. If you can sponge yourself to freshen up and stay without bath for few days then you should think of caravaning. And caravan is not meant for hot weather locations.
Ideally, one should be able to handle basic technical issues of the vehicle. And the caravan should be in top conditions always and it needs preventive maintenance as priority. I always say that caravaning is like riding to ride a horse for one hour you have to invest four hours under the horse for its maintenance.
We at Green Dot Expeditions offer stay in the lap of nature to relax and unwind to rejuvenate where either its a waterbody (lake or river) or beautiful view of mountains or greens or wilderness like The Thar or secluded place like Kutch! The caravan makes you enjoy such places with basic comforts and one must spend maximum time at such places instead of travelling distances and reducing caravan only as a mode of transport and use it for the night.
If you still think you can manage a caravan then go on two three holidays on hired caravan and then decide, must take time to settle with the idea of owning a caravan. The biggest hurdle then comes who will design and build it for you, as caravans are not yet readily available at automobile showrooms.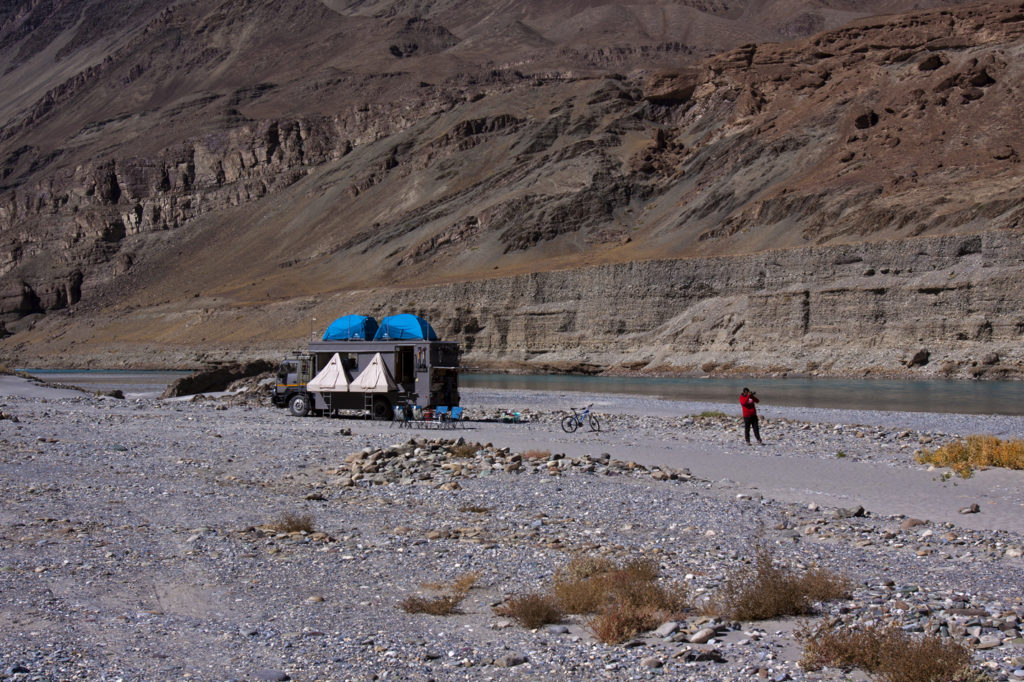 Kitchen side of Taurus at breakfast time.