Experiential Holidays for Family, Friends & Couples
Program Code: DS-02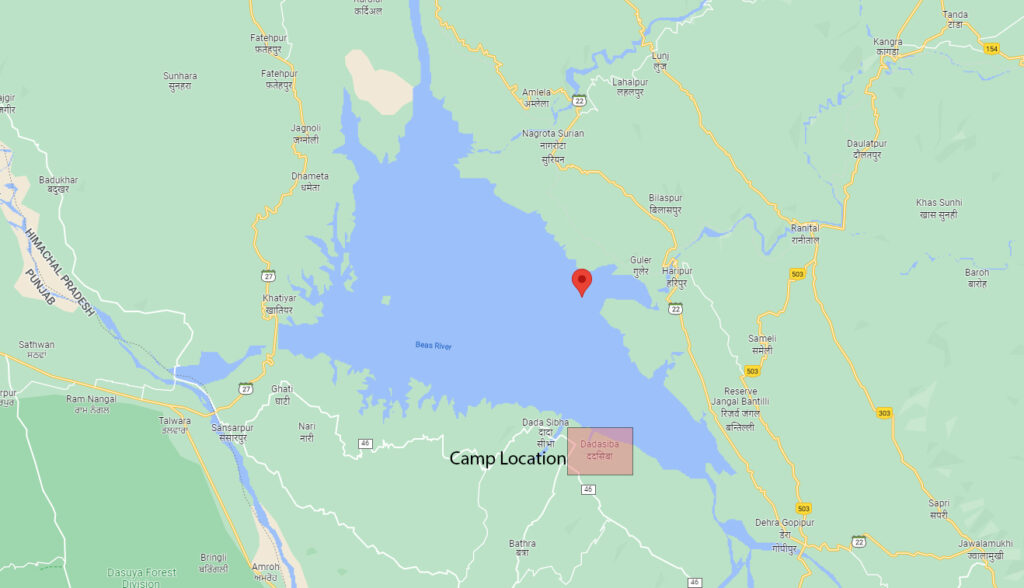 Today spending exclusive Quality Time with family and giving them attention they need – is a dream of everyone. But busy schedule and fast life deny that and always seems like a dream too far … which we help you fulfill!
Taurus India's best overland truck and 'camping trailers' offers experiential family holiday in the lap of nature in 'static camping' mode now.  It's the safest holiday in India to beat the fatigue created by the Corona Pandemic (COVID-19) – under the best possible hygienic conditions in outdoors. Our 'roving camp' is always away from touristy crowd in wilderness in the lap of Nature in nomadic and rustic yet aristocratic.
Let's celebrate life with an EXPERIENCE of a different kind to be remembered for life.
NEW ADDITION … "Camping Trailers" 
We are pioneers of mobile holidays (recreational vehicle) in India and we are the first one to build and offer Overland Truck (combo of various features of caravan, campervan, motorhome) in India. Now, we have introduced Camping Trailers – totally new to India, though very well known in the West. These are compact trailers which are towed behind a mini tractor, each has room for 2 to 5 to sleep and has own small but well equipped kitchenettes.
Program Code: DS-02
HIGHLIGHTS
Pioneers of Caravan Holidays (campervan Camping) in India.
22 years of caravaning experience, unmatched by anyone.
Minimum 2 nights/ 3 days onboard Taurus The Truck or 

"Camping Trailers"

 in wilderness closer to a village.
"STATIC CAMPING MODE" to ensure "social distancing" for 'Corona Safe Holidays'. That also ensures you spend less money and enjoy more time with family.
Small Group of 2 to 15 persons.
No fear of high altitude sickness like Ladakh and Spiti.
Available for one couple or single person too.
One hour drive from Gaggal airport (Kangra).
3 to 4 hours drive from Chandigarh airport.
Detox holidays to kill the fatigue of Corona Pandemic and rejuvenate in real, to relax and unwind.
Most hygienic camp with best SOPs.
Social distancing by default.
Away from touristy crowd.
45 kilometers long reservoir lake.
Local cuisine (veg and non veg) – Dhaam.
Experience rustic nomadic lifestyle with aristocratic touch.
Offbeat outdoor experiential holidays in 

Dadasiba

 (HP).
Rendezvous with Nature. Tranquility and freshness for meditation. Fresh air for Pranayam and morning walk.
Most suitable location for light exercises and Yoga.
"Gharraat" – working "water flour mill"  – ancient technology still in working condition.
Weather – Winters are 2° to 22°C. And we move our camp to Barot Valley (HP) in summer.

Features and Facilities

 of our Overland Truck (kitchen, toilet, bathing).
Seasoned, passionate and professional  

Team

– none can match in India.
Rendezvous with your soul.
Rural Himachal Pradesh.
Water Sports at Pong Dam.
Experience vastness of open space.
We support the Mission: Nature Conservation through Tourism & Photography.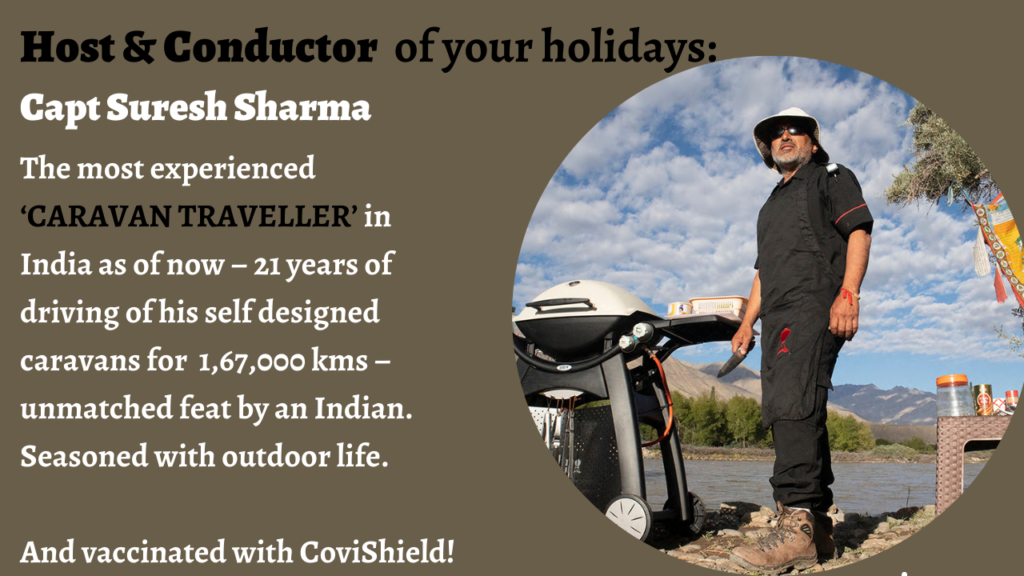 DETAILS OF THE PROGRAM 
Rustic yet Aristocratic Holidays
Your dream holiday begins in Dadasiba area in wilderness onboard Taurus or Camping Trailers. To be safe from Corona, we strongly suggest you adopt "bubble travel" and drive in your own car to reach the camp, when Corona raises its hood. Enjoy the hospitality of the unique outdoor kitchen of Taurus, else you can cook on your own in the small private kitchenette (well equipped) of your Camping Trailer. Its one of a kind setup in India for outdoor vacation and that too with aristocratic nomadic lifestyle, something to brag about once you go back home.
You must come with a large heart and cameras loaded with large size of memory cards for unlimited photography to capture your memorable holidays!
A visit to a Gharaat 'watermill' can be organised, where the flour-mill is powered by spinning the wheel with fast flowing water from the hills. We organise lunch here, as extra. You can choose some more activities too, as extra.
Night stay aboard Taurus  or the trailer (whichever you book) in the lap of Nature.
Remember: Our holidays are not around destinations and excursions, its to relax at our "CAMP THAT CHANGES SPOTS"  in the lap of Nature. We want you to spend your max quality time with your family around Taurus and Trailers, in stead of driving on roads between different destinations.
Morning here would be an experience to cherish for life. You are woken up by the birds singing for you, whistling kettle inviting you to share the warmth of a nice cup of tea. We ensure tea lovers enjoy the morning tea like a blissful ritual, an experience will turn you into a poet to  describe. Enjoy a morning walk, a self-session of Yoga, light exercise, Pranayam (best air to breathe), sunrise safari, are a treat worth any price-tag. The location and the nomadic style will make it a lifetime experience. It's the best recipe to unwind and reboot in real, we bet on that. You may book your 'Jungle Safari' alongwith field lunch and evening tea with hot snacks which we will serve on the blue water banks. You may drive to the Maharana Pratap Sagar to enjoy the captivating sunset over the quiet water. Extra activities and facilities are listed in this program, please scroll down.
Night stay onboard Taurus/ trailer outside a village in wilderness.
As Extra: We can also organise local non-veg food also, if there is prior intimation.
Enjoy your morning walk and tea!
After leisurely breakfast and few sessions of tea and photography with Taurus, you may set your bearings for home. With heavy heart not to leave Taurus and memory cards loaded to turn you into an accomplished story teller at home and office.
If you wish you may extend your stay.
TARIFF 
Starts at Rs 1500 onwards per person per day, depends on what you have booked (Taurus, Praying Mantis, Hornbill or Garud). Also there is wide range of optional activities, facilities and the kitchen.
Basic tariff is for stay only, unless otherwise specified with your package. Other facilities are available on the basis of "pay as you use", basically to let you exercise your choice and to save money.
Tariff depends on the facilities you opt for sleeping, locations, number of days, number of persons you book as a group and the facilities and the kitchen service you opt for.
Promotional Tariff: We offer special tariff for families and couples who want to stay more than 2 nights. Please call 6280595008, 9888380386 for the group tariff.

Trailers

and Taurus can be moved to different locations in the general area of

Dadasiba

 and the tariff changes accordingly for the mobilising efforts (machinery, equipment, fuel, manpower and rent of the location).
Onboard kitchen will be available for lunch, evening tea, hot snacks, dinner (as extra) so our guests can exercise their freedom and choice to eat out or choose the location and infrastructures for lunch and dinner. This way you save money and enjoy variety!
WHAT IS INCLUDED 
Stay onboard Taurus or

"Camping Trailers"

in "static camping mode" in wilderness next to a village, as per the

facilities available

  onboard or committed for your program at the time of booking.
Filtered water is served with food.
Morning and evening tea, if having food from the kitchen of Taurus.
Camping equipment (dome tents, camping chairs, camp stools, sleeping bags, camp mattress, linen as available).
Self-service mobile camping in static mode to save your time and money (if you want to travel in our overland truck it will cost you extra), instead stay at the camp in wilderness and enjoy our unique setup and recreational facilities/ activities. Make the maximum use of the facilities and save time.
Also, you are much safer with our protocols for the best hygiene to keep you safe from Corona.
WHAT IS NOT INCLUDED 
Transport: Journey from home to Camp at Dadasiba and back home. Pick up and drop in case you are travelling by bus. Excursions and sightseeing. We suggest you to drive in your own car for "social distancing" and use it for local drives and excursions, you save your money too.
Guides, escorts, porters.
Shifting of trailers and Taurus to different locations and the tariff changes for the efforts of mobilisation.
Food and beverages of all kinds (tea, coffee, cool drinks, refreshments, filtered water other than meal time, packaged/ bottled water), non-veg food and snacks (veg and non veg). Will be available at cost.
Insurance of all kinds. Anything related to medical emergencies.
Anything which is not mentioned in the list WHAT IS INCLUDED.
Our Location on Google Map: Click here 
HOW TO REACH DADASIBA
About 50 minutes from Gaggal airport (Kangra) in Himachal Pradesh.
3 hours from Chandigarh airport.
Exact directions will be shared at an appropriate stage, if you prefer your own transport to reach the location.
Volvo bus service from Delhi (via Chandigarh) and all buses heading to Dharamshala/ Kangra stop at Dhaliyara, 15 kms from Dadasiba. Pick up from Dhaliyara can be organised if you request, as extra.
There are two railway stations, one is Amb (Himachal), approx 42 kms from

Dadasiba

. Another is Daulatpur Chowk 25 kms from Dadasiba, there is one overnight train 14553 from Delhi to Daulatpur Chowk.
EXTRAS FROM THE KITCHEN OF TAURUS 
We have taken care of your stay on your holidays to enjoy in wilderness away from touristy crowds. However if you wish to enjoy the service of our  kitchen which is equipped to be the best RV kitchen for the outdoors in India. Following can also be made available, as extra:
Buffet Indian veg homely breakfast (one of the Indian items  e.g. prathas, alloo poori, poha, upma, one egg preparation), if not part of your package.
Buffet lunch and dinner: in the camp location, near

Gharat

(watermill to grind grain) on the banks of the reservoir, picnic lunch as a group, on jungle safari, and a location in wilderness, etc. We will share various options with you when you arrive at the camp.
Non-veg food or snacks can be organised if its a group of 4 persons or more then we may organise and offer non-veg meal.
Evening tea with hot snacks in camp or on the banks of reservoir, if weather permits, being outdoors.
Variety of tea and coffee, soup, other beverages (health drinks).
Weber Barbecue Grills – No.1 in the world.
If you wish to call for a quick Q&A session, please call or WhatsApp +91-9888 380386, +91-6280 59500.
Know more about TAURUS – India's best RV 
OPTIONAL ACTIVITIES & FACILITIES
To add fun to your holidays – we provide some facilities and activities; not included in the tariff/ package, basically to let you exercise your choice and save your money for the activities/ facilities which you may not avail at all.
We organise the following activities on extra payment:
Jungle Safari with 

safari trailer

Night Jungle Safari with 

safari trailer

Sunrise Safari with 

safari trailer

Safari with outdoor lunch.
Safari with outdoor lunch and evening tea with fresh snacks.
Barbecue: 

 a).

 On the banks of the Lake. 

b).

Another choice in jungle set up  

c).

In the camp itself.
Visit a working "water flour mill" called "Gharat" – ancient technology still in practice. Options:  

a).

Just a visit.   

b).

Lunch at the Gharrat
Leopard Safari at night with dinner in the camp or dinner in wilderness.

Jungle Picnic:

 beverages, snacks, lunch, evening tea with snacks.
Tea Bar: Variety of tea with fresh and organic Tulsi, Lemon Grass, Mint, etc.
Mouthwatering local cuisine of Himachal "Dhaam" (veg or non non-veg).
Local fish recipes for food and snacks.
Local non-veg food and snacks.
Meditation and Yoga Session.
Angling.
Tear Drop Trailer for couples to spend a Jungle Night.
Working "water flour mill" called "Gharat" – ancient technology still in practice.
Birding trip to the area around Pong Dam, it's famous for migratory birds.
Night Stay in Jungle in a trailer: Hide in The Lap of Nature.
Enjoy Rains: Romance with the Rain God (in the months of October and March). 
Recreational Games: croquet, golf putting, table games, dart.
"Jungle Shower" an experience to be remembered for life.
Lassi Session: Freshly churned with conventional methods – sour (butter milk) and sweet (curd lassi).
Session in wilderness (group activity) for hot and fresh Jalebi, Gulab Jamun, Halwa.
Milk Session: conventionally boiled on slow fire and served with dry fruit, dry dates.
Enjoy an escorted Jungle Walk.
Excursions to explore nearby places.
We can help you hire transport for local visits.
Stay or enjoy a meal at 

The Judge's Court

 (heritage hotel at Pragpur).
Enjoy the Missing Moment of Life
at our
CAMP THAT CHANGES SPOTS
Rendezvous with Nature to relax, reboot, unwind and rejuvenate in real.
Enjoy the vastness of space and Nature's elements at its best on the banks of Maharana Pratap Sagar.
Fresh air with wonderful views of vast land and Dhauladhar Range for your own session of Pranayam, a rare commodity for the denizens of cities.
Best setting for private Yoga session by yourself.
Spend "quality time" with your family while enjoying recreational games, as extra activities.
We may organise 'private sunset'! Enjoy the most unique sunset in total comfort while sipping hot tea and coffee with hot snacks. None can match us for this … we bet!
If weather permits, we may set up our "Jungle Shower" for kids and couples, an experience to be remembered for life.
Take a stroll and feel the fresh air in open space, something rare for the denizens of cities.
Enjoy best outdoor holidays in unique style.
We have slashed the tariff?
There are no hidden costs, we have managed to change the tariff plan to fit into everyone's pocket:
Variety of infrastructure (tents on ground, tent on wheels, Camping Trailers, Overland Truck, etc.).
Our overheads are reduced being closer to our base when we operate in Himachal.
HP is our parent state to operate and we don't pay extra taxes.
Its just 3 hours from Chandigarh, overheads are reduced significantly.
We offer only static camping, diesel and toll taxes are reduced to the minimum.
Travel distance to Ladakh, Rajasthan and Kutch used to add to the cost, in this case the cost is reduced significantly.
Cost for the 'wear & tear' of the truck is reduced significantly.
Breakage of the kitchen appliances, utensils, crockery and camping equipment is reduced to the minimum.
WE SUPPORT THE FOLLOWING 
Local Community: Locals are hired as crew to work in our camp.
Local Economy: We buy local produce (veggies, milk, dessi ghee, butter, lassi, cow-dung cakes, etc.) to support micro level economy.
Nature Conservation through Tourism & Photography

more details … 

We discourage the use of plastics and disposable items in our camp.
DISCLAIMER: Locations and situations may change, often without prior notice in wilderness, that's Nature offering it's surprises. These photos on the website are to give you an idea about what kind of infrastructure we offer on our holidays and there is no guarantee to repeat these locations and photos. But be rest assured our intentions don't change to lookafter you passionately and with honesty.
All this is as "available in location" at the time of arrival. If something goes wrong then we will not charge you for the activity but won't be responsible for any other consequences which may result because of any kind of failure.
NOTE: Please refer to the Pre-Booking Information. It's your responsibility to go through all the details available on our website to understand all the related issues. In case of you have any questions for clarification, please write them all in one single mail to greendotexpeditions@gmail.com