Blind Date With Taurus…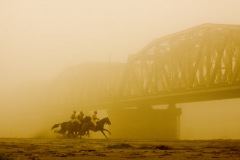 Everyone is eagerly waiting about the formal launch of our commercial expeditions  and have asked us many times about the `launch date' of the project  while expressing keen interest to be on the very first expedition itself. We are working very diligently on each detail of the design of the project and the nitty gritties of the tour-operations.
The Design Team of Taurus, has been working relentlessly day and night for the past 18 months. Our Beast was supposed to turn into a Beauty within 3 months, but the typical problems of fabrication conditions in India delayed it. Now, we are more focused on the quality of the infrastructure's  strength. We would not like to rush through the fabrication and overlook the vital issues of quality. Therefore, we are not sure about our exact date of the `maiden tour', it can be before our anticipated month of commissioning or may take more time.
We are offering a `special itineraries' …  BLIND DATE WITH TAURUS …   which means you may book our early itineraries, which could be rolled out any time and for those who are ready to travel at short notice. 
We are making special offers for EARLY BIRDS! (write to us to know more) wildhiss@gmail.com
Being a promotional trips, these are being offered at 50% discount.