Hola Mohalla – Stay onboard Overland Truck (Caravan Camping)
Celebrated by Nihangs- the Sikh Warriors
Photo Opportunity offered by Green Dot Expedition
Nihangs The Sikh Warriors in their traditional attire at Hola Mohalla.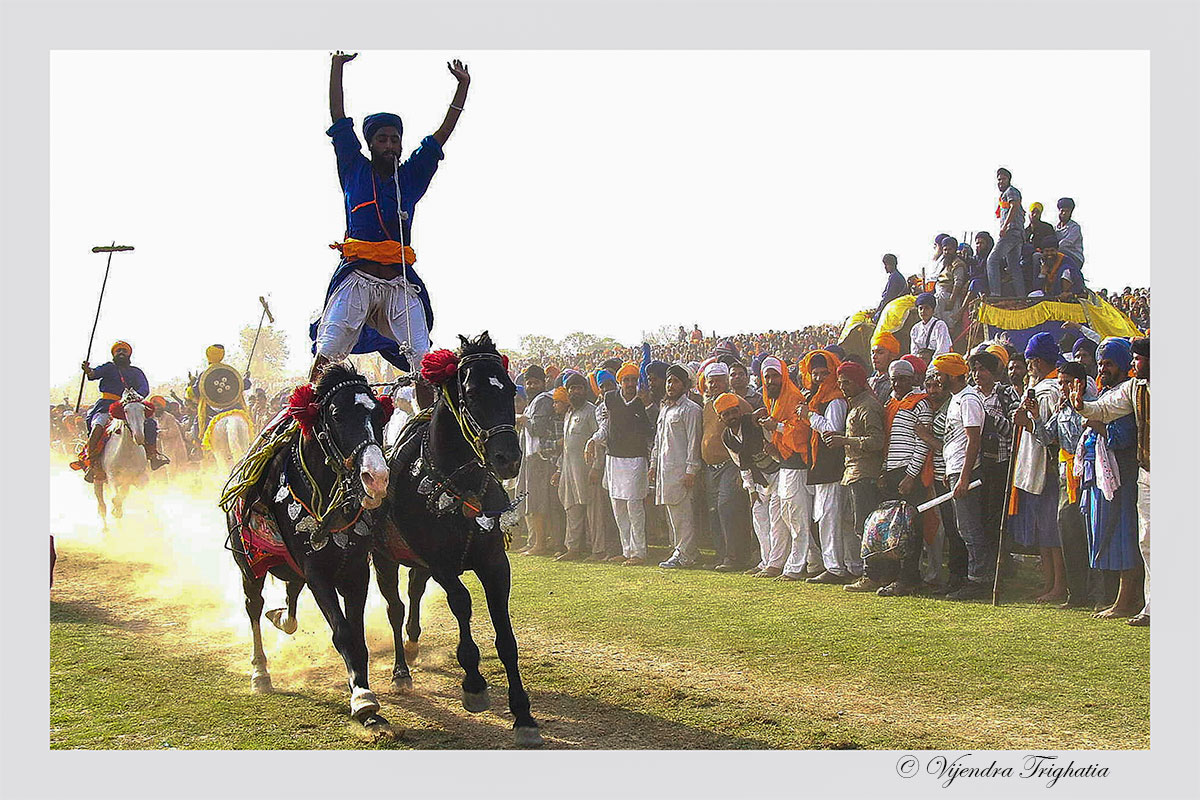 Hola Mohalla is an important festival event of Sikhs that coincides with the festival of Holi celebrated all over northern India. Together the words "Hola Mohalla" stands for "mock fight". During this festival, processions are organized in the form of army type columns accompanied by war-drums and standard-bearers and proceeding to a given spot or moving in from one gurdwara (Sikh Temple) to another.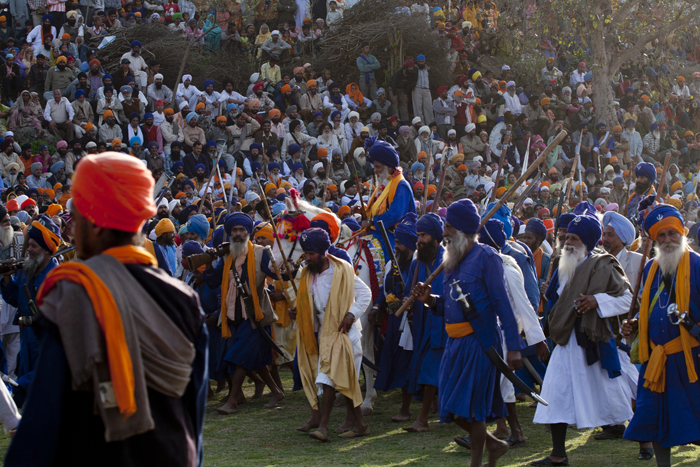 The roots of this festival  originated in the time of Guru Gobind Singh 10th Guru of Sikhs, a great warrior, who held the first march at Anandpur on 22nd February, 1701. Unlike Holi, when people playfully sprinkle colored powders, dry or mixed in water, on each other the Guru made Hola Mahalla an occasion for the Nihang Sikhs to demonstrate their martial skills in simulated battles. Holla Mahalla became an annual event held in an open ground near Holgarh, a Fort across the rivulet Charan Ganga, northwest of Anandpur sahib.
Anandpur Sahab is only second to the city of Golden Temple Amritsar from the point of religious significance. It is a great pilgrimage center that is recognized as the birthplace of the Khalsa. There are around 35 Gurudwaras in and around Anandpur Sahab.
Experience the magnificent display of horsemanship and the Gatka– exciting mock fight, witness the tremendous colours of the Sikh faith, including the stunning blue and orange blend of the Nihang Sikh Army. Nihangs are the descendants of the soldiers of the tenth Guru of Sikhs.
HIGHLIGHTS
The event is a grand festival of Punjabi culture for three days, full of colour and activities.
Performance of daring feats and mock battles by Nihangs
Display of traditional weapons
Religious music (kirtan) and poetry competitions are organized.
Nihangs perform daring feats with weapons and horses, tent pegging, bareback horse-riding, standing erect on two speeding horses and various other feats of bravery.
Gatka (traditional martial arts, mock encounters with real weapons), display of martial arts
Punjabi cuisine.
Photo Expedition Leader: Capt Suresh Sharma
Dates: 28th March 2021 to 31st March 2021
Duration: 4 days.
Special Offer: Extension of the Tours: On the culmination of the event, we are offering free journey upto Chandigarh, onboard Taurus, in case you wish to explore Chandigarh or catch flight or train Chandigarh for homeward journey.
GROUP SIZE:   8 to 10 participants
WHAT IS INCLUDED
Stay and veg meals, simple food onboard Taurus for the duration of the event at Anandpur Sahab. And extended to those who are travelling to Chandigarh with us.
Filtered Drinking water with food.
WHAT IS NOT INCLUDED
Travel from hometown to Anandpur Sahab (Distt Ropar) Punjab and back to home town. Details about how to reach are given at the end of the itinerary details.
Any kind of modeling fee for photography.
Any food ordered at any commercial places i.e. dhabba, roadside stall, restaurant, etc.
Any medical emergencies and rescue.
Any surface transport.
No personal servants or assistants are accepted, unless paid full tariff. Need to be booked on the day of your booking itself.
Your drivers' stay and food (will be charged as extra).
NOTES:
On all days, lunch will be in the field, as per availability.
One should be fit enough to walk around with own equipment or get an assistant to carry you gear. Your assistant will be on full board basis.
HOW TO REACH ANANDPUR SAHIB
Train No. 12057 UHL  Janshatabadi, Departure from New Delhi (NDLS) at 14.35 hours,  arrival at Anandpur Sahab at 21.08 hours.  CC 2S Total travel Time:  6 hours 33 minutes.
Train 14553 Himachal Express Departure from Delhi 22.55 hours Arrival 06.16 hours. 2A, 3A, 2S Total Travel Time: 7 hours 21 minutes.
Air: The nearest airport is Chandigarh. Thereafter, depends on the choice of traveler, whether to take bus, train or taxi.
DEPARTURE
There are two trains to depart from Anandpur Sahab railways station. One early morning and then one at night.
Train 12058. Janshatabadi Exp. Anandpur Sahab to New Delhi : Departure 0546 hours.
Train 14554. Himachal Exp. Anandpur Sahab to Old Delhi: Departure 2205 hours.