Detox & Unwind in Himachal with Punjabi Flavor
Amritsar – Kangra – McLeod Ganj – Dharamshala – Pong Dam 
Program Code: ASR-02
Highlights 
7 days/ 6 nights.
2 to 10 persons.
Suitable for children of all ages, senior citizens, families, single women, solo girls, couples, etc.
Unique concept of 

Roving Camp

that changes spots.
Hotel and camp for stay and food.
Best of Punjab and Himachal.
Cultural Bonanza: Golden Temple, Jallianwala Bagh, GG Fort, Attari Border, Kangra Fort, Masroor Temples, etc.
Foodie's Trail: Amritsar is heaven for Punjabi food.
Kangra is famous for Dhaam (Himachali traditional food), it's optional for a group.
McLeodganj
Dharamshala is the home of Dalai Lama.
Note: It's a suggested program which can be tailored if you have a group of 4 to 10 persons.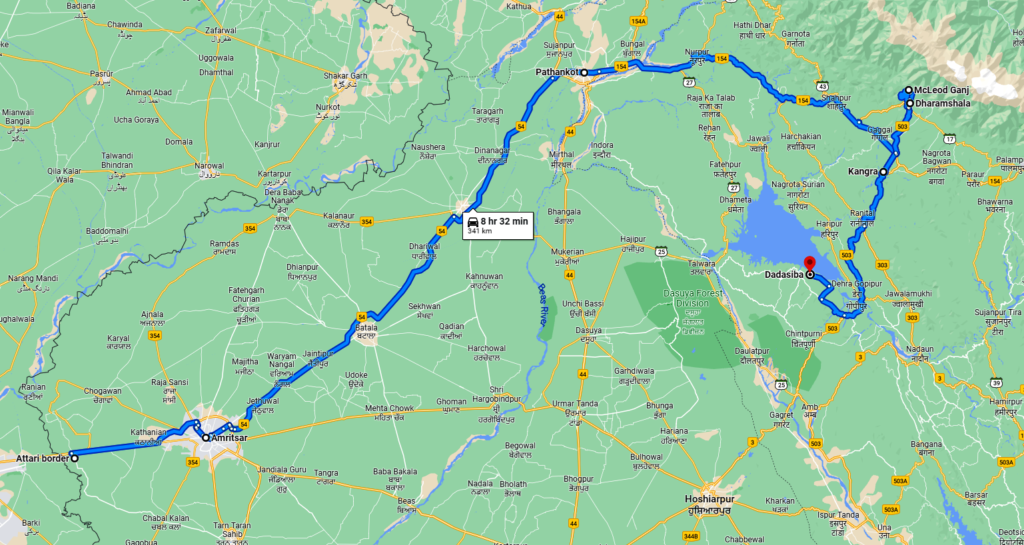 Day 1
Day 2
Day 3
Day 4
Day 5
Day 6
Day 7
What is Included 
Pick up from the airport/ railway station at Amritsar and drop at the hotel.
Stay at a hotel at Amritsar.
The following transport will be provided for excursions as per your package:
Transport for local excursions: to visit the Golden Temple, Jalianwalla Bagh, GG Fort, etc. as per the package.
Transport to Atari Border.
Transport to visit the Golden Temple.
Transport to visit Jallianwalla Bagh.
Transport from Amritsar to Pathankot.
Transport Amritsar to Pathankot.
Transport from Kangra to Dharamshala/ Macleod Ganj.
Transport from Kangra to the Camp at Pong Dam reservoir.
Stay at our Camp around Pong Dam reservoir. Food will be available from our kitchen – on the basis 'pay as you consume'.
Linen and mattresses at the Camp.
Fee for the program conductor at Amritsar, if mentioned in your package.
What is NOT Included
Journey from home to Amritsar. Return journey from the Camp to home. Drop on the 6th Day (you pay directly as you use).
Entry tickets wherever needed.
Food, beverages of all kinds, snacks, at Amritsar (basically to let you  exercise freedom of selection and enjoy flexibility, save money in a way).
Toy Train ride – Pathankot to Kangra.
Porters, guides and escorts at all places.
Local sightseeing at Dharamshala/ Kangra/ McLeodganj/ Palampur
Insurances of all kinds, accident rescue, medical treatment for any reasons. Any kind of losses because of delay, technical breakdown, weather conditions, etc.
Shopping trip. Entry tickets wherever applicable.
Anything which is NOT mentioned in the list "What is Included", written above.
ACTIVITIES AT AMRITSAR
The activities listed in the itinerary are just a sample, your program can be tailored according to your taste, the tariff will be quoted accordingly.
The Golden Temple
Jallianwala Bagh
Heritage Walk
Foodie Walk
Partition Museum
Saragarhi Gurdwara (related to the famous battle of Saragarhi and Bollywood produced Kesri Film.
Gobind Garh Fort
Sada Pind
War Memorial
Atari/Wagha Border
Sarai Amanat Khan
Pul Mauraan (Pul Kanjri)
Haveli on Asr-Jal GT Road – about 15km from Amritsar (optional)
Ram Bagh Gardens (Maharaja Ranjit Singh's summer palace).
Shopping – paradise for women to shop Punjabi dresses.