Our Team
Quality of our unique product is the direct reflection of Team Leaders, their dedication and character ! 
Green Dot Expeditions is steered by it's dedicated Team of professionals,  who care for others first and have plenty to share from the true experiences of their own life. Our Team Leaders live enviable life so passionately to the brim and are `true leaders' in all respects, whom  you would love to emulate. GDE is bound to change the definition of `photography tourism' in India. Being seasoned travellers and photographers they understand your requirements in depth and are constantly keeping a keen eye on the development and improvement of our system of operations.
Under the watchful eyes of our team leaders, is your world on wheels,  shall have all the amenities to ensure that you have a safe environment while giving you access to unexplored locales. You will make unscheduled pit stops to capture the moment in the real situations of rural India while on the move – The journey is more important than the destination!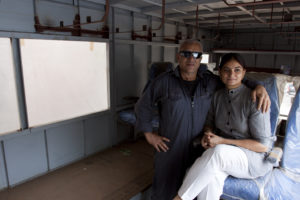 Capt Suresh Sharma & Dr Rajbir Kaur
(Founders & Team Leaders Ops)
Capt Suresh Sharma is fondly addressed by friends as 'CAPTAIN', is the one who has given shape to his dreams and has lived with them - accrued the traits of a true leader. Has lived like a free bird who could not be caged by the worldly compulsions. Loves to travel and pursue photography, passionately; supports nature conservation zealously. Meandering around like a snake, knowing no boundaries, Suresh makes anyone envious with his life style and the life he has lived. Spirit of outdoors and adventure got him to the army, but again hung his boots to explore `Life' unconditionally. A man with courage to live life on his terms, which most people find difficult in India. Suresh has dedicated his life to the pursuit of photography as a passion, which he is exploiting as his tool to disseminate awareness about nature conservation and snakes. He has a kaleidoscopic repertoire with an adventurous zest for life – having crossed the half `century mark', connecting the dots of his experiences gives value addition to his knowledge which has now distilled into wisdom. After facing brutal combat situations as IPKF member in the jungles of Sri Lanka he took to wildlife and is an acknowledged expert on snake photography
.
He has championed many social causes including looking after disabled soldiers and finding habitats for snakes lost in the concrete jungles of urban areas, educating people about `snakes & snakebite', all self-funded. His wife Rajbir , a qualified homeopathic doctor, is a soulmate who juggles motherhood with the life of adventure as a team member. Their lives have been enriched by their shared experiences and has supported each other through their common passion, from handling snakes for the photo-sessions of Captain. His creativity has been acknowledged through the Rashtrapati Bhavan (Presidential Palace) down the corridors of diplomacy in various embassies down to the corridors of the Indian Army. Capt Suresh Sharma has made numerous presentations at the Indian Institute of Management (Ahmedabad), National Institute of Designing, medical colleges, national parks, universities, Wildlife Institute of India, etc.
Suresh and Rajbir custom built a caravan for their work and has clocked more than 125,000 kms with family & friends in their home on wheels, called KINGCOBRA, for almost 15 years – an unparalleled feat for any Indian in India. The couple has now founded the `GREEN DOT EXPEDITIONS' to take you to exotic locales where you shall network with world class enthusiasts and freeze frames of your experiences with photo souvenirs to remind you of the wonderful exploration and learning experience for life time.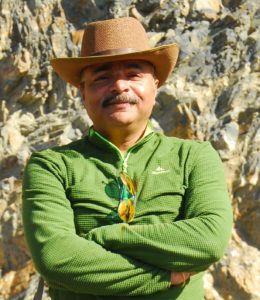 Colonel Ajay Kumar Raina, Sena Medal
(Planning & Special Ops)
A decorated soldier, a record holder rider, a published author and a successful entrepreneur- some of many dimensions that define Colonel AJ in very basic cognizable terms. Beyond such visible and well documented traits, is a person who comes across as an easy, happy-go-lucky kind of a man who is equally comfortable consuming a formal seven course meal as well as eating stale food straight from a rolled tissue paper. Now out of his uniform, he is a successful entrepreneur in the tourism industry.
From Mountaineering to snow skiing to river crossings to parachute flights to balloon rides to high altitude off-roading, he has done it all. He, along with his spouse and two years old daughter were mentioned in Limca Book of Records (2011) for triple riding across all major passes in Ladakh without any back up support. As a couple, they rode across Marsimek La, then the highest motorable pass, in 2009. He was awarded the fourth highest peace time award for bravery for his gallant military action in 2005. At a very young age of 43, he went back to a reputed business school to earn two years full time MBA in Finance and came out as the topper of the course.
He is a freelance blogger and a writer with four published books to his name. His experience of more than 27 years in Army, his qualifications in academics and his passion for travel and hosting, all together, make him a worthy member of our team of professionals. He possesses mastery over camping, rescue, survival and hospitality at offbeat locations with or without any supply lines. He is sure to be our man Friday if and when we are put to some real 'beyond the world' tests in the field.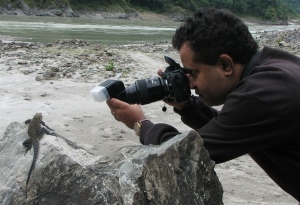 Dr Indraneil Das
(Natural History Scientist & Advisor)
Indraneil is one of the most acclaimed Indian wildlife scientists, who has achieved what most Indian wildlife scientists only aspire, especially in the field of herpetology. Indraneil Das received his doctorate from the Oxford University, UK for his work on animal ecology. He has conducted fieldwork in many countries in south and south-east Asia and is a member of the IUCN (International Union for the Conservation of Nature). Being a leading herpetologist in the country, Neil has written several books and as well as numerous research papers on wildlife and has described several new species of snakes and lizards. He was a Fulbright Fellow at the Harvard University's Museum of Comparative Zoology and Scientific Officer of the Centre for Herpetology and Island Ecology, Madras Crocodile Bank. Currently, he is working as Professor at University of Malaysia Sarawak.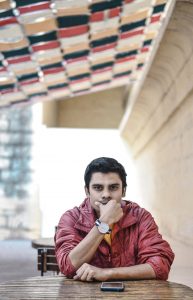 Nimit Nigam
(Spiti Valley Veteran and Astrophotographer)
29-year-old nationally as well as internationally published photographer and NiSi ambassador based in New Delhi. As an avid traveller and explorer, Nimit clicks a varied number of subjects, including landscapes, portraits, festivals with a specialization in Astro (Stars and Galaxies) winning a vast number of awards and competitions. When conducting 10 tours in the last 2 years, Nimit has explored most of the untouched or non-tourist places in Spiti.
Nimit's work has been featured and published on Space.com, National Geographic Traveller Romania, Etihad Airways, Lonely Planet India, Nikon, Creative Image Magazine, What Digital Camera, N-Photo, Smart Photography, Better Photography, LG Mobiles and 121Clicks.com. Nimit has also Judged National and International photography contest and holds a Bachelor Degree in Fine Art Education from Jamia Millia Islamia University. He lives for his photography and he is well known for his passion and commitment to photography excellence.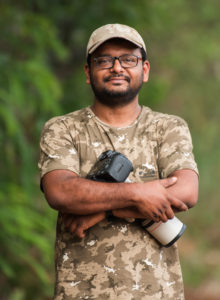 Hemant Kumar
(Wildlife Photography Specialist)
With a degree in fine arts and graphic design engineering as a profession, Hemant Kumar follows his passion for art and photography with equal enthusiasm if not more. He is also a nature activist and loves nature to the point of making it his muse. He travels a lot to capture nature both in the frame of his camera as well as on his canvas.
Hemant is very passionate about taking photographs in action, and is more interested in photographing wildlife, birds, amphibians, reptiles and landscapes.His work has been published in various photography magazines like National Geographic  and has also featured in Daily Dozen.
He loves birds and has a lot to offer to people who are interested in learning and understanding birds. He believes that everyone in this world has the right to live which includes the fauna and avifauna and he contributes to this cause by teaching people about the importance of these amazing beings.  With great ideas and a diehard passion for wildlife he is just waiting to see where the future will take him with this.
Lt Col Rajeev Sharma, SM
(photographer)
Rajeev has been an avid photographer since his childhood days and very few people are zealous to chase their childhood dreams. He is made of that grit who after having done his soldierly duties with gun, now doing it with cameras slung over his shoulders . As a soldier with the Indian army he travelled to the remote parts of the country and encapsulated the beauty and moments with his camera; many of these found way into military publications. Rajeev has served as part of IPKF (Indian Peace Keeping Force) in Sri Lanka in 1988. While off operations he hammered a bond with Capt Suresh Sharma while both were excogitating about their passions and hobbies. With years of active combat experience, while eliminating hard core terrorists, Rajeev has been baked as a successful leader who can accomplish under varying circumstances. he has been decorated with a gallantry award Sena Medal for his exceptional leadership in combat. He continues to follow his passion of photography and adventure after taking early retirement from the Army. He has founded Twin Cities Photography Club in Hyderabad and loves to instruct people in the nuances of field photography. He also teaches interested people in the Wilderness Survival Skills around Hyderabad and various other parts of the country. Landscapes, night sky and astrophotography, on location fashion shoots and wildlife photography fascinate him the most.