Our Social Obligations
LIFE WITH RESPONSIBILITIES – IS MEANINGFUL
"Unless commitment is made, there are only promises and hopes; but no plans." – Peter F. Drucker 
When you're surrounded by people who share a passionate commitment around a common purpose, anything is possible and world is bound to be better. 
We are genuinely committed to Preserve Natural and Cultural Heritage of Rural India, within our means and abilities.
1.Eco-friendly Tourism with least impact on environment
2.Sustainable Tourism with benefits to local communities
Our sincere endeavor is to be as eco-friendly as possible and be environmentally responsible that promotes conservation, has low visitor impact, and provides beneficially active socio-economic involvement of local populations. While passionately pursuing sustainable tourism to have positive impact on the local society, their culture and economy; supporting the integrity of local cultures by favoring businesses which conserve cultural heritage and traditional values.
Our top priority is to ensure that LOCAL COMMUNITY gets the benefits of tourism. Therefore we want our participants to be sensitive to such issues and willing to cooperate.
Also, we shall be sensitising travellers about the environmental issues through our good practices of eco-friendly tourism.
WHAT WE DO FOR THE ENVIRONMENT
We believe to LEAD BY EXAMPLE, what we preach we practice with best of abilities.
Disposable Plates and Mugs: We don't use any disposable items for food, it generates lots of avoidable trash. And its not hygienic. And we try to discourage others by sharing information
Barbeque Coal: We don't burn wood charcoal for our barbecue. We use charcoal briquettes which are produced from coconut shells.
Plastic Items Replaced: We have made a conscience effort by replacing plastic mugs, buckets, tubs, measurements, etc. More is being done.
Bonfire : We discourage bonfire just for pleasure. Yes if we can buy cow-dung-cakes from locals then we organise bonfire or we use charcoal briquettes. But we don't burn wood. Also, when we organise it, we prefer not to burn it on earth as the fire will kill micro organisms and insects in small burrows and will leave a scar on earth for long. Also, wood is scarce in Ladakh and its for the survival of the locals in winters. Even if we buy wood and burn for fun, its an irresponsible activity.
Paper Napkins: We don't use paper napkins for day to day usage. Very rarely, only for an extreme case where its the most suitable solution for a need.
Cloth Napkins: We use cotton napkins for kitchen and while serving food to our guests. And we make humble request to avoid using napkins when not needed.
OUR EFFORTS FOR NATURE CONSERVATION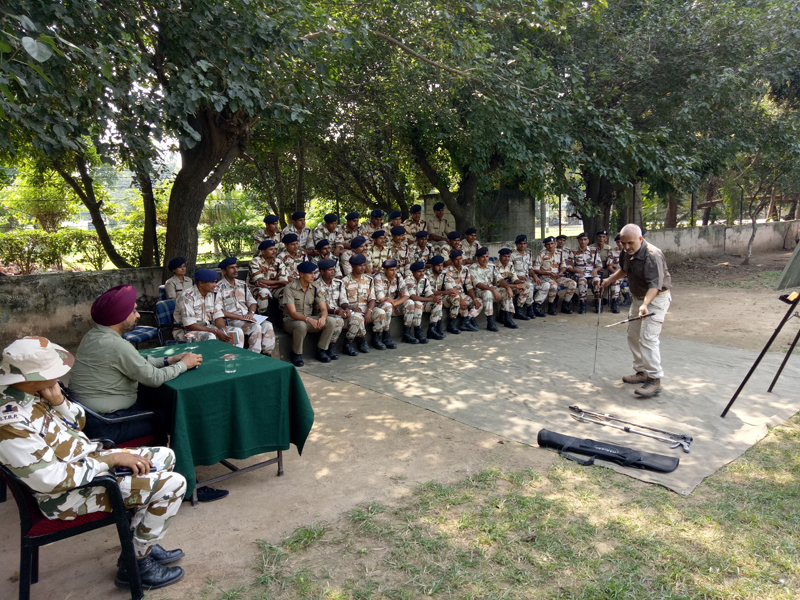 GREEN DOT EXPEDITIONS  is genuinely committed to the cause of Environment where happiness is sought by supporting 'Mission: Nature Conservation Through Tourism & Photography'. Part of the proceeds of Green Dot Expeditions have been supporting the Snake Cell, which has remained as self-funded project since its inception in 1997. We have never sought any external support so far, other than our own friends and our ventures.
Funds have always been raised through various activities of Capt Suresh Sharma and Dr Rajbir Kaur – wildlife T-shirts, tourism, photography, etc.
LEAD BY EXAMPLE … Capt Suresh and Crew of Taurus clean up places personally
Your CURIOSITY  is our concern! 
Your wellbeing on-board Taurus is our concern  – We leave no stone unturned to make you comfortable! "We Go The Extra Mile" in whatever we do – beyond Expeditions!
Expeditions Beyond Expectations!
Green Dot Expeditions is committed to organise an infrastructure of quality, which will save  energy, time, effort and money of photographers and travellers who wish to explore life and culture of India through their camera with us. Our top priority is to enrich the outdoor experience for travellers and photographers like never before. Above all, we are here to help photographers to enhance the learning experience, render a platform to hone their skills, and enrich the quality of photography output and happiness.