RJ-1A. Bikaner-Deshnok-Khichan-Desert National Park-Khuri-Khaba Fort-Jaisalmer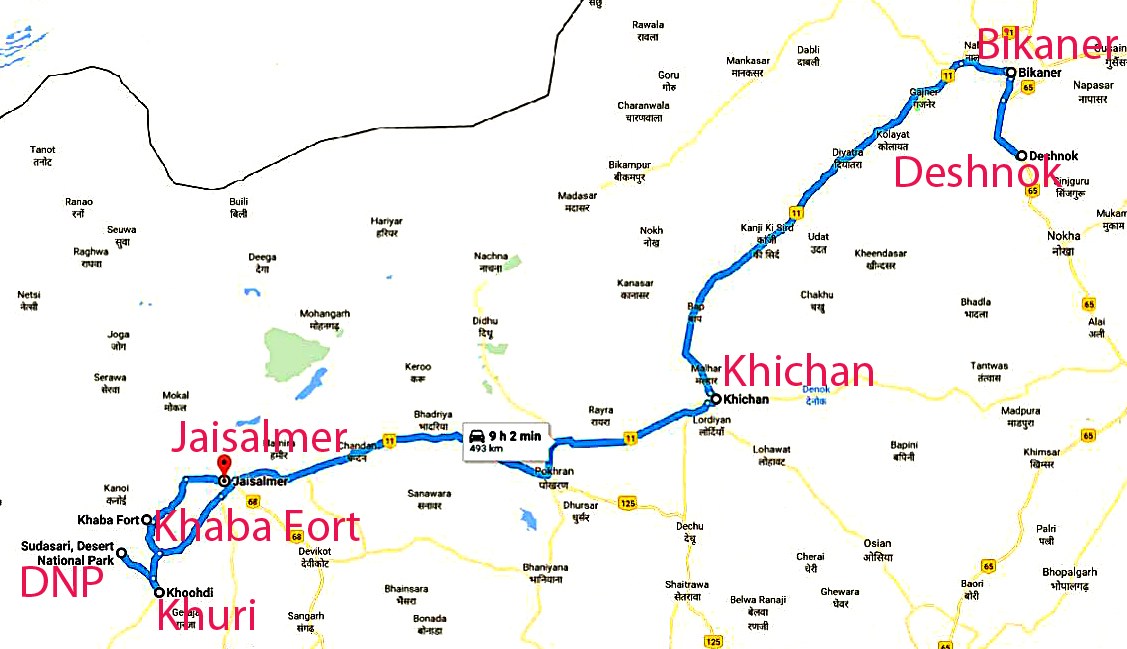 Highlights
Rajasthan at its best
Forts and Havelis
Rajasthani Cuisine
Demoiselle Cranes
Desert National Park
Village in Ruins
Tranquility at its best
Best Nomadic Lifestyle
Camel Ride
Itinerary at a Glance
Day 1: Arrive at Bikaner. Stay onboard Taurus outside Bikaner city at a quiet place.
Day 2: Visit unique temple of Kanrni Mata at Deshnok. Explore Bikaner for its forts and havelis and Rajasthani cuisine. Night onboard Taurus.
Day 3: Drive to Khichan to see the best congregation of Demoiselle cranes. Night onboard Taurus.
Day 4: Drive to Desert National Park about 50 kilometers from Jaisalmer. Night onboard Taurus.
Day 5: Visit Khuri for sunset over sand dunes. Night onboard Taurus.
Day 6: Drive to Jaisalmer via Khaba Fort. Time to say goodbye to Taurus and its crew.
Grading: Easy for average fitness
Meeting Point: Taurus outside Bikaner, exact location will be shared later.
Culmination of the Expedition: Jaisalmer city.
Terms & Conditions
Tariff
What is Included/ Not included
Itinerary in Detail
Day 1: Arrive at Bikaner
Bikaner, one of the oldest cities of Rajasthan with a very rich history and culture, is famous not just for Bikaneri sweets and snacks, but also the majestic architecture and landscape. We try our best to give our travellers an out-of-the-box experience and anchor Taurus outside the city limits.  Night onboard Taurus.
Day 2: Visit unique Karni Mata Temple and famous monuments
After an early breakfast onboard Taurus, we travel in a hired transport to Deshnok to visit Karni Mata Temple (also known as Rat Temple), which is a unique experience in itself. The temple is famous for the approximately 25,000 black rats that live in the temple and are revered by members of the Charan community of Rajasthan. These holy rats, called "kabbas" (little children), are fed grains, milk, and coconuts shells from large bowls. People throng this temple in large numbers for all over the world to pay their obeisance. Consuming the leftover from the rats' drink and food is considered holy, and is said to bring good fortune.
We return to Bikaner after receiving blessings from Karni Mata and enjoy a yummy local Bikaneri lunch.
The grandeur of Bikaner will enchant you with its dazzling monuments that take you back in time to the splendour of the past and enrich the present times with the cultural heritage of the city.  The city is known for the 16th-century Junagarh Fort, a huge complex of ornate buildings and halls. The Prachin Museum within the fort, gives an insight into the traditional textiles and royal portraits. Bikaner is also known for its leather articles and handicrafts.
We may also visit Lalgarh, if the travellers are keen. And night-stay is as always, onboard TAURUS on the outskirts of the ever beautiful Bikaner!
Day 3: Drive to Khichan. Night
After our tea ritual and an early breakfast, Taurus makes way to Khichan,  with a field lunch break.  Khichan is famous for the largest congregation of demoiselle cranes and ornate havelis. It is approximately a five hour drive with beautiful desert sceneries and some small towns in between.
As always, we anchor a little outside the village and stay the night on board Taurus.
Day 4: Drive to the Desert National Park
After early morning tea, we walk to the largest congregation of Demoiselle cranes, where they are fed by the villagers with one ton of grains every day, a phenomenon which has no parallel. The birds make awesome subjects for shooting, of course with the camera! The havelis in the village will leave you awe-struck with their intricate designs and architecture. After this lovely time-travel through the enchanting village of Khichan, we take a quick breakfast and depart for the Desert National Park, which is 225 kms from Khichan and 50 kms from Jaisalmer.
We should be there for a wonderful sunset. Night stay onboard Taurus at DNP.
Day 5: The cup of tea which you will enjoy here will remain etched for life, the tranquility and Taurus join hands to set a stage for you which is beyond 5 Star at such locations. After leisurely breakfast, Taurus drives you to Khuri, if you wish we could extend our stay here till lunch and then move to Khuri for a camel ride to witness sunset.
Night stay onboard Taurus.
Optional Activity: If you wish we could organise a cultural program either exclusive at our location or visit a camp/ resort where it's a routine activity everyday in the evening.
Day 6: After breakfast, we will drive you to Jaisalmer, via Khaba Fort and Kuldhara (the village in ruins. Jaisalmer.
Links