Nomadic Lifestyle
Taste of Nomadic Lifestyle on a Tangent …
Holiday in a new way is what gives you experience to be remembered …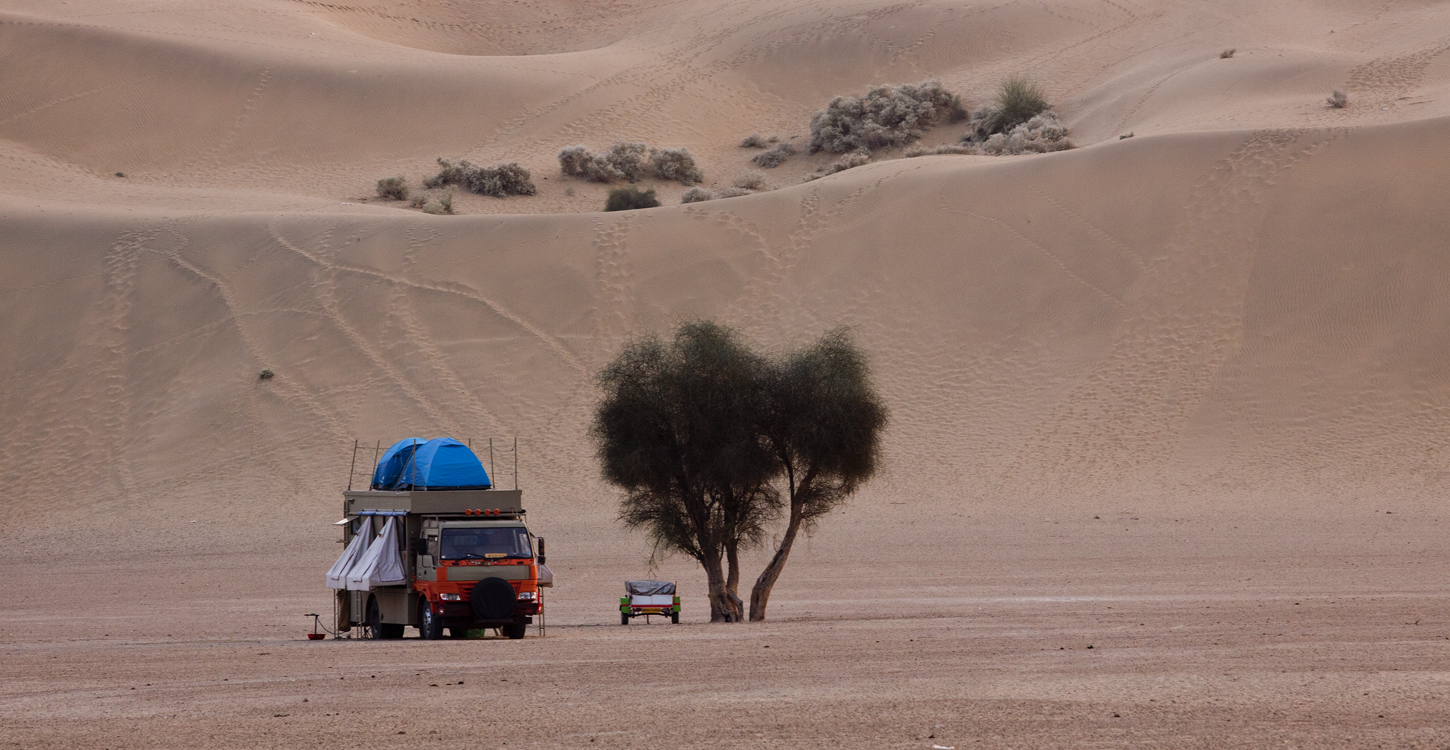 Deserts are landscapes of brutal simplicity. They provide so little and they demand so much. But with courage, with endurance and intelligence, with devotion and ingenuity, the denizens of The Thar Desert  around Jaisalmer have found ways to conjure life from so little water and resources. Against all odds, they have turned a life of thirst into a thirst for life.
Rajasthan is the land of valor and colour, where the royal romance too bloomed! We offer you the best time while gazing the milky-way in the sky studded with billion stars or when its moonlit night; it's an experience to which we add lots value and ensure it's a lifetime experience for both of you. We make you witness nature at its best, with some degree of comfort. A new kind of blend, which can't be described in words, needs to be tasted. It won't disappoint you!
Welcome to India's only Overland Truck Photo Expeditions. An innovative way to travel the magnificent parts of India & capture its beauty with camera. Green Dot Expeditions promises you a trip of a lifetime across one of the most inspiring and photographically rich locations on our planet – Rajasthan.
Our expeditions are quite fluid, full of FREEDOM & FLEXIBILITY, so please prepare to be adaptable and open to new experiences, your inclination to embrace the unfolding of events is vital. Each expedition is a unique and animate entity, dependent on the diversity of participants. Come with "an open-minded curiosity" and a positive attitude and you will be on an exhilarating trip of lifetime.
Captain's endeavour shall be to introduce you to that life which millions ONLY dream. Of course, he shall also share the secrets of TAMING THE LIGHT GOD, while training your eye to analyze and then harnessing the available light, creative lighting with strobes and hand held flashes, and the uniqueness of the situation; it is this experience that our expedition are evolved around – something that could never be taught in a classroom.
Don't forget to poke him to know the many secrets which make him enjoy life which others only can dream. Captain has a vast experience (travel, outdoor, battlefield, field-craft which travel photographers must have to edge ahead, do-it-yourself gadgets, making of caravan, caravaning in India) all to share with you on these expeditions!
Day 1: Arrive at Jaisalmer with your bubbling excitement of different kind to experience the best outdoor life on India's first Overland Truck. Get onboard your taxi or own car and reach the campsite to check-in Taurus which shall be parked around 25 kms from Jaisalmer city, away from the humdrum of touristy life. Capt Suresh shall introduce you to Taurus over a cup of tea.
After having enjoyed your nomadic dinner, a unique experience, spend your much awaited night onboard Taurus in a heterogeneous style. Taurus is a special and different kind of infrastructure than a hotel, resort or restaurant; though it has its own charm. 5 STAR FOR THOSE WHO UNDERSTAND OUTDOOR LIFE … not for those who always look for luxuries only!
Day 2: Enjoy your morning cuppa (variety of tea from green to masala tea, with best of biscuits and cookies or rusks), our morning tea ritual shall get even those souls into drinking tea who never tasted it – simply soul stirring. It's the setting mainly created with Taurus which entices everyone!
After having tasted an unequalled nomadic life and breakfast, we ask the camel drivers to set the compass needle for Khaba Fort to behold this fascinating hidden tiny gem; a secret treasure trove for travel photographers and those who love being away from touristy crowds and enjoy life.  Today you'll be on a Camel Safari cross-country in rural setting. Enroute enjoy lunch in a quiet place and relive the moments of centuries old 'trade caravans'. You reach Khaba and meet Taurus to refresh you.
Enjoy your evening exploring Khaba village which is half in ruins and half inhabited, the rural India leaves you mesmerized. The ruins of Khaba village are less known to tourists, more than half of which is completely deserted. The village was abandoned overnight by its inhabitants the Paliwal Brahmins. The story which is spun around is most intrigue and interesting. One may enjoy a stroll in the bylanes of this quiet place, it's quite an experience.
This is truly a see-it-to-believe-it location in the area; yearning to be captured and crafted with your imagination and cameras. Let's explore countryside of Rajasthan at its genuine best!   Enjoy your evening tea with hot snacks (if time and circumstances permit). Taurus shall be very close by, so you walk to Khaba Fort for a photo shoot, where one can also see numerous peacocks in the evening/ morning. A flock of peacocks leads you up to the tiny primeval fort near the Khaba village takes you deep into a rich history of this mesmerizing region. The fort has recently been renovated. The fort also houses a Geological Museum which exhibits intriguing fossils.
The ruins of the houses of a bygone era, deserted for over 250 years, are simply astonishing and offer a nostalgic if not extraordinary photographic experience. They echo memories when this area was abuzz with the activities of Paliwal Brahmins.
Being on the hillock, one can easily shoot the serene morning/evening atmosphere of a village, chimney smoke drifting lazily across the golden light of sunrise, cattle and camels grazing, etc.
Night onboard Taurus. Life can't be better than this, nomadic yet comfortable.
It's something which is being offered as the most unique experience in India as of now.
Day 3: The specially designed kitchen of Taurus offers morning ritual with it's 'whistling kettle' while making it quite enticing to flock around the kitchen to seek some warmth of the flame and the steam of your cup of tea with wide variety of flavours – green tea, tulsi, masala, mint, ginger and honey. Of course, there shall be Nescafé coffee for some. Viewing Khaba through the swirling steam of your cup of tea is very special; one has to taste it to believe! As the body warms up and the curiosity wakes up after the tea, take a walk which supplies oxygen for your lungs, never experienced before. You yearn for such experience for life to repeat many times and forever!
After leisurely breakfast, Captain shall rev up Taurus to reach a village lake where we shall camp for the night. On the way, of course, we can continue to explore placid rural life stopping to appreciate the unbelievable open expanse and poignant tranquility. These water bodies were the most needed 'life support system' in the rural India, were dug and improved by the villagers as a community effort or else by the rich of the villages. We will be camping here to relax in a setting which is quite a luxury in rural Rajasthan, being near a water body. It's a place to meet and greet the rural folks, witness camels, sheep and goats coming to waterhole in numbers you wouldn't have witnessed before.
OPTIONAL: Camel Safari of 10 kms from Khaba, cross-country to the camp location where Taurus shall meet for the night, as extra to be paid by the guests.
Day 4: Enjoy a wonderful morning on the banks of the water body with hot cup of tea/ coffee and relax. It's a spot where you make your body and soul relax! Sometimes, winter fog adds to the mood and setting!
After leisurely breakfast, we may still have time to stroll around and explore this quaint location till you pack your bags and set your transport to drive to Jailsalmer to set bearings for homeward journey or to explore the market of Jaisalmer to carry some souvenirs for your near dear ones to become a story-teller with your most exciting holidays. It places you at a different level.
We bet, for once, most of you will wish the sun could stop and it's not time to check out … stay and enjoy Taurus forever and enjoy its enticing 'freedom and flexibility' for much needed rejuvenation …
Don't forget to get your 'UNLIMITED BRAGGING RIGHTS' by clicking selfies with Taurus – the most handsome model in the industry!
EXTENSION OF THE TOUR
 We offer the following to our guests, who are already onboard Taurus, at a special tariff:
One Night Stay in a hired camp (else Taurus) at the famous Sam Sand Dunes. We shall walk to the Sand Dunes to witness the best sunset and capture to keep memories alive. The crew shall help you coordinate for your personal camel rides.
Two Nights onboard Taurus in border area and explore Rural Rajasthan i.e. visit Longewala (the famous battle field) and Tanot, Indo-Pak border.
BOOKING: Booking is on payment of 50% retainer fee to secure a slot; date for the rest of 50% shall be conveyed at the time of booking. Once booking has been confirmed or 'retainer fee' payment has been processed, there is no cancellation, adjustment of any kind and refund under any circumstances. Any kind of legal disputes shall have Panchkula (Haryana) as its jurisdiction. We offer no credit; please travel with suitable cash arrangements, check out is only after all the bills have been settled in full.
The Nitty Gritty
The tariff for expedition covers all the basic essentials for your GDE experience; all veg meals for the itinerary, transportation, accommodation onboard Taurus only. And priceless company of Captain Suresh Sharma and his energetic crew for the duration of the expedition comes as an icing on the cake for which you are not being charged extra:
Inclusions
All three main vegetarian meals per day (as per the itinerary); breakfast, lunch and dinner throughout the itinerary from arrival onboard Taurus to check-out unless otherwise specified. Morning and afternoon tea are included. GDE expeditions occasionally allow for guests to seek out their own local culinary experiences if they wish to do so at their own expense. We can also cater for basic non-veg meal if the group as a whole opts for and if it is viable, as we are away from reliable supply of non-veg material.
All surface transport only onboard Taurus, GDE Expedition special-built overland truck, throughout and as per the itinerary from start to finish. This does not include arrival and/or departure transfers.
Please ref to our website for details to ensure there are no assumptions left at the time booking. Any questions about the facilities or expectations on the expedition please ref the website if the information is not there then send us a mail. But be sure about what to expect on our program.
Camping/ accommodation for the expedition only onboard Taurus, GDE Expedition special-built overland truck, throughout and as per the itinerary from start to finish. This does not include any hotels prior and/or following the tour under even bad weather conditions.
All professional services for the camping provided by Captain Suresh Sharma and his GDE crew throughout and as per the itinerary from start to finish at our camp only.
Safe filtered drinking water is available onboard Taurus, GDE Expedition special-built overland truck, throughout the program. Bottled water may be purchased locally at guests' own expense; however, it is also the guests' responsibility to dispose of their own plastic bottles in a proper manner prescribed by the crew of Taurus.
Camel Safari where mentioned in the program.
Exclusions
Any other meals, transportation, accommodation and/or services besides what has been clearly stipulated as per the itinerary is not included; circumstances and reasons could be any.
Consumption of food and/or beverage on roadside dhabas, city eateries, restaurants, hotels of any kind is not included.
Arrival and departure transportation and/or transfers of any kind to and from your residence are not included.
Air travel (international and domestic).
Train journey.
Joy rides; elephant, camel, toy train, boat, etc. including sand dune bashing and/or any other unrelated activities and/or services of any kind are not included.
Any entry fees applicable to any kind of sights including; forts, havelis, monuments, private properties, national parks, wildlife sanctuaries and/or museums including any applicable photography permits are not included.
Any tips, gratuities and/or gifts of any kind including any appropriate modeling fees for photography sessions are not included.
Any personal communication; telephone, internet, postage, etc. of any kind is not included.
Any kind of medical emergency expenses and/or any kind of medical help, rescue and recovery emergency transportation expenses.
Any personal travel insurance other than what is already bundled with the insurance of our expedition vehicle as basic. It is highly recommended that expedition guests take out personal travel insurance to protect themselves against any unforeseen expenses which may occur on any kind of outdoor activity and travel.
Any personal servant or driver and/or assistant, unless paid full as one participant.
Free Meals for drivers and servants.
Anything else which has not been stipulated as in INCLUSIONS. Please refrain from making any assumptions as to what may be included. If in doubt, please call GDE to clarify the inclusions and exclusions.
Any taxi/ transport for any reason.
Indian politics, religion and weather can be quite volatile. Therefore, stay in a hotel because of bad weather, riots, roadblocks or sickness shall be as extra, under all kinds of circumstances.
Meals
Food is more than nutrition. With it we make friends, relive moments, and count our lucky stars. The joy of food is so much more intensified with the fully equipped kitchen onboard Taurus, bringing alfresco dinning at its best with canned as well as freshly sourced produce and ingredients from the local markets. It's surprising how well you can eat under these circumstances.
We are sure you will appreciate that the any kind of resource onboard Taurus is limited. Our kitchen is the most well equipped setup for 'on the move camping' but still space is the constraint, therefore managing variety of meals (veg and non-veg) is not possible at the same time, unless everyone is no-veg. However, we shall offer one 'egg preparation' during the breakfast.
Transport and Accommodation
Your accommodation and transport shall be our overland truck Taurus, unless otherwise specified clearly. It has onboard arrangements for stay, limited storage for your baggage and kitchen. Any other transport and accommodation under any circumstances shall be extra to be paid by guests in cash before check out.
To produce beautiful nature photography, there is always an outlay. There always seems to be a compromise too; hotel comfort at the cost of location opportunity and/or location opportunity at the cost of hotel comfort. Why not both at the same time and place?
How can you have both opportunity and comfort in accord? How can you create picture perfect opportunities comfortably? How can you make them abundant, predictable and convenient? Fully prepared, how can you be in the here and now to capture the unexpected?
It begins and ends with Taurus; the GDE fully equipped and special-purposed built overland expedition truck. With ultimate freedom and flexibility, Taurus seamlessly provides transportation and accommodation throughout your expedition.
It has:
Eight forward-facing comfortable reclining coach seats with individual lockers; two per participant for equipment and baggage
Comfortable outdoor camp chairs and campstools.
Unique arrangement of roof-top-tents along four innovatively designed 'tray tents' with single or double foam mattresses as well separate dome-tents for those who seek total privacy on such tours
food-grade stainless steel 800 liters water tanks
surprisingly well equipped kitchen to serve wholesome food for all three meals as well as tea and coffee especially designed for outdoor camping on the move
on-board toilet for when other facilities are unavailable including one or two outdoor tented toilets for camping
recharging stations (220-Volt AC power supply) for batteries in camera equipment, cellphones and laptops as well as 12-Volt DC charging sockets
Equipped with comprehensive first aid kit, firefighting kit and field-craft tools
Taurus is more than transportation and accommodation. With this machine, both exceptional opportunities and creature comforts are equally at home. Unbounded, nature photographers have the best of both worlds, comfortably poised in anticipation; light, moment, capture and beauty enshrined.
SPECIAL NOTES:
This expedition is for those who are passionate for outdoor life and do not look for comforts.
And have the right aptitude for outdoor life, which can be full of surprises and hurdles.
It's for those who have right attitude to be in a small group.
NOTE: 
Please note that its outdoor lifestyle, where there are no comforts of a hotel, resort or restaurant. Before the booking is done, one must understand the details of this concept  what it offers and what are the limitations and the limitless joy of outdoor life. Details of the infrastructure must be understood. Please feel free to ask any amount of relevant questions to understand it. Though we have tried to write about it as much as we should within the constraints of space here and on website.
Food is cooked for the group like a buffet and no personal choices or demands can be entertained, considering the nature of camping where every resource and time is constrained. We serve early dinner, no delays unless there is an emergency of some kind.
This year its special promotional tariff, please do not ask for any discounts further.
More about the tour/ event and related terms shall be sent in detail once you have selected your program/ event offered by Green Dot Expeditions
As part of an overland expedition your participation in the day to day running of the trip shall be appreciated. It shall make you feel like part of the team and that we are working together on this adventure. Any participant may extend help for errands of kitchen other than main cooking, as one may not be familiar with equipment.
Life in such geographical conditions can be full of surprises and challenges, come mentally prepared.
Best size of the group is 8. If less than 6 then either we shall charge extra or cancel the event without any compensation to any kind of losses.
No personal servants or drivers are allowed on the trip, unless paid full as one participant. And should be suitably dressed and with basics of social life which can make others comfortable.
Any damage to the property of any kind shall be paid by the participant in cash on the spot, as per the assessment by the crew of Taurus.
It's a tentative program and a lot depends on weather and road conditions and local authorities which can't be challenged on the spot, sometimes.
. The weather conditions and other circumstances affect the delivery of the itinerary in this region which is full of challenges and no guarantees.
Please don't make any request which is outside the preamble of the tour and terms mentioned. It may land us and you in an awkward situation.
More details about the tour/ event and related terms shall be sent in detail once you have selected your program offered by Green Dot Expeditions. But you must be sure before booking your program with us.
We provide ONLY field toilets.
We appreciate if you don't consume liquor in our camps, considering safety on outdoor activity and the kind of infrastructure we have where there are 7 ladders. We don't like to deprive you of your holiday pleasure, but liquor consumption is hazardous on outdoors and the kind of camping we offer. You may bring your own liquor and consume only if all 8 participants are from your group. In a mixed group, consumption of liquor is 'big no', we are sure you will appreciate the consequences. If your priority is only drinking then we request you to overlook us for booking.
Please bring your own water bottle to fill up from the filter onboard.
Green Dot Expeditions offers the following as well:
One night stay onboard Taurus in a static a camping to experience outdoor life.
Two night stay onboard Taurus.
Day stay onboard Taurus: its like having picnic in a quiet place.
Please ask for details by writing mail.