Ladakh – LDH-1
Experience the Cosmic Adrenaline …
and the best Promise of Ladakh
onboard Taurus an innovative concept
Lifetime Experience specially designed for outdoor life …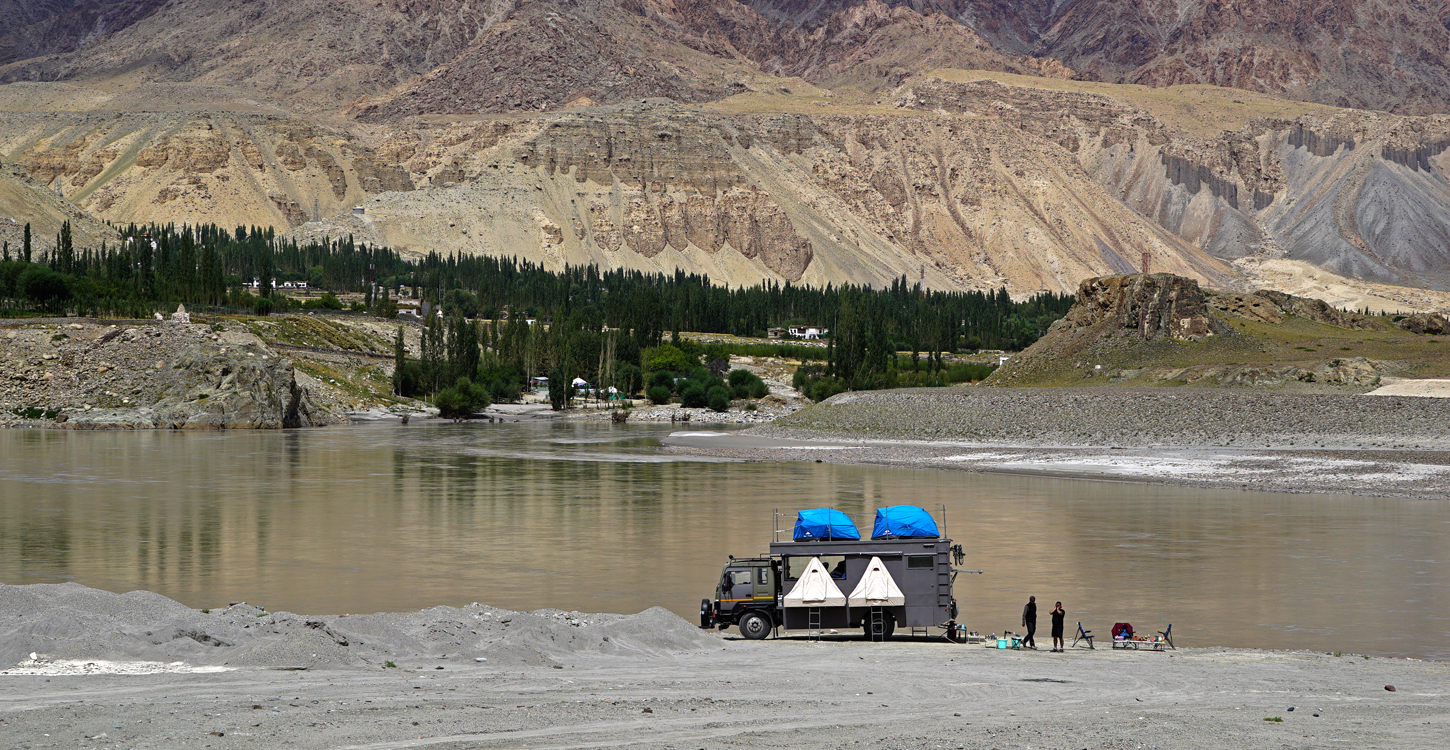 LIVE WITH YOUR PASSIONS
LIBERATE YOURSELF
UNLEASH YOUR DREAM 
PAMPER YOUR SOUL
Ladakh is God's gift to those souls who are passionate about outdoor life and photography lives in their veins. To experience the invisible Ladakh beyond dreams, one needs to have patience, maturity, blend of skills and good logistical support by the experienced like that of Green Dot Expeditions. You pamper your soul and we shall take care of all those nagging logistics which become invisible hurdle for outdoor life. Taurus offers rendezvous with the hidden treasures of Ladakh, where you unleash your passions; while experiencing the invisible Ladakh beyond dreams. It's an experience of 'cosmic adrenaline' for outdoor nomadic while being onboard Taurus.
We shall fulfill our promise by taking you to the doorstep of nature at its best. Also, at Green Dot Expeditions we believe in destiny, our destiny to serve you, and your destiny to immerse yourself in the experience we provide, and take exceptional photos on the 'journey of your soul'.
And Taurus is inspiration to anyone to live life only a few lucky can dream and live. Taurus is changing the face of exploration in India and the definition of 'Photo Tours'.
We don't sell tours, we share experience…
HIGHLIGHTS
Days: 8
Group size: 8
Accommodation: Taurus and homestays/ guest houses/ resorts/ hotels
Stay and Transport: Taurus and locally hired transport
Food: 3 veg meals onboard Taurus.
Tariff: Rs  xxxxx  per person, transport, food (all meals) and stay. All onboard Taurus.
Day 1: After an exhilarating flight journey over the gigantic snowcapped mountains offering delightful views, arrive at Leh. Our representative shall receive you at the airport. Check-in Taurus anchored on the banks of the Indus River for night stay. As per medical advice relax to acclimatize for the day and enjoy our warm hospitality from the kitchen of Taurus. The location itself is worth spending days!
We offer you the most unique 'unintrusive' time to relax and acclimatization in total privacy, none other than you will experience this. Enjoy hot and fresh tea and food from the kitchen of Taurus. Also, we may deploy barbeque grill (the best from the international market, by Weber). Play some light games which need no exertion i.e. croquet, golf putting, etc.
Night and dinner onboard Taurus under the billion stars, only few lucky can afford. It could be a 'moonlit night' and the experience beyond any words and price-tag. The best family holiday!
Day 2: After the steaming cup of morning tea and breakfast, an experience beyond any price in gold at this location, we depart for Hanuthang. We reach Hanu while enjoying the picturesque drive of 140 kms on the winding road hugging the Indus River. Night stay onboard Taurus on the banks of a stream.
Day 3: Visit Dah or Dha and Hanu are two villages of the Brokpa of the Ladakh that tourists are permitted to visit out of a number of Brokpa villages. They have Indo-European appearance in contrast to the predominant Tibeto-Mongol inhabitants of most of Ladakh. The main attraction is the life of Brokpa community. This community believes that the last race of Aryans and those people preserved their racial purity.
They have an Indo-European appearance in contrast to the predominant Tibet-Mongol inhabitants of most of Ladakh. They offer sacrifices to the gods and are fond of music, wine, jewellery and flowers. Their costumes are adorned with colourful flowers and jewellery.
Night stay onboard Taurus.
Day 4: Drive  to Saspol village located in Indus valley has some of the most interesting monuments of Tibetan medieval culture. Saspol Caves are  amazing rock-cut temples. Four of these caves are richly adorned with paintings of Buddhist pantheon from the 13th – 15th century AD, representing a fusion of Indian and Tibetan Buddhist art. On the top of this rock there are remnants of an ancient fort. Part of the facade wall of caves has been reinforced with a wall of boulders. There opens wide, beautiful view in Indus valley from the caves. Night onboard Taurus at Saspol.
Day 5: After morning tea and breakfast with a Ladakhi family at Saspol at their house, we leave for Rumtse village to experience rural Ladakh at its best, simple folks and rich of culture and interesting landscape.
Day 6: Rumtse is one of the four hamlets on the Manali Leh highway. Explore Rumtse, a hidden treasure trove for photographers, which is overlooked by all travellers who are in a rush to reach either Leh or Manali. Night at Rumtse onboard Taurus or Homestay.
Day 7: Today we drive over Tangla pass and reach Debring, a small seasonal settlement of tea shops and dhabas for travellers; the location offers nice landscape views.
 Day 8: Today, drive to Leh, stop at Upshi to enjoy a bowl of Thukpa with mok-mok (local cuisine). Check in at a hotel.
Day 9: End of the soul stirring pilgrimage of passionate travellers and photographers!
Drop at Airport.
Small Group 6 to 8
While you are onboard Taurus all meals are taken care of and enjoy the best camp food in comfort.
The kitchen of Taurus is at your service with NO EXTRA BILLS for anything extra we offer or you need.
Capt Suresh Sharma, with his army experience baked in battle field action for 18 months, an outdoor expert who has done wildlife and travel photography which has been published in coffee table books and international publications. Contributed to wildlife films in various capacities, two of which were produced for the National Geographic. Above all a very caring person who has also groomed a warm culture onboard Taurus.
Taurusis an innovative concept – Lifetime Experience specially designed for outdoor life …
Experience cultivated nomadic life, with basic comforts to which we are used to.
No check-in check-out and pack unpack at every destination where Taurus shall take you. One of the most nagging things of travel taken care of beautifully.
Experience the Cosmic Adrenaline … and the best Promise of Ladakh
We create very special environment where you LIVE WITH YOUR PASSIONS. Liberate yourself in the lap of nature and enjoy life like never before.
We let you unleash your dreams. The dreams to have a self-sustainable vehicle, camp at places where there is nature in abundance.
Unlimited photography at any location with no worries to rush back to a hotel, let your camera shutters go berserk at dusk and dawn. Save time, energy and produce photos only few can dream.
Mollycoddle your soul like never before.
We enjoy unprecedented rapport with the locals.
We arrange your rendezvous with opportunities.
Ladakh offers mesmerizing landscapes for photographers, every nook and corner offers photo opportunity. We can stop and camp where we wish.
Stay onboard Taurus with amazing views and freshest air and absolutely no noise pollution, no human traffic to peek into your privacy.
WEE OFFER DIFFERENT: Green Dot Expeditionsis a `remarkable enterprise' having no parallel in India. It's being steered by passionate photographers and spirited travellers, offering `unique experience' for outdoor enthusiasts and travel photographers.
Our tours are special and unique in every aspect, full of excitement and satisfaction, with unlimited `FLEXIBILITY & FREEDOM'offering:
Most befitting tours for outdoor travellers who wish to explore real India.
Photo Expeditions for outdoor photographers in a style which will enhance the output and experience of lifetime, experience ECSTASY to the hilt with Green Dot Expeditions.
Most of the destinations shall be the unknown to tourists and beyond one's easy reach!
We also offer photography workshops on the `move'.
Our lectures and workshops are very special. We do not conduct and repeat what is available for free on Google and is basic.
Tours are planned and operated with great amount of flexibility & freedom. Always looking for exhilarating events or places, we grab what is there to enhance the experience of the group.
OPTION : 1
We offer extension to the main tour at actual cost, which shall depend on the participants.
Day 1: Taxi to Nubra Valley. Night in a camp/ homestay.
Day 2: Drive back to Leh and explore local monuments.
Day 3: Taxi to Pangong for day trip. One may stay back for the night at a camp.
CONDITIONS: If there are minimum 4 participants.
OPTION: 2
Stay one day extra onboard Taurus on the banks of River Indus, 15 kms from Leh and enjoy photography or romance with nature. We shall offer this only if there is no other event waiting for Taurus. This is available Rs 4850 per person/ night (with all three meals and tea etc.) only for the participants of this group, as a special gesture.
Condition: Min 6 to 8 participants