Our Vehicle -Taurus – Customised for Outdoors and Photography!
Our Truck, which was lovingly  called as Beast while at its infancy stage, now named as  Taurus, after it got handsome shape. Taurus is one of a kind in India, designed by our own team leaders Capt Suresh Sharma and Dr Rajbir Kaur Sharma,  they have vast experience of caravaning themselves in India, 125,000 kilometers on their self-made caravan. And being a photographer himself Captain understands the needs of outdoor photographers and travellers.

Taurus has been built under the direct supervision of our Team Leaders. It has comfortable seating capacity of 8 participants. Also, it has sleeping arrangements (for 12), well equipped kitchen and a loo. Not to forget, there is enough storage space. 
Imagine travelling on a self-contained vehicle like Taurus. While travelling grabbing every opportunity of `roadside photography', getting hot tea and coffee and getting a location to spend a night wherever its night. No rush and no loss of time to  get back to your hotel for night stay; experience the outdoors like never before. You save your precious time of scouting a destination.
Our infrastructure offers unlimited Freedom & Flexibility … try to visualise the unique experience to explore, enjoy and photograph India than ours.
Taurus shall have the following features and facilities : We shall offer 5 Star to those who understand what is an outdoor night out …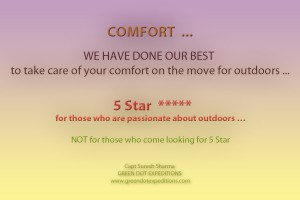 8 push-back, forward facing comfortable seats.

We have the best sleeping arrangements for `on the move' outdoor camping; roof-top-tents and 4 altogether new types of tents  (TRAY TENTS) with foam mattresses, for single and double; unique to Taurus. Hot water bottles to warm your sleeping bags at night.
Separate dome-tents for those who seek total privacy on such tours.
Comfortable  camp chairs for outdoor seating.

A well equipped kitchen to serve good food for all three meals and tea/coffee, best  within the constraints of 

`outdoor  camping on the move'.
Equipped with field-craft tools.
Approx 700 liters of water tank made of food-grade stainless steel.
A toilet on-board to be used by ladies while travelling ONLY and in bad weather for all. Outdoor tented toilet to be used when camping. Incase, time is not permitting, one should be willing to use the bush.
Individual lockers, one per participant for equipment and baggage.
Charging stations providing 220 Volts AC power supply to charge batteries of your equipment i.e. camera, cellphone, laptop, etc. Not heavy equipment like iron or mixer.
12 V DC charging sockets.

On some expeditions we shall offer 

our outdoor studio setup equipped with

Elinchrom Quadra Ranger

strobes and accessories. Its  to experience the outdoor shoots with artificial lights. Imagine, shooting a Kalbelia dancer on sand-dunes at sunset or a camel trader with his family cooking food and camels in frame, and many more …
The exhilarating experience with us  through this new  `concept'  is unmatched …
The Beast is being equipped with small little things to enhance your experience and making your expeditions unique and memorable. Our Truck is equipped to take all the photo-hungry photographers to places where they have been dreaming to go. The passionate team of Green Dot Expeditions is incorporating features on the vehicle to add more value to your experience.
WE SHALL GO EXTRA MILE for everything we do to ensure you have a life-time experience on our invigorating tours …