LDH-04
Hemis Festival Special
Hemis Festival is a two-day celebration, offering insight into the culture of the region. The main attraction of Hemis Festival is the masked dance performances by the Lamas around the central flagpole in the courtyard while the musicians play some traditional music. The beats of drums and trumpets and the sounds of cymbals and wind instruments commence the celebration of the festival with an early morning ceremony in which thousands of Buddhist followers and Ladakhi nomads take blessings from the portrait of Lord Padmasambhava. Hemis Festival has got prominent place in the international circuit of tourism and we also offer it as a special event. It's a much awaited event during the summers for tourists.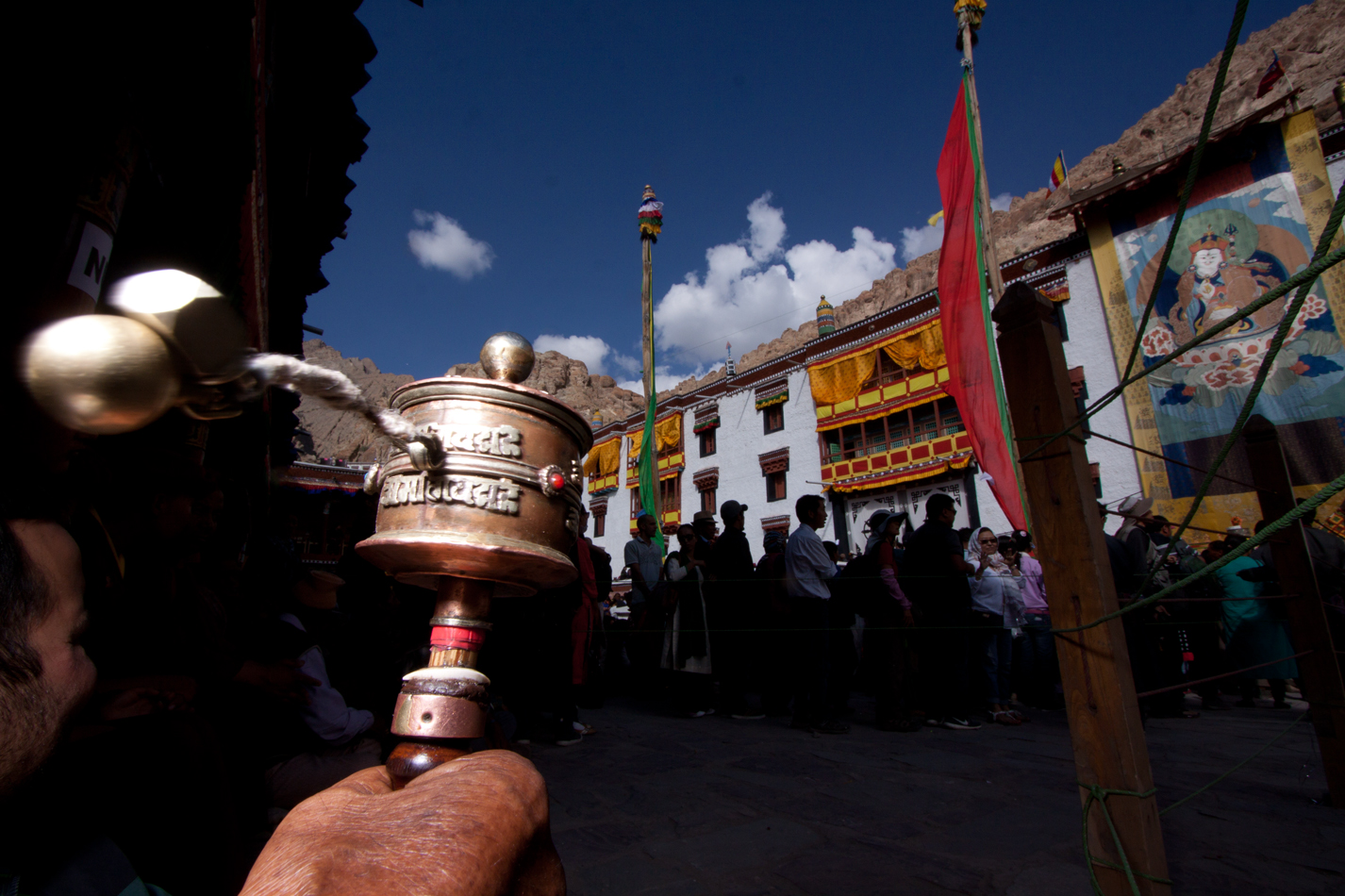 ITINERARY IN BRIEF
Day 1: Arrive at Leh. Transfer to a guest house/ homestay to check-in for night stay.
Day 2: Spituk Gompa, Leh Palace, Shanti Stupa. Stay for the night with Taurus at Matho.
Day 3: Sangam, Basgo, Nimu, Saspul, Alchi. Night with Taurus at Matho or outside Leh.
Day 4: Nubra Valley to visit Hundar and Diskit. Night in a hired homestay/ guest house/hotel at Hundar.
Day 5: Drive back to Leh and night stay with Taurus at Hemis.
Day 6: Early departure (in a hired transport) for day trip to Pangong Lake. Drive back to Hemis, night in the camp organised by Taurus. Walk and explore Hemis.
Day 7: Witness Hemis Festival. Stay with Taurus at Hemis. Walk the village and meet and greet the folks with your cameras.
Day 8: Drop at the airport as a group.
Group Size: 10
Duration: 8 days
Dates: 6th July to 13th July
Point of Arrival: Airport at Leh
Point of Departure: Airport at Leh
Accommodation: 6 nights in Home-Stays/ Guest Houses and hired camp. 01 night onboard Taurus.
Suitable: Indian nationals who are physical fit for high altitude. No trekking involved.
Special Promotional Tariff: Rs 56,750 per person, available if you book before 15th May.
Standard Tariff: Rs 69750 per person.
Special Tariff Offer: We have special tariff under various options.
If a group of 8 to 10 opts together and makes 100% payment, the discount offer is total of Rs 32,000 for the group.
If group 0f 10 books by making 100% payment instant, then total discount Rs 55,000 is for the whole group as total amount.
Tariff Grade: Gold
ITINERARY IN DETAIL

Day 1
Day 2
Day 3
Day 4
Day 5
Day 6
Day 7
Day 8
WHAT IS INCLUDED
Pick up and drop at Leh as a group, individual pick up at extra cost.
Hired transport as per the program above.
Stay in homestays and guest houses
You will get extra hired transport (as part of the package) for Day 2, 3, 4, 5, 6, 7 for excursions.
Night onboard Taurus with camping equipment as available onboard.
Veg breakfast and dinner, tea (morning and evening) onboard Taurus.
Food as per the plan in homestays and guest houses and hired camps.
WHAT IS NOT INCLUDED
Inner-line permit and entry fee
Porters, escorts and guides
Any kind of beverages and food during excursions and journey
Bottled water
Medical related expenses (medical store, transport for evacuation, doctor's fee, etc)
Insurances of all kinds.
Tips to any staff at any establishment
Transport for personal excursions and shopping
Any meal ordered and consumed other than prescribed
Modeling fee for photographing anyone
Any food consumed outside or accommodation used for the bad weather or roadblocks or even medical emergencies.
Incase of any roadblocks and bad weather if a particular area/portion of itinerary can't be done then there are no substitutes for the plan, no refunds and adjustments in tariff paid.
Anything which is not written in the list WHAT IS INCLUDED