Itinerary in detail-RJ-5

Day 1:  Arrive at Barmer
Barmer is a small rural town of Rajasthan and is in close proximity of Indo-Pak border. It offers the 'small town charm' and a unique experience for photographers, travellers and explorers, and will add a nice story to your blogs.  If you are a serious camera buff then arrive a day or two in advance to explore Barmer, we will help you coordinate your extra logistics in town.
Check-in onboard Taurus and see your dream expedition unfold in the unique setting of an unadulterated culture splashed with all the colours of life. The place has rich history and vast open landscape.
Enjoy the warm hospitality of TAURUS and be prepared for the holiday of a lifetime to begin the next day!
(Night stay onboard Taurus and enjoy the warmth of the kitchen and your sleeping bags. Your twirly dreams about your exhilarating travels ahead may ensue in scanty sleep! As your imagination and excitement would be hopping like a sparrow visualising your journey! And why not, afterall your dream to be on Taurus is coming to be true today. )
Day 2: Drive to Munabao
Highlights of the Journey Barmer to Munabao 
Visit Kiradu Temple
War Memorial of Indian Railways – not heard and seen by the most
Pit Stops
Gadra Laddoos
Drive 130 kms on Border Road
Visit Border Post
Buy Handicrafts
Gadra – famous for the Battle of Gadra City in 1971 War
Last frontier of the Indian Railways
After early breakfast, Taurus sets its bearings to Munabao for you to enjoy the charm of a remote region. Today's escapade starts early on the drive while meandering on the rural roads, the road and culture is completely a different encounter. The drive will surprise you. It's a road which seems to be leading to Mars!
One the way we shall visit Kiradu Temples in ruins – The UNEXPLORED KHAJURAHO OF RAJASTHAN. The Kiradu Temples are a group of ruined temples located about 45 kms from Barmer.  The ruins of at least five temples exist at Kiradu. Epigraphic evidence suggests that the temples were constructed during the 11-12th century by the vassals of the Chaulukya (Solanki) monarchs.
While the road is taking you into the horizon, a view you wouldn't have ever imagined. The road from Barmer to Khuri of 252 kms has no infrastructure for tourists. We will take 'pit-stops' to romance the terrain and culture on the way and stop at Gadra Road to savour the world famous 'Gadra Laddoos' (Indian sweet), that are a speciality of this place.
On arrival at Munabao, we will visit the border post to 'meet and greet' the soldiers and to express our gratitude. Visiting any 'border post' is a unique encounter and you experience adrenalin surge and our respect increases manyfolds for the soldiers who guard our border 24×7 under harsh conditions while we sleep in peace. You will be in awe to see even basics of life are abysmally scanty at such locations. Our brave soldiers give their sleep for our sleep, it's here you experience patriotism first-hand.
Night onboard Taurus here will be an experience worth sharing with your friends back home. We bet no one can offer this experience, especially in homely comfort, other than Taurus.
Day 3:  Reach Khuri
This segment of the journey is the most special part of this itinerary. 
Unexplored Pristine Sand Dunes
Best of Rural Rajasthan Culture
Border Post
Unique Experience, 130 kms of driver on Boarder Road
Last frontier of the Indian Railways
Gadra – famous for the Battle of Gadra City in 1971 War
Visit Border Post
Buy Handicrafts
After a sumptuous healthy breakfast, we rev Taurus for Khuri, a typical Rajasthani village. The road journey today on the 'border road' will definitely be etched on your memory for life. The drive of 130 kms will take some time as its quite stimulating and the undefiled sand dunes alongwith glimpses of rural life will make anyone a photographer, even with a cellphone. On arrival, Taurus is anchored at Khuri in a quiet place and revel with a camel ride into crimson sunset over the sand dunes and later you may enjoy a Rajasthani cultural evening.
Night stay at Khuri onboard Taurus.
Day 4: A visit to the Desert National Park
While we prepare to serve you the choicest of healthy breakfasts, you have an option of either helping us out on TAURUS, or go and explore the nearby untouched sand-dunes and the village to treat your soul to pure rural Rajasthan.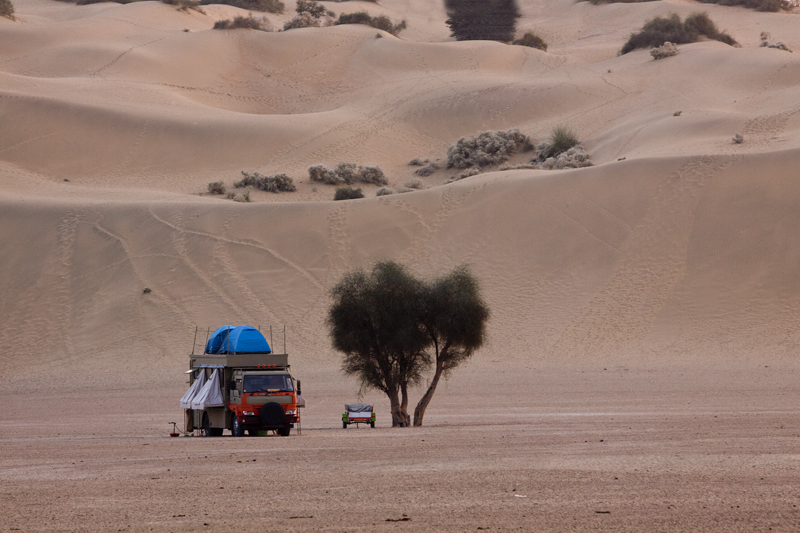 After breakfast, Taurus drives you to a much quieter place than any of you have experienced so far. Taurus shall be in its 'hide' in the middle of Desert National Park where we can see deer roaming around freely and the wildlife endemic to this place. This place is considered as a
showcase of all the wilderness of the Thar Desert including the last known viable population of Great Indian Bustard. As tiger for forest, the Great Indian Bustard is viewed as pulse of grasslands whose sighting in the grasslands of Sudasiri, sometimes, more exciting than a tiger!
It's a very quiet, serene place. The only sounds you will hear will be of mother nature with its percussion instrument of wind with the strings of sand-dunes! It's the best light and sound show you will ever see – whether it's a moonlit night or it's a moonless night studded with a 'billion stars'. Its nature's divine dance for your soul!
Enjoying a meal along with a hot bowl of soup is an experience that can't be put into words. It can only be felt. Taurus and its crew will add invaluable memories to your experience.
OPTIONAL: If the whole group wishes to stay extra day at this place, you may opt for it. We offer you 15% discount for single day tariff (one extra overnight night).
Day 5:  Arrive at Jaisalmer for departure
We serve you your final cup of morning tea in this paradise! Today, after breakfast when you see the camp winding up and Taurus ready to rev, you would wish time could stop and you are not asked to board on Taurus to leave for your final destination of this trip. We drive to Jaisalmer via Khaba Fort and Kuldhara (the famous village in ruins).
Before departure, make sure you have shot enough 'selfies' with Taurus. You certainly have won unlimited bragging rights by being on Taurus in this region, an experience which will entice you to see Taurus again and again.
By now you must have had a chance to peek into our simple efforts towards nature conservation and realized how big difference these could make if everyone makes these simple contributions it may make a big significant difference in the longer run. Now you have got enough material for your blogs and social media, so you may share about how to be a responsible traveller.
HOW TO REACH TAURUS
ROAD: Barmer is well connected by good roads from Jodhpur (200 kms) and Ahmedabad (420 kms).
TRAIN: Barmer gets trains from Delhi, Chandigarh and Jodhpur. Once a week from Ahmedabad.
AIR: Nearest airports are Jodhpur, Udaipur and Ahmedabad.
TERMS & CONDITIONS
Following Terms & Conditions are applicable to the RJ-5. More details about Terms & Conditions. In case of any doubt or clarifications, please send all your questions in one mail.
TARIFF:  Rs 34,500 per person +GST.  Please check the link for details on tariff.
WHAT IS INCLUDED
only the following are included in the package, rest everything is NOT included.  Also, please check more details which are common and applicable to all expeditions.
One Camel Safari to witness sunset
One Cultural program at a camp or resort at Khuri
The services of Taurus will be available from Barmer to Jaisalmer.
Pick up and drop if 4 or more arriving together (from only railway station to Taurus).
All three veg homely meals as buffet (including morning and evening tea with biscuits) onboard Taurus. Field lunch (Veg) while travelling (from the kitchen of Taurus or roadside Dhaba), without any beverages. If anyone opts for non-veg at such stops, then its to be paid by the participant directly to the establishment.
Taurus as transport for the itinerary to travel from point to point.
Stay onboard Taurus as per the accommodation available on rotational basis and sleeping bags provided by us.
Filtered Water, please bring your own bottles to refill
Please explore the following links to know more details.
---
---