RJ-1 : CHURU- TAAL CHAPPAR- BIKANER- DESHNOK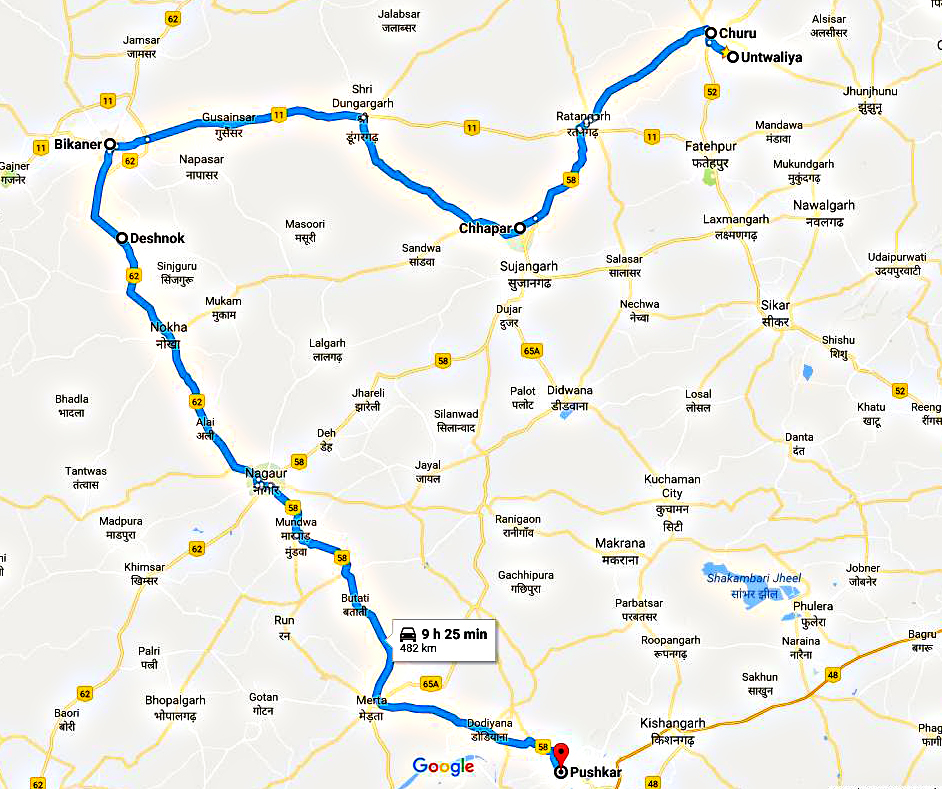 Expedition Highlights
Duration 5 Days/ 4 nights Starts at Churu on
DATES: Starts on 21st Oct and culminates on 25th October at Bikaner.
Group size max of 8 participants.
Wildlife Sanctuary for black bucks
Havelis and Forts.
Heritage & Culture of Rajasthan
Most unique Temple in the world- THE KARNI MATA TEMPLE
Best photography opportunities and tips by the expert, Capt Suresh Sharma.
Experience the small town charm.
Rural India at its best.
Handsome Rajasthani Folks.
Abundance of tranquillity in the lap of Nature.
World famous Pushkar Cattle Fair available only as an extension of the tour
Rajasthani cuisine at Bikaner
An unforgettable experience, THE BILLION STARS NIGHT
GRADING: Easy for average fitness
ITINERARY AT A GLANCE
Day 1: Arrive at Churu. Stay on-board Taurus.
Day 2: Explore Churu in the morning.  Taal Chhaapar, to visit the famous wildlife sanctuary. Night onboard Taurus.
Day 3: Taal Chhaapar. After breakfast drive to Bikaner. Night on-board Taurus.
Day 4: After early breakfast, visit Deshnok (famous Karni Mata Temple, also known as Rat Temple), monuments of Bikaner (in a taxi). Night on-board Taurus.
Day 5: After breakfast, its time to say goodbye to Taurus.
EXTENSION OF THE PROGRAM If the whole group wishes to spend a night extra at Bikaner, we offer special discount for the day, if there is vacancy.
Ride to Pushkar : if you wish to hitch-hike with Taurus from Bikaner to Pushkar, you are welcome (you pay only for transport and one field lunch). If you wish to spend 2 nights or more at Pushkar and provided we have vacancy you are welcome at a special discounted tariff for Pushkar only.
ITINERARY IN DETAIL
Day 1
Day 2
Day 3
Day 4
Day 5
You can do either of these
Travel (by air, road and railways) on your own from Bikaner to explore other destinations of Rajasthan or get back home. Bikaner offers good connectivity to the rest of India by rail. Government has announced affordable flights from Bikaner. Air connectivity is expected to start in the tourist season of 2017.
Travel onboard Taurus to Pushkar and then explore Pushkar on your own, as extra (this extra cost will include transport to Pushkar and lunch with evening tea for the day). Your travel with Taurus shall culminate at Pushkar, on arrival itself.
You may opt to have 2 nights on-board Taurus at Pushkar, if the vacancy is available, as extra tariff (discount may be available) on arrival.
If you wish to explore Rajasthan a bit more, then there are numerous options and easy ways to reach Shekhawati region, Jaipur, Jaisalmer, Khichan, etc.
There are comfortable overnight trains from Bikaner to Delhi.
Also trains are available to Jaipur, Jodhpur, Jaisalmer, Ahmedabad, Mumbai, etc. to extend your tour to explore on your own.
HOW TO REACH TAURUS IN CHURU
Taurus will be anchored in the countryside around 10 kms from Churu town. Location details will be shared on your arrival and you will be guided how to reach Taurus.
You may drive on your own to Churu from Delhi, which is a good drive of 277kms.
You may instead take a train from Delhi to Churu, which starts from Delhi at 23.35 hours and arrives at Churu at 0410 hours.
There are also two morning trains from Delhi to Churu, one at 0705 hours from Delhi and another one at 0840 hours; both trains take around 4.45 hours between Delhi and Churu.
TERMS & CONDITIONS
Following basic details of the Terms & Conditions are applicable to the RJ-1. More  Terms & Conditions are applicable which are common for all the programs. In case of any doubt or clarifications, please send all your questions in one single mail and not a chain of mails.
only the following are included in the package, rest everything is NOT included.
Transport to visit  Churu town for heritage walk.
Rajasthani lunch at Bikaner in the market. It could be Rajasthani non-veg meal if the whole group is non-veg. As we can't split the group at two different locations.
Transport for pick-up at Churu minimum 4 persons in one group, otherwise as extra to be paid by the participants directly to the transport.
Taxi  to Deshnok and Bikaner sightseeing to visit two forts.
All three veg homely meals as buffet (including morning and evening tea with biscuits) onboard Taurus. Field lunch (Veg) while travelling (from the kitchen of Taurus or roadside Dhaba), without any beverages .
Stay onboard Taurus as per the accommodation available.
Filtered Water, please bring your own bottles to refill
Journey from your home to Taurus and homeward journey.
Taxi for departure not included, as we are not sure how you will arrive (by air or rail or road) however we will extend help to coordinate.
Individual pickup and drop on arrival and departure
Any transport other than Taurus not included, unless specified clearly.
Transport for individual/ personalised tours (shopping, excursions, medical emergencies) or for any other reasons.
Any kind of expenses related to medical emergencies
Non-veg food.
Anything other than the mentioned food plan onboard Taurus, which means extras.
Any food consumed outside Taurus, unless specified.
Beverages of all kinds, other than mentioned in the food plan.
Modelling fee for street photography, if anyone demands
Entry fee ( as well as camera fee) at monuments and wildlife sanctuary.
Guides for local sightseeing and porters
Local sightseeing if not specified in itinerary.
Camel rides, camel cart rides, or rides of any kind.
Anything which is not mentioned in the list of WHAT IS INCLUDED
Stay other than Taurus, under any circumstances (political upheaval, natural calamities, or reason could be any)
Any services availed outside Taurus (stay or food)